Madre Fire in Azusa, California: Fire 70 Percent Contained at 250 Acres
September 23, 2013 10:30 pm Last Updated: July 18, 2015 5:18 pm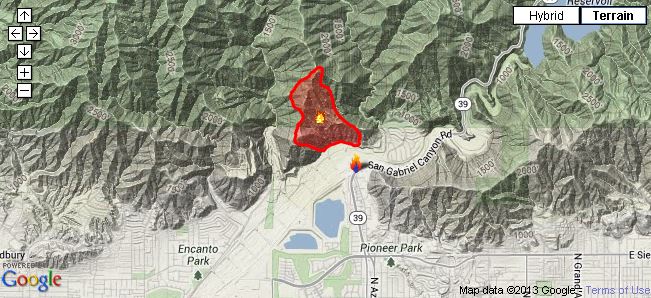 The Madre Fire in Azusa, California has grown to 250 acres on Tuesday afternoon, as 450 personnel are battling the blaze.
The fire is now 70 percent contained, as of 5:36 p.m. PDT.
Full containment is expected by Friday.
Evacuees have returned to their homes, L.A. County Fire Department Inspector Keith Mora told KPCC.
The fire is completely west of Highway 39.
Encanto Park has been closed and is being used as a staging area for water dropping helicopters, according to the city of Azusa. The fire is "still burning deep in Angeles National Forest," it said. 
Three homes were evacuated on Foxtail Court in Azusa Monday. The fire is burning in the San Gabriel Canyon west of the entrance station, next to Ranch Road and State Highway 39.
The U.S. Forest Service describes the location as "the mouth" of the canyon.
The fire moved into Los Angeles County Monday night. In the Mountain Cove neighborhood, 25 homes were threatened and residents recommended to evacuate, but that recommendation was lifted after the danger passed, reported KTLA.
Several photos shared on Twitter on Monday showed the fire very close to houses (see photos below). Aerial video showed the fire burning near homes off San Gabriel Canyon Road, or State Highway 39. 
The cause of the fire is under investigation, but the city of Asuza says that "the chance of someone being involved is high."
A smoke advisory was issued on Tuesday for areas of the San Gabriel Valley and the San Bernardino Mountains.
Azusa Avenue into the canyon was still closed early Tuesday, but Sierra Madre was open for east- and west-bound traffic.
Roads closed because of the fire include:
-Highway 39 (residents only)
-Encanto Parkway (residents only)
Story developing; check back for updates
Follow @ETBreakingNews for breaking news from around the world.