Luxury Goods Makers' Reliance on Chinese Shoppers Poses Risk
April 10, 2013 12:27 am Last Updated: April 10, 2013 11:23 pm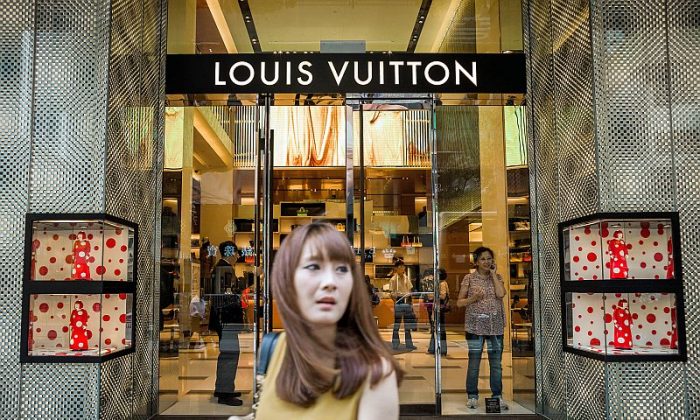 Urban department stores' display windows are a common occurrence. But walking past the Bergdorf Goodman Fifth Avenue on an early February day, one couldn't help but notice a different kind of display window.
This particular display showed a mannequin in a red Asian-inspired dress, bathed in red flower petals. On the window is a row of simplified Chinese characters welcoming spring and the Chinese Lunar New Year. English does not appear anywhere on the display.
It's no secret that in this economic environment, the collective appetite of Chinese consumers is a lone bright spot for luxury goods retailers.
Upscale department store Bloomingdale's held a one-day Chinese New Year shopping event earlier this year in New York specifically catering to Chinese consumers, while for European fashion houses, courting Chinese demand has become a fixture of their business strategy.
Such dependency also poses significant risks, as Chinese consumers are a fickle bunch in regard to brand loyalty retention. In addition, the upcoming political and economic uncertainty in China could negatively affect luxury goods demand.
Top Luxury Buyer
In late 2012, Chinese consumers surpassed American shoppers as the world's No. 1 purchaser of luxury goods, according to a study by consulting firm Bain & Co. As of last year, the Chinese accounted for 25 percent of global luxury spending, compared to American consumers at 20 percent.
"Changes in what Chinese shoppers want are now a central issue for the global luxury sector's largest brands," said Bruno Lannes, Bain partner in Greater China as quoted in the study.
In addition, more Chinese consumers are purchasing luxury items abroad. A KPMG report released in January found that 72 percent of Chinese luxury goods purchasers made purchases overseas, with cosmetics, watches, and handbags the top purchases.
"Mainland Chinese are the biggest single group of tax-free shoppers in the world accounting for a rising chunk of global sales. Statistics from Global Blue, a tax-free shopping company, showed that Tax Free Shopping by Chinese global shoppers rose by 58 percent in the third quarter of 2012 (July—September) in comparison to the same period in 2011," the KPMG study said.
This phenomenon is exactly what Bergdorf and Bloomingdale's seek to catch, but for now, it's hard to prove that the trend isn't as fleeting as lightning in a bottle.
Unpredictable Tastes
While luxury sales to Chinese consumers—in China or abroad—have been brisk, luxury goods makers may face a hard time retaining customers.
Numerous studies—including Bain's—indicate that Chinese consumers prefer conspicuous logos. Unlike many European and American purchasers, who have shown a history of brand loyalty and preference, sometimes passed down over generations in a family, Chinese consumers seem apt to chase after the latest logos and designs deemed fashionable.
As such, revenues and earnings among the world's top luxury goods purveyors have been mixed, with varied predictions of sales growth in the Greater China region depending on consumers' whims.
Last week, Italian luxury goods maker Prada SpA announced that profits rose 36 percent to 217 million euros ($283 million). Both its profits and topline sales beat analyst expectations.
For Prada, sales in China rose 33 percent year-over-year, a robust trend. Surprisingly, the Milan-based company said that European sales increased 54 percent from the prior year, with the caveat that the result was partially due to traveling Chinese tourists.
Those are good results for Prada, and propelled its shares to an all-time high last week on the Hong Kong Stock Exchange (Prada's Hong Kong IPO in 2011 was precisely to target Chinese consumers).
Richemont SA, the Swiss parent company of Cartier watches, Alfred Dunhill leather goods, and Montblanc pens had a different view of its China prospects. The company announced earlier this year that its fourth-quarter sales in the previously booming Asia-Pacific region showed no growth at all. Richemont is the world's second biggest luxury goods maker.
Views from LVMH Moet Hennessy Louis Vuitton SA, the world's No. 1 luxury goods maker, and Britain's Burberry Group plc remain upbeat, although demand in the Asia region has noticeably cooled.
The disparity in sales among the biggest luxury goods makers isn't entirely surprising given the above propensities of Chinese consumers. Isabella Steger of the Wall Street Journal wrote that Prada has traditionally had a smaller footprint in China compared to more entrenched brands such as Louis Vuitton and Gucci. Prada could very well be the preferred brand of the moment in the eyes of Chinese consumers.
Political Environment Bears Watching
The Chinese Communist Party (CCP) underwent a leadership change last year, which engendered a wave of crackdowns against corruption and conspicuous gift giving.
The nation's huge and widening income gap has also created a rift between the wealthy and the poor, which led the CCP to ban all advertisements for luxury goods on state radio and television channels in early February, before the Chinese New Year. Offering presents to officials in order to curry favors has become a normal custom in China over the past few decades.
"Around 5 percent of the global luxury goods market is related to gift giving in China and only part of this would be impacted from a clampdown," said Hong Kong-based CLSA analyst Aaron Fischer in a CNBC report.
When the announcement was made, shares of LVMH, Richemont, and Burberry all fell, on the prospects of a sales slowdown pertaining to wines, spirits, jewelry, and watches. Luxury apparel makes up only a small portion of gift giving.
Last month, Hong Kong-based Chow Tai Fook Jewellery revealed that same-store sales fell 8 percent in the fourth quarter of 2012 compared to the same period in 2011. Chow Tai is the world's biggest jewelry retailer.
The clampdown isn't the only sudden change luxury retailers must cope with. Much of the wealth of today's Chinese upper class came quickly on the backs of government contracts, back-door deal-making, hyper-inflationary markets, and government corruption. These factors have contributed to the social unrest, which has captured certain parts of China. In a power handover, political winds could shift and the balance of power—and money—can change swiftly. Are the recent crackdowns on gift giving the extent of such changes, or is the prevailing austerity just the tip of a far bigger iceberg?
Giving these trends, luxury goods makers going "all-in" on Chinese consumer demand should expect an unpredictably bumpy ride.