FLORENCE, Ariz.—From all parts of the country, they arrived in cars, in campers, on motorcycles, and even in a few dune buggies to hear President Donald Trump deliver his 2022 message of hope for America.
To be sure, the kick-off "Save America" rally on Jan. 15 was no less "yuge" than the former president's previous political gatherings. Some estimates place the overall attendance at 50,000 or more, while hundreds were turned away due to a lack of parking.
Even before the gates opened at 2 p.m., the Country Thunder festival grounds in Florence, Arizona, were filling up with loyal Trump supporters eager to get a front-row seat.
"I'm just in awe to be here," said Tammy Mann of Tucson, Arizona, who arrived in a large recreational vehicle plastered with pro-Trump signs, including a flag bearing a not-so-flattering message for President Joe Biden.
Camper owner Christine Miller of Tucson said the signs drew a lot of attention on the way up from Tucson.
"We got quite a few honks. People pulled over and showed us their flags. I really just wanted to come up and be with fellow patriots," Miller told The Epoch Times.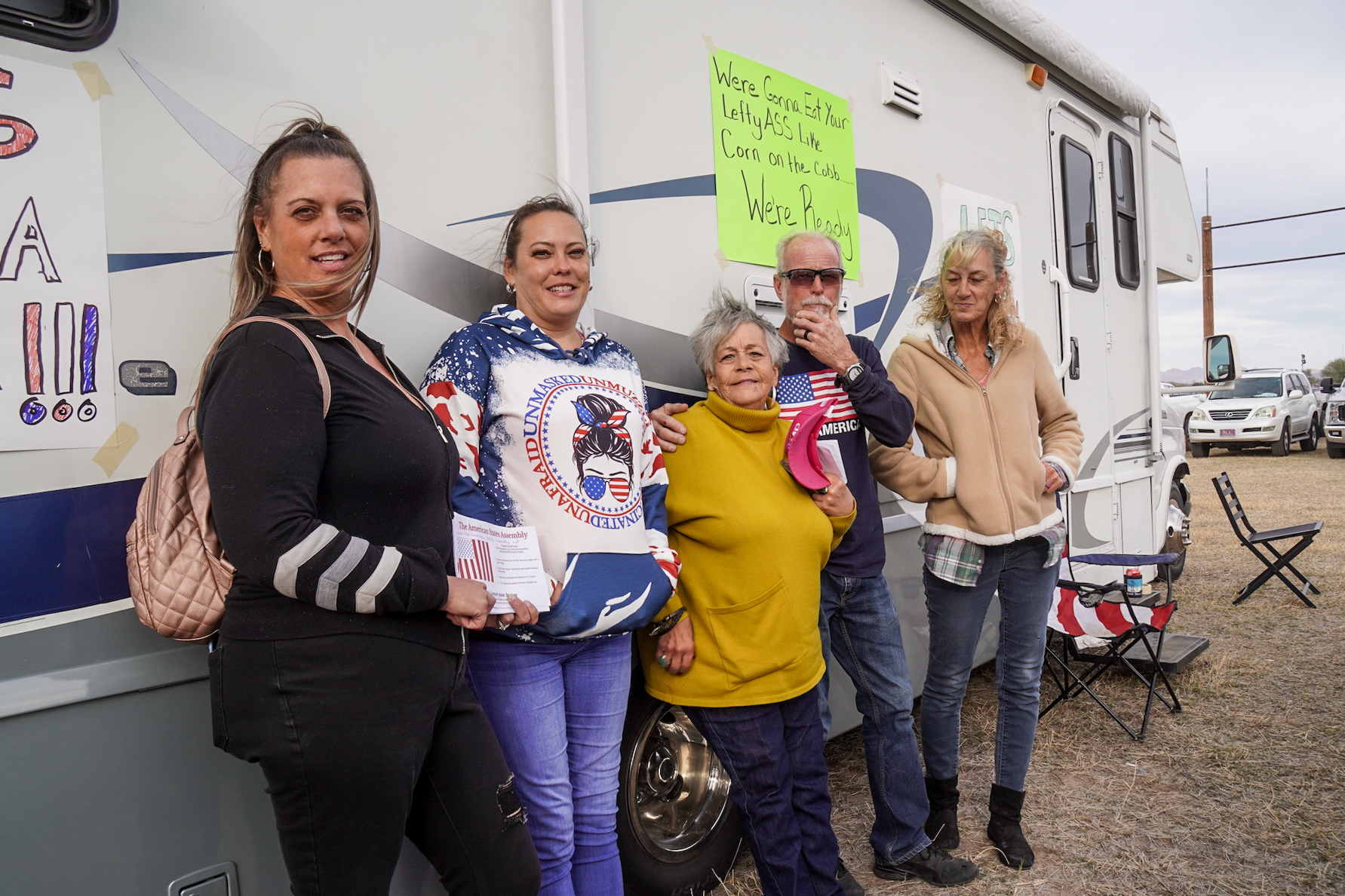 Mann said she hopes to see Trump run for president in 2024 to correct the mistakes of the 2020 election.
She said she was especially eager to hear his remarks on the Jan. 6, 2021, political protest in Washington, though she wasn't sure the former president would talk about COVID-19 vaccines, whose use he supports.
"I know that he has mentioned the vaccine. I am not vaccinated. I don't know if he's going to mention anything about it," said Mann, who's also concerned about unvaccinated migrants crossing Arizona's southern border.
The policy of the current administration is "come on in," she told The Epoch Times. "We're suffering because of it. It's very frustrating."
Bobbi Bart of Tucson, who also arrived with Miller and Mann in the camper, said she has no doubt Trump is the right candidate for president in 2024.
"When's he's going back to Washington?" Bart said. "I think he's got it. I know they're going to have to do something because people have no faith in the system."
As for Florida Gov. Ron DeSantis?
"That'd be the only other [presidential candidate] I'd be happy with. Trump or DeSantis," Bart told The Epoch Times.
Like Mann, she, too, is concerned about uncontrolled immigration and the drain on the state's resources.
"Any kind of medical need they have, there they are" getting it for free, Bart said.
Sitting on the grass waiting for the start of Trump's speech, Petra Partello, wearing an American flag cowgirl hat, said the message from Trump is "that he gives us a lot of hope, and to keep on fighting."
"Absolutely, he's our president. There's no doubt," Partello said.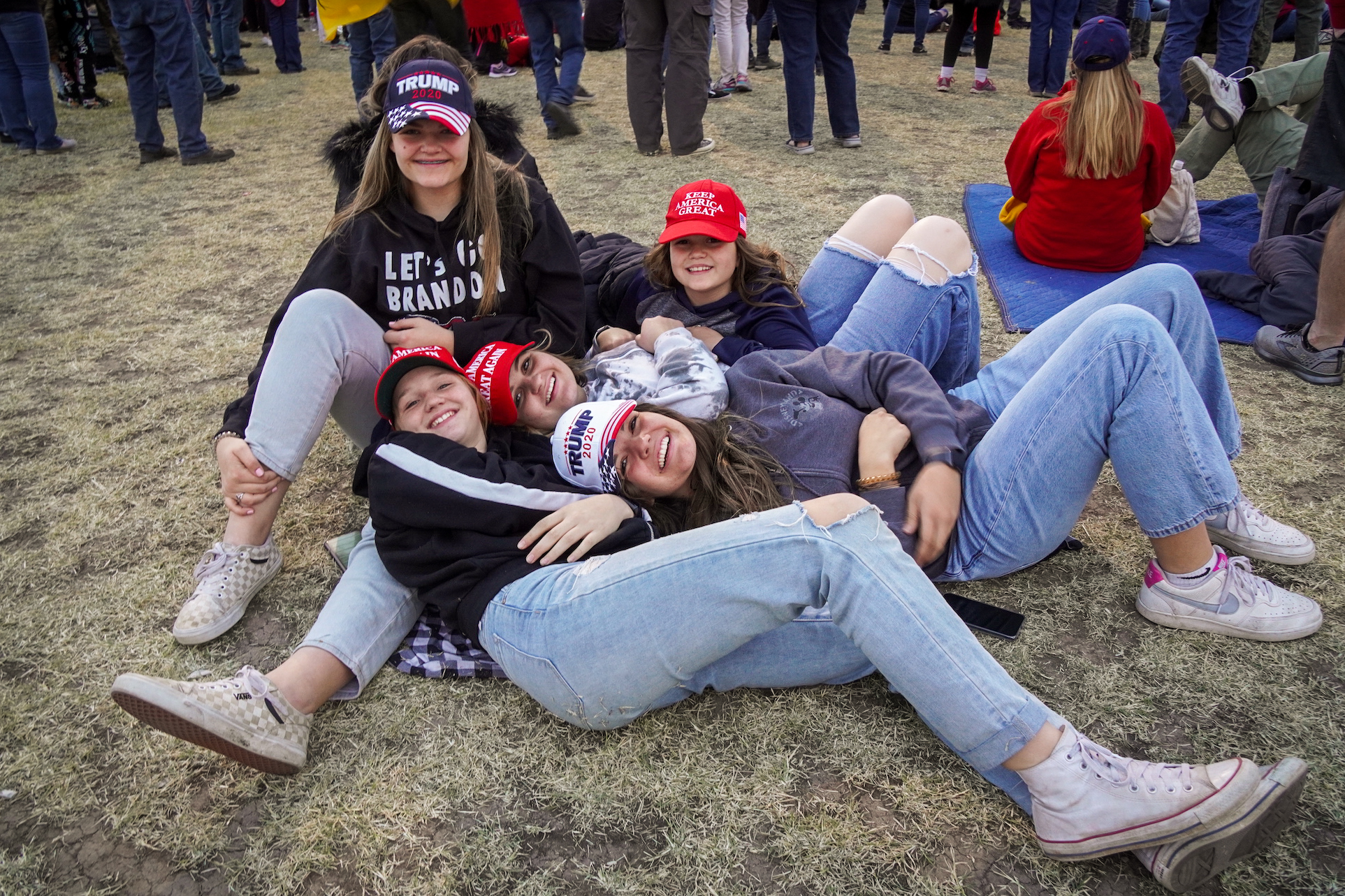 State Rep. Mark Finchem (R) asked the crowd to look behind them to the west at the radiant orange sunset, which he described as a "gift from God" for the rally.
"Is that not a beautiful Arizona sky?" he said to cheering and applause.
Finchem then dove into the issue of widespread irregularities in the 2020 election, calling it a "suspicious election that has since been proven to be irremediably compromised."
"Ladies and gentleman, they know it, and we know it—Donald Trump won," he said.
Trump later carried the theme of electoral theft, an inept Biden administration, political persecution of Jan. 6 protesters, and a rapidly failing economy as reasons for a conservative sweep in 2022.
"We've had more destruction than five presidents put together in the last year," Trump said.
"On top of it all, people are being persecuted for using freedom of speech to talk about the election, but more and more information is coming out, and it's coming out far worse than anyone ever thought it could be."