Lorex is recalling multiple models of its "Care 'N' Share" video baby monitors because the batteries sometimes swell to the point of popping out of their compartments.
The batteries also heat up so much that they are at risk of burning, according to the federal Consumer Product Safety Commission (CPSC).
The company said it has encountered almost 500 such cases, but no injuries have been reported. The company also said a safety feature would prevent the the swelling batteries from exploding.
Lorex is recalling some 34,000 baby monitors, models WL3520, WL4320 and WL3401, all made in China. About 8,000 of the total figure were sold in Canada.

The monitors were for sale in Babies "R" Us, B&H, Best Buy, Target, The Home Depot, Walmart, on Amazon and www.lorextechnology.com from May 2013 through April 2016.
The gadgets cost $60 or $140, depending on the bundle.
Consumers are urged to return the affected monitors to the place of purchase for a full refund. 
For more return information, call Lorex toll-free at 844-265-7388 from 9 a.m. to 5 p.m. ET Monday through Friday or visit www.lorextechnology.com
Based on online comments, customers have also complained about the model BB4325X, which seems to have been discontinued for about two years.
"Battery swelled so much that it broke the back of the case," wrote an Amazon user Steven K. about two years ago.
Commonly, a customer would report the bulging battery, the company would send a replacement, and the same problem occurred.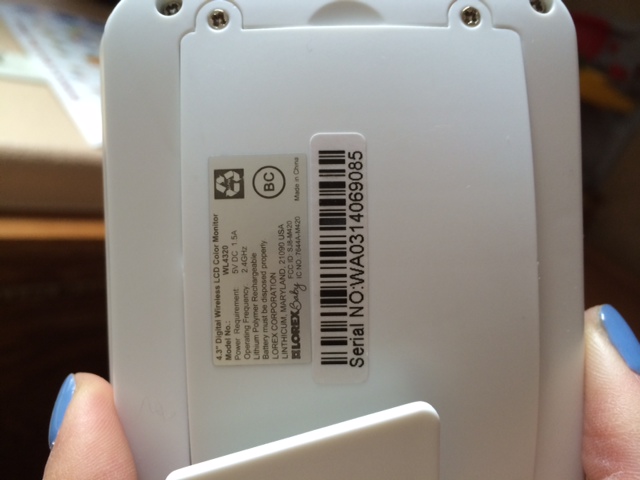 "The battery pack included with this model becomes hot and expands pushing the door off the back of the monitor. I contacted the company and they sent me a replacement monitor, then the battery pack expanded again within 2 weeks," wrote an owner of the BB4325X model about two years ago on the SafeProduct.org, a website set up by CPSC to accept consumer product complaints.
"We first purchased the monitor in November 2014 and between then and now we have had 3 separate battery packs expand and bust through the back of the monitor," an owner of WL3520 wrote in March. "The battery packs get very hot and begin expanding, and the latest one expanded so much that it broke the battery cover on the back of the monitor. Once the battery pack begins expanding, it will no longer hold a charge, so we have to keep the monitor plugged in at all times—which of course does not allow us to ever move the monitor from our bedside."

One customer also pointed out the battery issue makes the device give parents a false sense of security.
"Please CPSC: even if the device does not catch fire, it is a risk to infants if the monitor shuts off very prematurely when on battery power—you have an unmonitored infant," the user wrote.