The names of Commerce Department secretaries usually aren't very well-remembered. In fact, one would have to go back to Herbert C. Hoover, who had the job from 1921 to 1928, to find a name nobody can forget. Not only because he later became president himself, but also because he let the Roaring '20s happen.
Wilbur Ross, the billionaire private equity investor and Donald Trump's pick for secretary of commerce, is too old to become president in 2024—he would be 86 at the time of the election—but he could leave a roaring legacy like Hoover.
Ross is a pragmatist, not an ideologue, who understands and values the problems of the working class more than other capitalists.
"That man who has stood behind a machine for 15 or 20 years, he knows better than the people who built it, how to get more productivity out of it. So you need to create an environment where he feels someone will pay attention if he makes a suggestion, and if it turns out to be a good suggestion, that he'll be rewarded for it," Ross told The Epoch Times in an earlier interview.
Doing billions' worth of deals in declining industries like textiles (Burlington, Cone Mills) and steel (Bethlehem, LTV) and working closely with labor unions, Ross knows the machinery of the Rust Belt better than any politician, one of the reasons why President-elect Trump picked him.
Deal Success
In one of his most famous deals, he combined Acme Steel, LTV Steel, and Bethlehem Steel in the early 2000s, saving all of them from bankruptcy and later selling the combined entity to Indian steel giant Mittal in 2005 for $4.5 billion.
In 2004, he combined the textile companies Burlington Industries and Cone Mills to form the International Textile Group (ITG), which his firm still owns. Positive labor relations were key to achieving positive results.
"Too often management and labor view each other as adversaries. We truly view labor as our partner because they only have one company they're working with and we only have one group of workers. So we think it's very important that we have a good, functional relationship," he said.
After the ITG deal, one of the union leaders involved told New York Magazine in 2011: "I really think the future of domestic manufacturing is people like Wilbur Ross."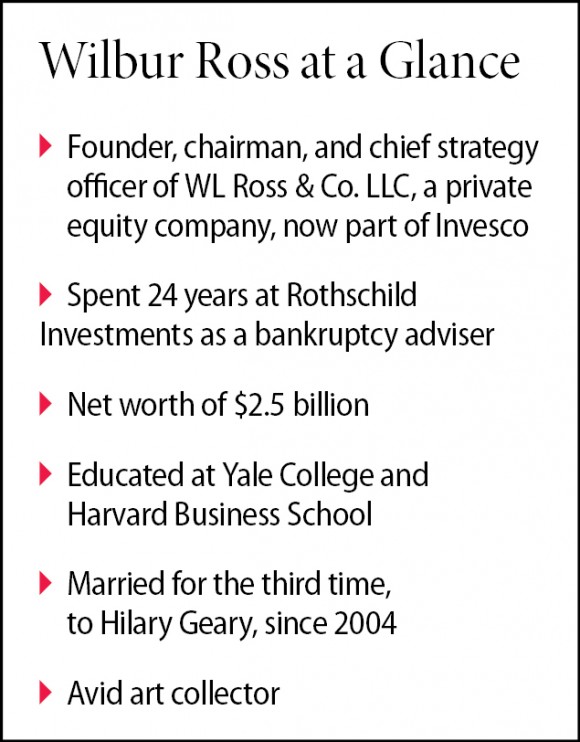 Unfortunately for American manufacturing, many of Ross's predictions from 10 years ago have come true, another reason why he fits well into Trump's more protectionist America First team.
"Look at all the engineers China is graduating. If China marries its massive labor force to technology, things will be very bleak for this country. In industry after industry, wages are starting to get cut back, fringe benefits are getting cut back—look at the poor airline industry—we're in danger of exporting our standard of living and importing our unemployment," Ross told New York Magazine in 2006.
"You can't have much of an economy if people are just flipping hamburgers, trading stocks, and suing each other."
In his steel deals, he has benefited from protectionist tariffs implemented by George W. Bush. He reiterated his opposition to Chinese dumping during his interview with The Epoch Times in 2015.
"We are generally free-market people, but what was happening back in the early 2000s with steel and what is starting to happen again, is that product was actually being sold in this country for less than the total cost of manufacturing it. That's not legitimate competition."
During the campaign, Trump stated that the United States will renegotiate trade deals with Mexico and China to serve American industry better and impose trade tariffs if necessary.

Regulation
Another point where Ross fits into Trump's economic strategy is deregulation. Trump promised to rid businesses of excess regulation, and Wilbur Ross could be the man to do it.
"There is no evidence that more regulation makes things better. The most highly regulated industry in America is commercial banking, and that didn't save those institutions from making terrible decisions," he told Fortune Magazine in 2010, two years after the financial crisis of 2008.
So it is not surprising that Ross has been an early backer of Trump, calling the president-elect's approach to politics "refreshing" and throwing his weight fully behind Trump in July of 2016.
Ross also fits Trump's theme of being independent of Wall Street and the Washington machine.  Trump has often criticized opponents like Ted Cruz and Hillary Clinton for being in the pockets of Goldman Sachs while he received almost no donations from big investment banks.
You can't have much of an economy if people are just flipping hamburgers, trading stocks, and suing each other.
Although Ross started his career at Rothschild Investments in the late 1970s, he has been an independent investor since founding WL Ross & Co. LLC in 2000. He has given to both parties, but his donations have seldom exceeded $100,000. Even though he benefited from Bush's tariffs in the early 2000s, he had not started donating to the Republican Party at that time.
Ross's modest political appointments also straddle both parties. After serving as an officer of the New York State Democratic Party, he married Republican Lt. Governor of New York Betsy McCaughey and sponsored her unsuccessful bid to become governor in 1998. He was also on the board of the U.S.–Russia Investment Fund under President Bill Clinton and then helped Republican Mayor of New York Rudy Giuliani as privatization adviser.
He was, however, the temporary chair of secret Wall Street fraternity Kappa Beta Phi in 2012 and remains intimately connected to the richest of the rich in finance. Will these connections or his business philosophy determine his work as secretary of commerce?    
In either case, if Ross doesn't want to end up like President Hoover during the beginning of the Great Depression, he will have to get to work quickly to change his perception of investment opportunities in the United States and elsewhere.
"We have been a seller over the last year or so. We have sold about five times as much as we have bought, and that's because of the general phenomenon that things are not that attractive," he said in late 2015.