On Saturday, Oct. 28, Long Island authorities announced the seizure of 750 grams of fentanyl from a home in Mastic Beach.
The potent batch of deadly opioids was shipped from China, Suffolk County Police Commissioner Timothy Sini told CBS New York.
According to Sini, authorities seized enough to serve one million doses on the street.
"That's potentially enough fentanyl to kill hundreds of thousands of individuals," he told CBS.
Pharmaceutical fentanyl is a synthetic opioid painkiller, approved for treating severe pain, typically advanced cancer pain. It is 50 to 100 times more potent than morphine, according to the Centers for Disease Control and Prevention (CDC).
Apart from the deadly chemical, authorities also seized $7,400 in cash, numerous 9 mm rounds, two cellphones, and a 2007 Mercedes Benz, police said.
Sini said his department worked with the Department of Homeland Security, Customs and Border Patrol, and the U.S. Postal Service.
Police arrested three men at the home, one of them, Corey Robinson, 24, was charged with criminal possession of a controlled substance. Thomas Moore, 41, and Daequane Rickenbacker, 25, were also arrested.
According to CBS, police said Moore had a leashed pit bull in the front yard when they arrived. Moore allegedly ignored the officers' commands and released the dog, which ran at them.
Police shot the dog and it was later treated at a local vet. Moore was charged with obstructing government administration, while Rickenbacker was charged with loitering.
The federal government is sending law enforcement teams to cities in five states to help curb the flow of heroin and synthetic opioids, as the opioid epidemic continues to rock the nation.
The Drug Enforcement Administration said Friday that those additional teams will aid the agency's ability to combat problems surrounding heroin, fentanyl, and drug trafficking violence, CBS reported.
The DEA is also sending teams to Cincinnati and Cleveland, Ohio; Long Island, New York; Raleigh, North Carolina; New Bedford, Massachusetts; and Charleston, West Virginia.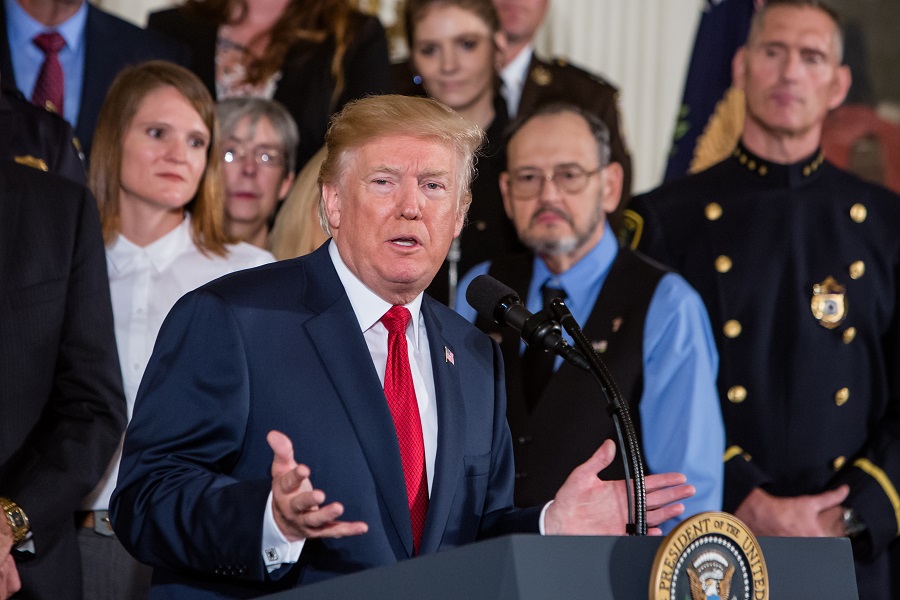 On Oct. 26, President Donald Trump declared America's opioid addiction crisis a nationwide public health emergency.
In 2016, more than 64,000 people died of drug overdoses in America, according to preliminary numbers. Early numbers for 2017 indicate the problem is worsening—mostly due to fentanyl.
Trump will direct heads of all other departments and agencies to "exercise all appropriate emergency authorities that they have to reduce the number of deaths and minimize the devastation caused by the opioid crisis," a White House official said.
The public health emergency will terminate in 90 days, but can be renewed.
WORKING TOGETHER, we will defeat this #OpioidEpidemic & free our nation from the terrible affliction of drug abuse. https://t.co/iAZjqGMwav pic.twitter.com/mZI5uQN4oZ

— Donald J. Trump (@realDonaldTrump) October 27, 2017