The Chinese regime claimed there were no new domestic CCP (Chinese Communist Party) virus infections in the country on Feb. 21, and that only one region, Wangkui county in Heilongjiang Province, would be a medium-risk region to contract the virus.
But people in Hebei and Jilin provinces told the Chinese-language Epoch Times in phone interviews that they've been locked down at home since early January, calling the official narrative into question.
People who traveled from these provinces to other parts of the country were also required to be isolated at quarantine centers upon arriving at their destinations.
Residents complained that they couldn't go to work due to the restrictions. With no income, it has become difficult to buy increasingly expensive food products.
"We are on the edge of death," said one resident of Shijiazhuang city in Hebei. His family has been stuck under lockdown for nearly 50 days without any income.

Indefinite Lockdown
The Shijiazhuang city government announced on Feb. 21 that the city will be downgraded to a low-risk region for contracting the virus starting on Feb. 22.
The Chinese central government announced that only two regions in the country are considered at-risk for COVID-19 spread: Shijiazhuang and Wangkui.
The regime also claimed that China has no new domestic infections, and all newly diagnosed COVID-19 patients were people who arrived in China from other countries.
But local governments continued to keep people under lockdown as a method to curb the spread of COVID-19 and provided little updates on the outbreak situation.
Er Duo (pseudonym) lives in Gaocheng district of Shijiazhuang. She said that her residential compound has been on lockdown since Jan. 5. "We are asked to take a nucleic acid test [for COVID-19] every three days. We have received 16 tests already. All results are negative. They [authorities] still lock us at home without giving us any explanation," she said.
She noted that many residents were feeling frustrated. Some were in desperate need of medication, or baby formula for their children. "We don't see any hope. … Some really need to earn money to pay for their mortgages," Er Duo said. "No government official is taking care of our needs."
Another Shijiazhuang resident, Bian Zhong (pseudonym), said that his aunt could not go to the hospital to have her baby due to the lockdown.
"We kept on calling the hotlines of the provincial government and city government, but no government official provided any help. All of them asked us to wait," Bian said.
Finally, the family found a doctor who operated a small clinic at home. The doctor broke lockdown rules to open the clinic for Bian's aunt, and the baby was delivered safely.
"What kind of lockdown policy is this?" Bian said.
Gu Min (pseudonym) and her husband are migrant workers in Nangong city, Hebei Province. They've been locked inside a rented room since Jan. 6.
On Feb. 12, the Nangong city government required that all residents be vaccinated for COVID-19. But Gu Min and her husband are currently getting treatment for in-vitro fertilization. "The doctor told us that the treatment must be stopped if we take COVID-19 vaccines," she said.
But the official forced Gu's husband to get the vaccine, threatening his employer that the company would get into trouble if any employee refused to get vaccinated.
"All our efforts to have a child are now in vain," Gu said, adding that she and her husband will now have to wait at least four months before they can resume treatment.
After vaccination, all Nangong residents are still required to be locked down at home.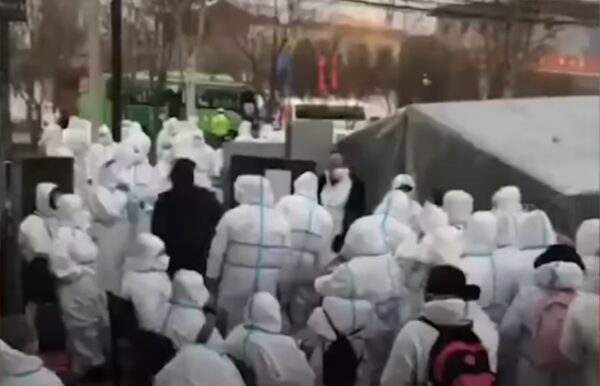 Travel Restrictions
People traveling from Hebei and Jilin provinces are also required to be quarantined upon arriving at their destination.
A migrant worker surnamed Liu is originally from Hanzhong city, Shaanxi Province. He was dispatched to Shijiazhuang to build a makeshift hospital. After the project was finished and he returned to Hanzhong, authorities required that he be quarantined for 14 days, he told The Epoch Times in an interview.
"The quarantine cost me over 1,200 yuan ($185), which is much more than the salary that I earned from the makeshift hospital construction job," Liu said.
Another migrant worker Wang said that officials in Hebei had promised they wouldn't be quarantined upon returning to their hometowns. But he was required to quarantine nonetheless. "The quarantine center barely had hot drinking water. Not to mention taking a shower," he said.
Holland-based Chinese political columnist Jiang Fuzhen, who is in frequent contact with insiders in China, told the Chinese-language Epoch Times he believed it was "impossible" that the virus outbreaks in China had subsided, and that it was likely Beijing's "political need" to announce zero new infections.