The severity of the recent surge of COVID-19 infections in Qiqihar, the second largest city in China's northeastern Heilongjiang Province, has been concealed by officials, locals say. The Epoch Times interviewed Qiqihar residents on Jan. 18 and learned that the city has been locked down since last week, and many residential buildings were sealed off by authorities as part of measures to curb the spread of the CCP virus.
Ang'angxi district of Qiqihar has been under lockdown since Jan. 12 after three residents tested positive for the CCP (Chinese Communist Party) virus, which causes COVID-19. All three returned from Wangkui county, the epicenter of the latest round of the COVID-19 outbreak in Heilongjiang Province. Four of their close contacts also tested positive for the virus. These seven people live in the same community in Ang'angxi district.
A Qiqihar resident, who requested anonymity due to security concerns, confirmed that the city has been in a state of actual lockdown since last week due to the COVID-19 epidemic. He told The Epoch Times that trains and buses have halted service, locals are unable to travel, express delivery has been suspended, shopping malls and restaurants are closed, and only some small shops are open for business. "All work has stopped. Only police, civil servants, and those who have special passes can go out."
He believes that the epidemic situation in Qiqihar is severe. Local authorities said that there were more than 20 asymptomatic infections, but he surmised that such a large-scale city-wide lockdown contradicted the official data.
"The government doesn't report it at all. In fact, the situation is very serious. I have noticed that the reports are all about epidemics in Hebei. But there are very few reports about the epidemic in Heilongjiang Province in the northeast, only a few about Harbin [the provincial capital]. No mention of Qiqihar, despite how serious it is here," he said.
He revealed that Qiqihar has been conducting mass nucleic acid testing since last week. In some cases, residents have to wait outdoors in long lines for a whole day, despite freezing cold temperatures.
He said that many residential areas have been closed off, including the Beijiang Yayuan community where he lives.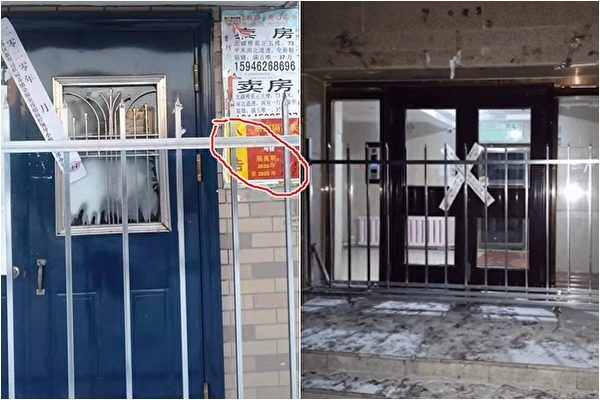 He said that at around 1 a.m. on Jan. 18, the entrance door of a residential building in Beijiang Yayuan community was welded shut. Three days prior, the door of an apartment unit inside the building was closed off. And now, there are many buildings that are sealed off.
He said, "Three days after an apartment in the building was sealed off, the entire building was also closed down at 1 a.m. today [Jan. 18]. There are no security guards outside, but the entrance door is sealed off and welded shut with metal plates and bars. This building has six floors and two households on each floor. I heard that one of the households was in close contact with a person who could be infected [with the virus]. But the close contact has not been confirmed positive yet. There are many, many buildings that have been welded shut like this one today."
"The government community office didn't provide any explanation or any notice, and nobody answers the phone in the office," he added.
According to the resident, after the building was sealed off by authorities, the property management of Beijiang Yayuan community told residents: "We can't remove the seal, the metal plates and bars that are welded on the doors. And we can't pass things inside."
The community government office could not be reached for comment.
The Epoch Times obtained a video of a sealed residential building in Changxinyuan community in Qiqihar, and a resident was bringing in food from outside with a rope.
Other residents spoke with this publication and shared about their current living conditions.
"People in the building can't get out. After the building was sealed, [we] don't know how to buy vegetables and daily necessities. Things can only be passed through the windows. But it's hard to bring things in."
Due to the city-wide lockdown, residents are panic-buying and prices have soared for many items.
One resident said, "Things in supermarkets will be gone if you get there late. There are only limited items every day, and they are very expensive."
Hong Ning and Zhang Yujie contributed to this report.