OAHU, Hawaii—Eight local WWII veterans will participate Dec. 7 in Pearl Harbor ceremonies, commemorating the 1941 attack by the Japanese that killed more than 2,400 service members and civilians and forced the United States into the war.
The eight—who range in age from 93 to 101 years old—are among about 240,000 veterans of the war who are still alive. Over 16 million served.
The veterans flew from John Wayne Airport in Santa Ana, California, to Oahu, Hawaii, on Dec. 4 for the commemoration.
"December 7, 1941, changed and defined their lives forever," Dwight Hanson, 52, a Marine Corps veteran who organized the trip, told The Epoch Times. "It changed the trajectory of the United States and the world."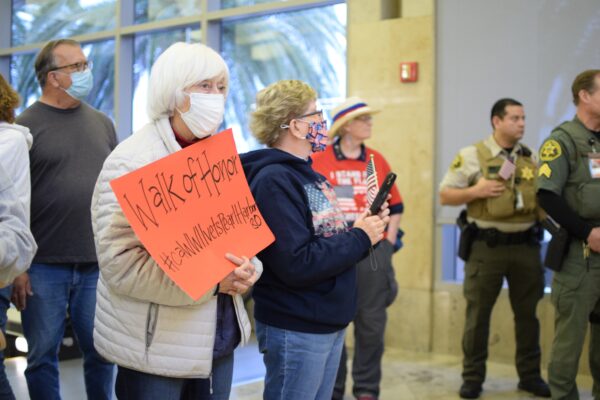 The 7:55 a.m. surprise attack on Pearl Harbor sank the USS Arizona, the USS Oklahoma, and the USS Utah.
Harry Hammer, a San Clemente resident who enlisted a few months before the war ended and was stationed in Japan, said he looks forward to visiting the ruins and paying respect to his wife's cousin, who died on the USS Arizona that day.
"I was very fortunate not to have to be in any battles," Hammer said.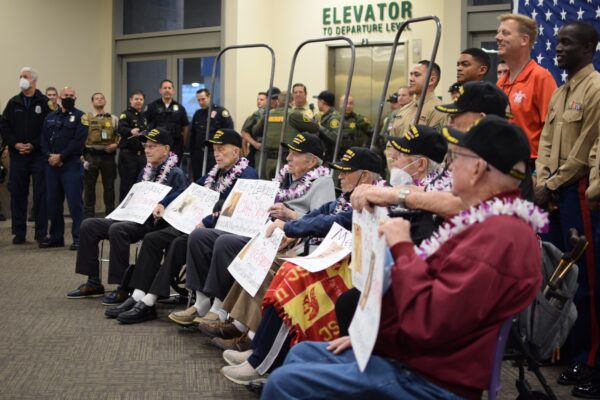 Local veterans in attendance include:
·    Billy Hall of Orange
Staff Sargent | Marine Corps and Army National Guard | Served in the Pacific | 1941 to 1945, 1948 to 1967
·    Harry Hammer of San Clemente
Petty Officer 3rd Class | Army and Navy | Served Stateside | 1946 to 1947
·    Bryce Jordan of Lake Forest
Lieutenant Colonel | Air Force | Served as a trainer in Texas and Florida | 1942 to 1972
·    Jim Nugent of Whittier
Petty Officer 2nd Class | Navy | Served in the Pacific on USS Pine Island | 1943 to 1952
·    Mike Panos of Irvine
Private First Class | Army | Served in 11th Airborne Japanese Occupation | 1946
·    Cliff Sharp of Huntington Beach
Private First Class | Army Air Corp | Served as Tail Gunner | 1943 to 1946
·    Bill Stewart of Balboa Island
Staff Sargent | Army Air Corp | Served in the Pacific | 1946 to 1949
·    Wallace Johnson of San Leandro
Chief Petty Officer | Navy | Served on USS Hornet | 1941 to 1971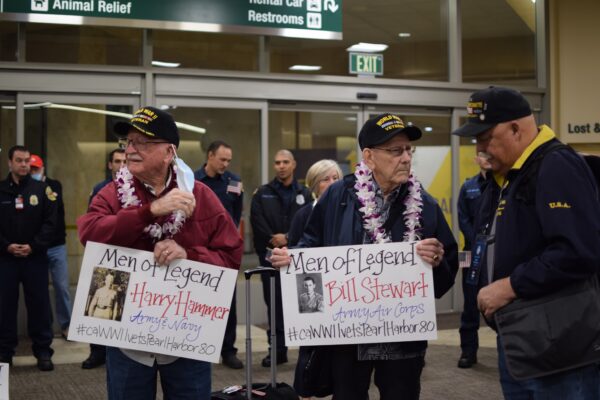 "They all contributed to the freedoms that we have because of their sacrifice," said Hanson, the trip organizer.
According to Hanson, he received funding to help pay the way for the local veterans from The Community Foundation of Orange and The Stanley W. Eckstrom Foundation Orange, both local non-profit organizations.
"I've had veterans thank us for our donation," Steve Silverstein, president of the Eckstrom Foundation, told The Epoch Times. "And I'll say. . . You have a Silver Star, and you're thanking me?"
Hanson, who served in the United States Marine Corps from 1987 to 1993, has three children. Both his oldest daughter and son have also served in the military.
"They call them the greatest generation," he said. "But my son captures it even better. He calls them 'Men of Legend.'"
A previous version of this article misstated the number of veterans participating in the Dec. 7 Pearl Harbor ceremony. The Epoch Times regrets the error.