LAGUNA NIGUEL, Calif.—Cars lined up as volunteers distributed approximately 1,000 pounds of food with Family Assistance Ministries—a faith-based nonprofit organization that provides aid for Orange County residents—at the Laguna Niguel Presbyterian Church on Dec. 23.
"There is a sense of unity and community that happens at these events," Elizabeth Andrade, CEO of Family Assistance Ministries, told The Epoch Times.
For the last five years, the non-profit and the church have been distributing food on the second and fourth Thursdays of each month, with approximately 2,000 pounds of food made available each time.
"Food and housing insecurity is a real issue in Orange County, and it will take all of us in order to solve it," she said.
According to Andrade, the type of households in South Orange County the non-profit serves usually have most of their earnings go into rent and other major expenses.
"The demographic we're seeing right now is more seniors who are raising their grandchildren," Cassandra Ondryas, lead volunteer coordinator, told The Epoch Times.
Ondryas, who also serves as an elder for the church, said that since the pandemic, they have donated food to places where one residential unit is occupied by two to three different families.
According to the Elder Economic Security Index, 45 percent of seniors in Orange County don't have enough money for their necessities.
In addition to the elderly providing for their grandchildren, the other common group receiving food donations are service workers from nearby resorts like The Ritz-Carlton Laguna Niguel, Montage Laguna Beach, and the Waldorf Astoria Monarch Beach.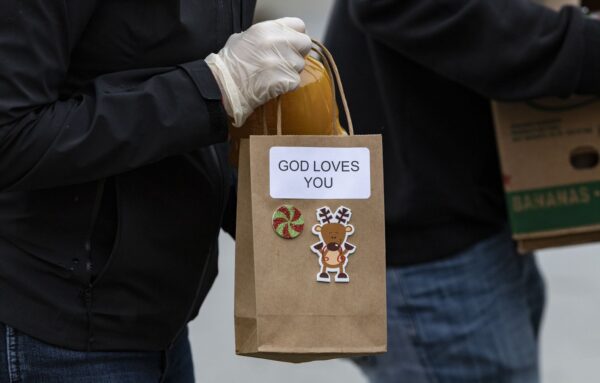 Food donations during the holidays help the parents purchase a tree and gifts for their children.
According to the non-profit, many corporate groups donate, to fulfill kids' "Christmas wish lists" instead of providing gifts to their staff.
"It's the difference between having wrapped gifts under the tree and having a tree in general, or not," Andrade said.
For the last 22 years, the non-profit has established a group of regular donors supporting their distribution centers. Most donations come from other faith-based organizations, civic groups, and families in South Orange County.
For every dollar donated, the non-profit redistributes 92 cents back to the community.
Earlier this year, Senator Pat Bates awarded Orange County's Family Assistance Ministries as the 2021 Nonprofit of the Year for the 36th Senate District as part of California Nonprofits Day, a statewide membership organization.
Some volunteers at the event have served with the non-profit for over seven years whereas some were first-timers.
Those interested in volunteering can call 949-492-8477 or visit their website at family-assistance.org.
"If someone has not volunteered in general, I encourage folks to try it once and see how you feel afterward," Andrade said. "You can see it both from the families receiving the benefits of the programs and the ones who donate."