Liz Truss has pledged that there will be no second referendum on Scottish independence if she becomes Conservative Party leader and UK prime minister.
In the first independence referendum held in 2014, the Scottish electorate voted 55–45 percent to reject independence and remain part of the UK.
But First Minister Nicola Sturgeon, who is also leader of the pro-independence Scottish National Party (SNP), announced last month she is planning to hold another independence referendum on Oct. 19, 2023.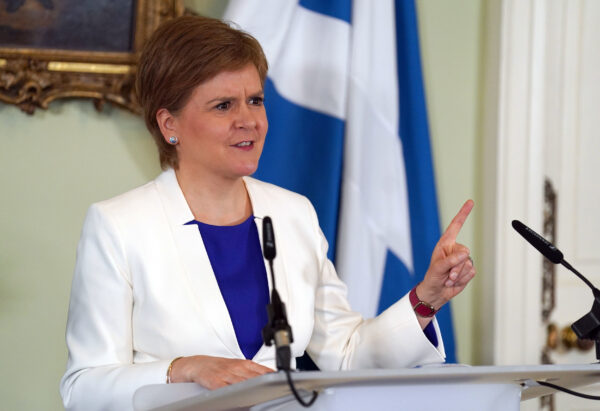 Earlier this month, Prime Minister Boris Johnson formally rejected Sturgeon's call for Scotland to be given the power to hold a second vote.
In an interview with the Sunday Telegraph, Truss said that she will work to strengthen and defend the union.
If she succeeds Johnson as prime minister, she said, "there will be no second Scottish independence referendum on my watch."
'Deception'
Truss accused the SNP of trying to break up the union by "deception" and pushing an "illegal" referendum bill through the Scottish Parliament.
"Scottish nationalists accepted that their referendum was a once-in-a-generation opportunity, and I will hold them to that," she said.
She added: "The SNP lost the 2014 referendum and Nicola Sturgeon is now leading a campaign of deception to steamroller the UK and break up the Union.
"The Scottish Independence Referendum Bill isn't legal and it will be invalidated if passed by the Scottish Parliament. When Westminster devolved power to Scotland, it did not include the ability to hold valid referenda to break up the Union.
"Any Scotland independence referendum would need to be authorised by the Westminster Parliament. If I become prime minister, I would not grant that authority."
'Cast-Iron Mandate'
SNP depute leader Keith Brown slammed both Tory leadership contenders for "denying the cast-iron mandate to hold an independence referendum."
Former chancellor Rishi Sunak, who is competing against Truss for support from the Conservative Party membership, has called a second Scottish independence referendum "the wrong priority at the worst possible moment."
In a column for the Scottish Daily Mail on July 26, Sunak said: "The SNP are wrong to try and tear the country apart when we should be pulling together. Why aren't they talking about the drugs crisis in Scotland or how we can get more money into Scottish workers' pockets?"
Brown called both Tory candidates "out of touch" with the people of Scotland, who he said want to choose "a better future" as "a wealthier, fairer, and more equal independent country."
PA Media contributed to this report.