LOS ANGELES, Calif.—At 81 years old, former NFL legend and Hollywood actor Jim Brown is still giving his time and energy to help urban communities and collaborating with those who have similar goals.
In 1988, Brown founded the Amer-I-Can Foundation for Social Change, Inc. and created a 60-hour life management and self-improvement training program, particularly targeted towards at-risk youth. The program has changed lives in prisons, juvenile probation camps, middle schools, high schools, colleges, businesses and other organizations.
"Amer-I-Can really was created because you had African-Americans killing African-Americans, young men killing young men, and that cannot be allowed. That is something that we have to change," said Brown, president of Amer-I-Can.
Los Angeles has long been known as a major hub of gang activity, with more than 450 active gangs and 45,000 total members in the city, according to the Los Angeles Police Department.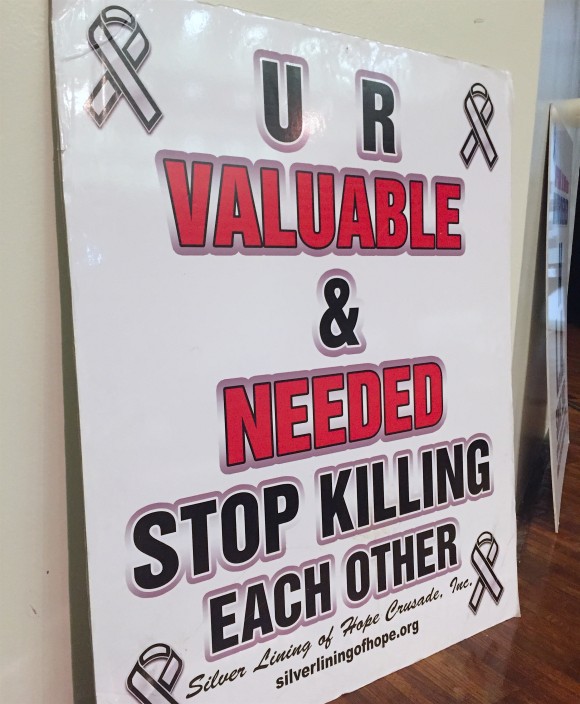 Several decades ago, Brown began organizing meetings in his home with gang members and leaders. Truces were negotiated, many of the gang members turned their lives around, and some even joined the Amer-I-Can organization to inspire others.
"I've never had a fight in my home," said Brown. "They've always given respect. They were looking for someplace to be able to be themselves, not have to be a gangster or have bravado, but to be humble enough to receive kindness."
The Amer-I-Can curriculum focuses on transforming people's self-doubt into self-determination, or "I-Can't" into "I-Can," guiding them to develop and complete goals, and also inspiring them to value their relationships with their families and communities.
Related Coverage
"The beauty of The Amer-I-Can Program is that it is applicable to all people as it transcends race, age, gender, religion and socio-economic status," according to the first page of the curriculum. "We believe in and work effectively with those who society disregards, contending that it is never too late to attain a full, meaningful life."
Brown was honored for his work by representatives of the faith community in Carson, Calif. on Apr. 7, by members of Silver Lining of Hope Crusade, an organization that was started by Pastor Winford Bell to bring awareness to violent crimes affecting the community.
"These are the young men that have been forgotten about," said Bell. "These are young men that have not properly been trained or have not properly been nourished or encouraged or motivated to excel and to become the best that they can become."
Pastors with Silver Lining were recently trained to become facilitators for the Amer-I-Can curriculum in order to hold classes in local churches.
"I once was a drug addict. I once was a gang-banger. I know what it's like," said Pastor Benjamin Island. "We want to listen to the young men and women who are struggling in life and make a difference, and we got some tools that we can use to help them to go forward in their life and be something that they would be proud of, and their people will be proud of."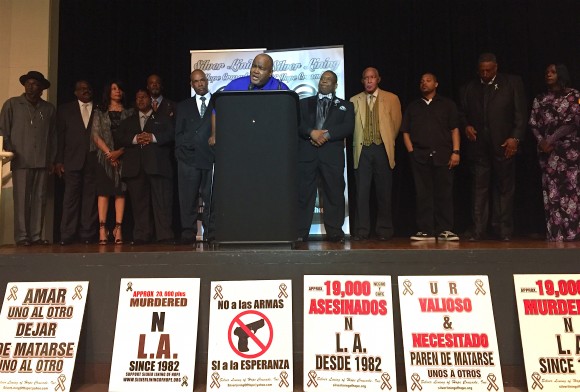 The pastors were trained by Rudolph "Rock Head" Johnson, a former Compton Crip gang member who has spent 17 years in jail. For the last 20 years, he has worked hard to make up for the negative things he's done in his life.
"I've been shot 11 times at one time, I've been stabbed. My oldest daughter got killed in 1998. The lifestyle I lived all my life, she died just as violently," he said. "Amer-I-Can helped me change my life. It made me realize I'm not cursed at birth."
John "Apollo" Payne is a former high-ranking gang member with the Bloods gang, who now also works with the Amer-I-Can organization.
"It should be in every school, in every institution in the world, because it works," said Payne.
Related Coverage
Brown met directly with President Donald Trump in December to discuss ways to benefit the African-American community, and he returned with high praise for the support shown by the new president. Trump's Diversity Coalition also pledged funding for the Amer-I-Can Foundation, and the organizations held a fundraiser and pre-inauguration party in Washington, D.C. on Jan. 19.
Brown said that local faith communities will also be able to bring additional support to his Amer-I-Can program.
"There's a practical aspect and intelligent aspect, but we need the spiritual aspect also, because ultimately you have to believe in something other than yourself," said Brown.
During his eight-year football career as a running back with the Cleveland Browns starting in 1957, Brown helped the team win an NFL championship and was named the NFL Most Valuable Player several times. Brown was later named the greatest professional football player ever by The Sporting News magazine in 2002.
Brown gave up football to pursue acting in 1967 and starred in several major films, including "The Dirty Dozen," "The Running Man," and "Any Given Sunday."