The chairmen of a top U.S. congressional body on Oct. 20 demanded transparency from U.S. Customs and Border Protection (CBP) on whether it has blocked imports from companies that have publicly endorsed the use of cotton from China's Xinjiang region, citing forced labor concerns.
In a letter (pdf) to Acting CBP Commissioner Troy Miller, Sen. Jeff Merkley (D-Ore.) and Rep. Jim McGovern (D-Mass.), the chairmen of the bipartisan Congressional–Executive Commission on China (CECC), asked the federal agency to release "detailed information" about enforcement of the Jan. 13 Withhold Release Order (WRO) on cotton imports from the region.
"We are particularly interested in whether CBP has stopped imports from companies that have publicly endorsed the use of cotton from the [Xinjiang Uyghur Autonomous Region] and have advertised its use in their products," wrote the lawmakers, who were joined by Sen. Marco Rubio (R-Fla.) and Rep. Chris Smith (R-N.J.).
They cited the new NBA season, which started on Oct. 19, saying that they are particularly concerned by "the continued availability of products from the Chinese sportswear companies Anta, Peak, and Li-Ning, which have high-profile endorsements from NBA players."
The public endorsement of the use of cotton from the Xinjiang region by these companies "warrants special attention from CBP, as it raises specific concerns about the supply chains of these companies," they wrote.
In June, the lawmakers called on NBA players to end endorsement deals with Chinese sportswear firms that are linked to forced labor, expressing concern over contracts that more than a dozen NBA players have signed with firms that include Anta, Li-Ning, and Peak. All of these companies have said they use cotton produced in Xinjiang.
"The NBA and NBA players should not even implicitly be endorsing such horrific human rights abuses," the June 1 letter reads, citing the CECC's own documentation that since 2018, there has been credible evidence to show that forced labor exists in Xinjiang's cotton production.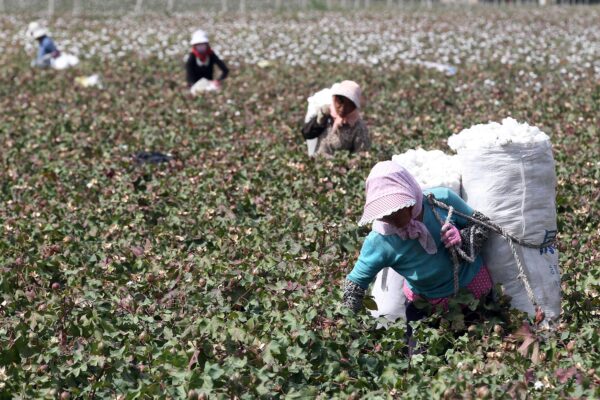 Merkley and McGovern said in their Oct. 20 statement that the NBA hasn't responded to their June 1 letter.
"We do not want sports stars or other celebrity influencers to knowingly or unwittingly endorse goods made with forced labor or for U.S. consumers to buy these products, which remain available to purchase through Amazon.com and other direct-to-consumer platforms online," they wrote.
A 2020 report found that in 2018, at least 570,000 Uyghurs were forced to pick cotton in the Xinjiang region. The CBP has banned all cotton and tomato products from Xinjiang and barred goods from several Chinese manufactures due to concerns of forced labor.
Meanwhile, pressure has mounted on Western fashion brands to divest cotton from Xinjiang—the region is estimated to supply 20 percent of the world's cotton.
"The effort to consistently enforce laws prohibiting imports made with forced labor is in the economic interests of U.S. workers and consumers and the interests of Uyghurs, Kazakhs, and other predominantly Muslim ethnic minorities in China who face genocide and crimes against humanity," the chairmen concluded.
Representatives of the CBP and the NBA didn't immediately respond to a request by The Epoch Times for comment.
Cathy He contributed to this report.