The death toll from Sunday's mass shooting at a Las Vegas concert in Nevada has climbed further.
The gunman, identified as 64-year-old Stephen Paddock sent more than 22,000 country music fans scrambling for cover as he opened fire on the outdoor crowd.
Paddock used an assortment of weapons including rifles and handguns as he fired from the 32nd floor of the Mandalay Bay Resort and Casino on the evening of Oct. 1.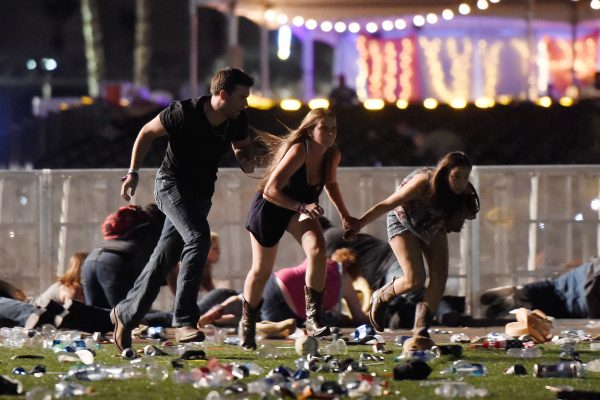 As of Tuesday, at least 59 people were confirmed killed and 527 more injured, up from the previous 58 reported dead and 515 wounded, ABC News reported.
Even before this latest update, it was already the deadliest shooting in modern U.S. history.
In a press conference on Monday, Clark County Coroner John Fudenberg said the death toll from the incident could still go up.
The concert shooting eclipsed last year's massacre of 49 people at an Orlando nightclub by a gunman who pledged allegiance to the ISIS terrorist group.
According to FBI Special Agent Aaron Rouse, there is no evidence of any connection to international terrorist groups, even though ISIS claimed responsibility, he said at a news conference on Monday.
The suspect was found dead when a SWAT team burst into his hotel room.
Clark County Sheriff Joseph Lombardo said investigators found an additional 18 firearms, explosives and several thousand rounds of ammunition in Paddock's home, according to the Los Angeles Times.
Paddock lived in Mesquite, a small town of about 18,000 residents on the border of Nevada and Arizona, CNN reported. Authorities are now searching Paddock's home, some 82 miles northeast of Las Vegas.
Paddock's family is dumbfounded by the news. His brother told Daily Mail that Paddock was "just a guy."
Paddock stayed at the Mandalay Bay Resort and Casino since Thursday, Sept. 28, according to authorities.
Police say Paddock's record included a traffic citation issued years ago that was handled in court.
Marilou Danley was identified as Paddock's female companion. She was thought as a person of interest initially, but police have cleared her of any suspicion. She was out of the country when the shooting happened.
Paddock held a private pilots license, according to the FAA.
Shocked concertgoers, some with blood on their clothing, wandered the streets afterward.
Police said they had no information about Paddock's motive and that he had no criminal record.