The Las Vegas Metropolitan Police Department has released disturbing footage of an elderly man being pushed off a bus to his death.
Serge Fournier, 74, initially survived the fall, but later died from his injuries.
A Nevada woman, 25-year-old Cadesha Bishop, has been arrested and charged with the man's murder.
The department hopes that by releasing the video it will encourage potential witnesses to come forward and speak to the police, WZTV reported.
*Warning: graphic video
Police have asked anyone with information about the incident to call 911 or contact Crime Stoppers.
What Happened?
On March 21 at around 4:49 p.m., officers rushed to a location in downtown Las Vegas after reports that an elderly man had been pushed from a bus.
Witnesses said a woman—later identified as Bishop—shoved an elderly man—later identified as Fournier—out of the bus after he told her to "be nicer" to other passengers, reported the Las Vegas Review-Journal.
74-year old Serge Fournier died after he was pushed off a bus. Police arrested a 25-year old woman and charged her with murder. Witnesses say Fournier told the woman "Be nicer to passengers." @News3LV pic.twitter.com/PYlv02NDdq

— Antonio Castelan (@AntonioNews3LV) May 9, 2019
Bishop had reportedly been shouting profanities at other passengers when Fournier rebuked her and asked that she be nicer.
She then pushed Fournier "with enough force that he never touched any of the steps" on the bus, according to a police report cited by the Review-Journal. "His head landed approximately eight feet from the bus doorway."
Witnesses cited in the publication said that after pushing Fournier, she walked away without offering help.
Fournier died from his injuries on April 23. A coroner ruled that he died from complications from blunt force injuries and ruled the death a homicide.
Trevor Taylor, who lived near Fournier, told KSNV: "He was an excellent neighbor. Very nice, religious person."
"No matter what his age, she should not have done that. People need a little more patience than what they have these days," Taylor added.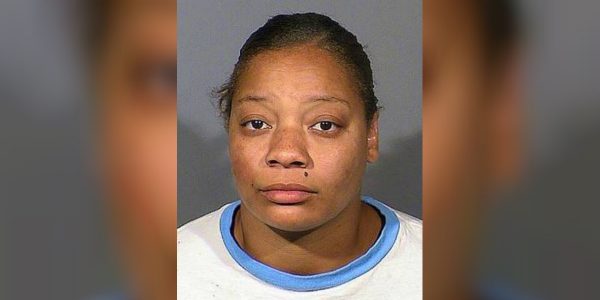 Bishop was arrested three days later.
According to the Review-Journal, Bishop had been convicted of misdemeanor battery charges twice before the incident that led to Fournier's death.
Crime in the United States
Violent crime in the United States has fallen sharply over the past 25 years, according to both the FBI's Uniform Crime Reports (UCR) and the Bureau of Justice Statistics (BJS) National Crime Victimization Survey (NCVS).
The rate of violent crimes fell by 49 percent between 1993 and 2017, according to the FBI's UCR, which only reflects crimes reported to the police.
The violent crime rate dropped by 74 percent between 1993 and 2017, according to BJS's CVS, which takes into account both crimes that have been reported to the police and those that have not.
"From 1993 to 2017, the rate of violent victimization declined 74 percent, from 79.8 to 20.6 victimizations per 1,000 persons age 12 or older," the U.S. Department of Justice stated (pdf).
Both studies are based on data up to and including 2017, the most recent year for which complete figures are available.
The FBI recently released preliminary data for 2018. According to the Preliminary Semiannual Uniform Crime Report, from January to June 2018, violent crime rates in the United States dropped by 4.3 percent compared to the same six-month period in 2017.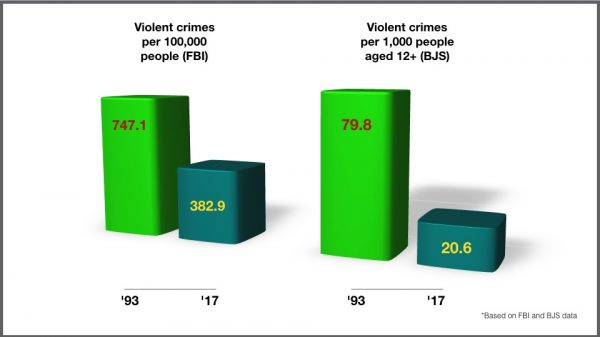 While the overall rate of violent crime has seen a steady downward drop since its peak in the 1990s, there have been several upticks that bucked the trend.
Between 2014 and 2016, the murder rate increased by more than 20 percent, to 5.4 per 100,000 residents, from 4.4, according to an analysis of FBI data. The last two-year period that the rate soared so quickly was between 1966 and 1968.
Property Crime
The property crime rate fell by 50 percent between 1993 and 2017, according to the FBI, and by 69 percent according to BJS.
According to the FBI's preliminary figures for the first half of 2018, property crime rates in the United States dropped by 7.2 percent compared to the same six-month period in 2017.
As with violent crime, the FBI survey only takes into account crime reported to the police, while the BJS figures include reported and nonreported crime.
Public Perception About Crime
Despite falling long-term trends in both violent crime and property crime, opinion surveys repeatedly show Americans believe that crime is up.
The vast majority of Gallup polls taken since 1993 show (pdf) that over 60 percent of Americans believe there is more crime in the United States on a national scale compared to the previous year.
Pew Research surveys show similar findings. A survey in late 2016 revealed that 57 percent of registered voters said crime in the nation as a whole increased since 2008, despite both FBI and BJS data showing double-digit drops in violent and property crimes.
Perceptions differed on a national versus local level.
Surveys of perceptions of crime levels on a local scale showed that fewer than 50 percent of respondents in every single Gallup survey (pdf) done since 1996 believed that crime in their area had risen compared to the previous year.