The girlfriend of Las Vegas gunman Stephen Paddock, who killed 58 people and injured hundreds in October 2017, will probably not face any charges in relation to the incident, according to a Friday, Jan. 19, statement by the Las Vegas Metropolitan Police Department.
"We do not anticipate charges being brought forward against Marilou Danley," said Clark County Sheriff Joseph Lombardo when announcing the release of a preliminary investigative report, the New York Post reported.
Lombardo added that the FBI was investigating another person in the case, but did not disclose further details.
Danley became the focus of the investigation for having shared his retirement community condo in Mesquite, Nevada, northeast of Las Vegas, before leaving the United States for the Philippines in mid-September.
According to an FBI agent's affidavit, Fox reported, Danley was "adamant that she had no prior inclination of Paddock's intentions to conduct the attack" before he rained bullets from a Las Vegas hotel room on a country music concert below, in the deadliest mass shooting in modern U.S. history.
Danley did tell authorities, however, that they would probably find her fingerprints on Stephen Paddock's bullets and magazines because she helped him load ammo into cartridges, the Las Vegas Journal reported, citing search warrants unsealed on Friday, Jan. 12.
Her casino player's card was also found in the suspected gunman's hotel room, the Los Angeles Times reported.
Lombardo said the report still did not shed light on why Paddock strafed an outdoor concert on Oct. 1 with gunfire from his 32nd-floor suite of the Mandalay Bay hotel on the Las Vegas strip.
"This report is not going to answer every question or even answer the biggest question as to why he did what he did," Lombardo said.
Paddock did not leave behind a suicide note or a manifesto explaining his actions, Lombardo said. However, the sheriff added a large loss of money by Paddock just before the shooting could be a factor.
The 81-page preliminary report on the shooting also includes details of Paddock's "disturbing" search history on his computers, including his study of ballistics and SWAT tactics, Lombardo said. Police also recovered several hundred child pornography photographs on Paddock's laptop, the report said.
According to the police report, Danley recalled Paddock behaving strangely during a stay at the Mandalay Bay in early September 2017.
The two were staying in room 60-235 and she observed Paddock constantly looking out the windows of the room, which overlooked the Las Vegas Village venue, the report says. Paddock would move from window to window looking at the site from different angles.
Danley also described how Paddock's demeanor changed over the course of the last year as he became "distant" and "germaphobic," the report said.
Paddock's primary care doctor described him as odd with little emotion, said he may have been bipolar but Paddock would not discuss it and refused antidepressants, the report says.
In documents released by federal prosecutors on Friday, Jan. 12, Danley had been described as a "person of interest" in the case, the Review-Journal reported.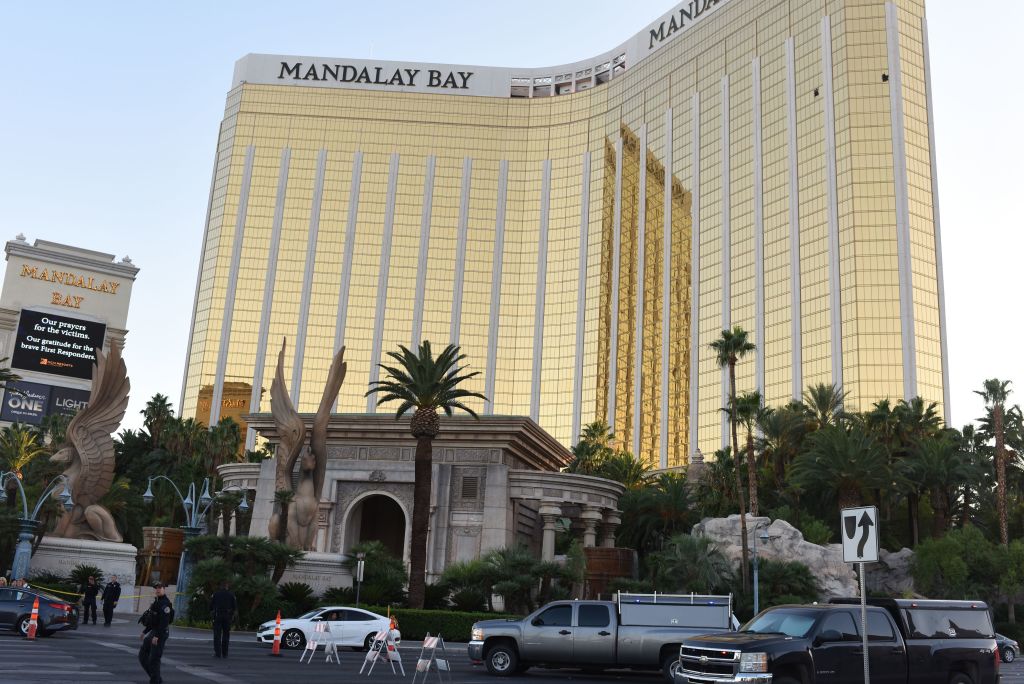 Documents said that she remained "the subject of intensive review," but there was no evidence that she assisted Paddock.
It took investigators several days to realize that Paddock extensively planned the attack.

"The methodical nature of the planning employed by Paddock, coupled with his efforts to undermine the preceding investigation, are factors indicative of a level of sophistication, which is commonly found in mass casualty events such as this," the documents read.
They found more than 20 guns and thousands of rounds of ammunition inside his hotel room.
Meanwhile, according to the documents, Paddock apparently sent emails to himself in July from four different accounts. It read like advertisements for weapons, mentioning bump stocks and AR rifles.
The Review-Journal reported that investigators have been "unable to figure out" why Paddock allegedly sent the messages to himself.
Paddock is suspected of killing 58 people and injuring hundreds attending the Route 91 Harvest festival in Las Vegas on Oct. 1, 2017, before taking his own life.
Reuters contributed to this report
Recommended Video:
The Origins of Antifa