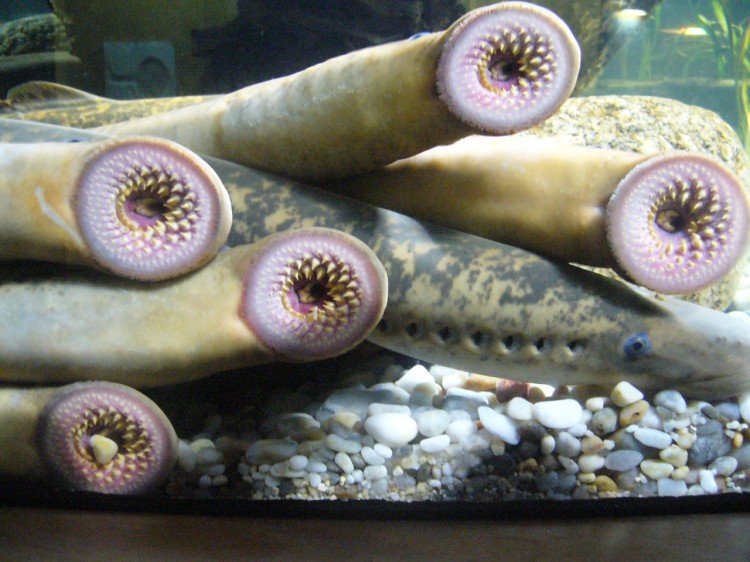 A tiny "living," swimming robot that could be used to detect diseases in the human body is being developed by U.K. and U.S. researchers—with inspiration from an ancient fish.
The design of the robot "Cyberplasm" will allow it to respond to chemical and light stimuli like a living creature. This type of engineering inspired by nature has been described as "biomimicry."
"Nothing matches a living creature's natural ability to see and smell its environment and therefore to collect data on what's going on around it," said Dr. Daniel Frankel, leader of the U.K.-based research at Newcastle University, in a press release.
In this project, the researchers are taking inspiration from the sea lamprey. This eel-like creature lives mainly in the Atlantic Ocean and has been around for about 360 millions years. It has a very simple nervous system, which is easier to mimic, and it also swims, making it an ideal model for Cyberplasm.
Cyberplasm will have an electronic nervous system combined with "eye" and "nose" sensors derived from genetically engineered mammalian and yeast cells. The sensors will convert chemical and light stimuli into electrical impulses, and send them to the microchip "brain." This information can be stored for later analysis or used to control the robot's movement via artificial muscles, which will use glucose as an energy source.
Less than 1 centimeter (0.39 inch) long, the prototype robot will move with an undulating motion like the lamprey. In the future, the robot could be even smaller than a millimeter or built on a nanoscale, say the developers.
They hope that by taking the biomimicry approach, the robot will be supersensitive to the environment around it. This could one day enable it to navigate safely around the human body to detect diseases, or the technology could be applied in the development of advanced prostheses involving living muscle tissues that move when triggered by light or electronic signals.
"We're currently developing and testing Cyberplasm's individual components," said Frankel. "We hope to get to the assembly stage within a couple of years. We believe Cyberplasm could start being used in real-world situations within five years."
The project is jointly funded by the Engineering and Physical Sciences Research Council (EPSRC) in the U.K. and the National Science Foundation (NSF) in the United States
The Epoch Times publishes in 35 countries and in 19 languages. Subscribe to our e-newsletter
.