LeBron James led the Los Angeles Lakers (21–19) with a dominant performance over the Atlanta Hawks (17–21), at home on Friday night 134–118 for their fourth win in a row.
After losing five straight, the Lakers have won five of the last six games, and four straight at home.
Listed as the center for the Lakers, James was a perfect 10 for 10 in the paint, while Anthony Davis continues to recover from a knee injury.
James's performance included scoring 32 points on 13 of 24 shooting, eight rebounds, nine assists, four steals, and three blocked shots.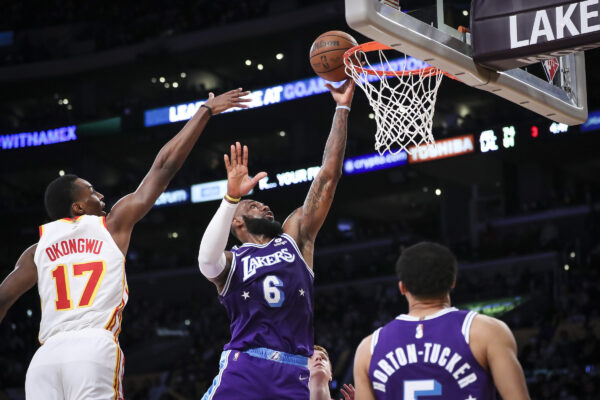 "We're getting our guys back," said James. "It's literally that simple. We're starting to see what we have because guys are in the lineup. Soon we're getting K [Kendrick] Nunn as well, and not too long after that, AD [Davis] returns. When you're building a team with depth and chemistry on the floor, and when too many guys are out, it's too early to gauge it. As of late, we've had both of those."
Five Lakers scored in double figures as Malik Monk had his season-high 29 points. Monk was 11 of 20 shooting from the field; with 7 of 12 threes, four rebounds, three assists, and two steals.
"What we love about him is that he can create, and he can be a finisher," Lakers coach Frank Vogel said. "He's playing really well in all ways you can offensively."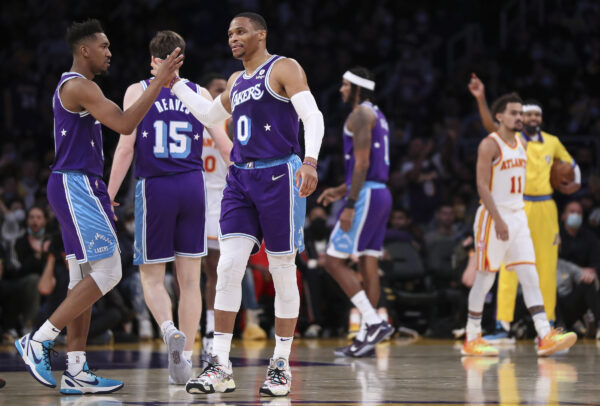 Avery Bradley scored 21 points and six rebounds, and Talen Horton-Tucker also had 21 points off the bench, along with five assists and two steals. The old veteran, Carmelo Anthony, also came off the bench to add 17 points, on four of seven threes, seven rebounds, two assists, and two steals.
Trae Young led the Hawks with 25 points on 8 of 21 shooting, nine rebounds, and 14 assists. Young is the third-highest scorer in the NBA with 17 consecutive games of 25-plus points, breaking Dominique Wilkins's franchise record.
John Collins scored 21 points returning for the Hawks. Kevin Huerter came off the bench for 16 points. Bogdan Bogdanovic added 15 points; and also coming off the bench were Danilo Gallinari with 13 and Onyeka Okongwu with 12 points.
Hawks coach Nate McMillan is still out from the NBA safety protocols, while two players returned; Collins had missed the Hawks' last five games, while Bogdanovic missed the last four.
In four straight losses, the Hawks have given up at least 130 points defensively for the eighth time since November.
"We've got to do a better job," Atlanta interim coach Joe Prunty said. "Because in a game like tonight, you have a guy like Malik Monk and Avery Bradley who weren't necessarily causing the problems, but they were getting the benefits. We need to be better defensively."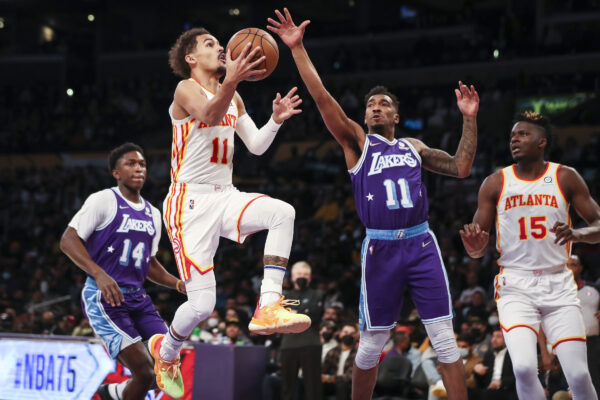 "I think defense is an effort thing," said Young. "It's not necessarily a skill too much. It's more about effort and your want, and a lot of it is game plan. Those two things [go] hand in hand, and I think we've got to do better on both of them."
The Lakers took an early 12-point lead in the first five minutes of the game on Monk's 26-foot three-pointer. The lead surged to 19 points, 53–34, with Westbrook completing a three-point play with 7:05 left before halftime. The Hawks made a huge comeback on a 27–11 run to end the half down three, 64–61.
Lakers' Horton-Tucker and Anthony added 19 points total in the last four minutes of the third quarter to finish with a 101–87 lead.
Lakers' Russell Westbrook fouled out with 4:39 remaining in the game. He had nine points, 11 rebounds, and 13 assists.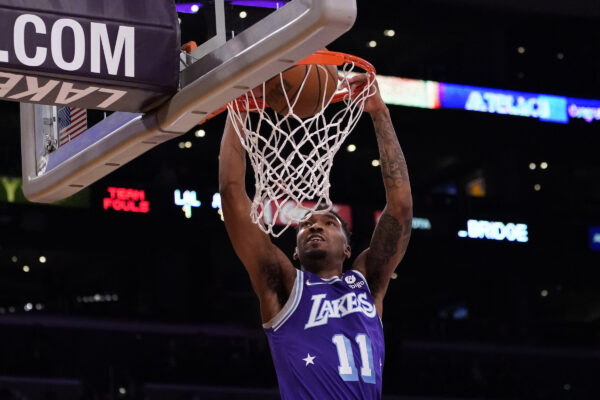 The Lakers pulled away at the end to win 134–118. James had an open dunk and Monk added a spectacular highlight with under two minutes remaining. Monk followed Avery Bradley's missed 25-foot shot beginning from the three-point line, jumping from halfway in the lane to rebound the ball in mid-air, to dunk it through.
The Lakers remain home to play Memphis on Sunday.
The Hawks also stay in Los Angeles to play the Clippers on Sunday to end a six-game road trip, in which they are 2–3.