A Victorian union boss has alleged that prior to the untimely passing of Kimberley Kitching, the senator—known internationally as a hawk on China issues—was facing isolation and bullying from her own party colleagues.
Union boss Earl Setches said that Kitching was facing increased isolation by the party, given her more conservative leanings on many issues.
"She was just alone," Setches said in comments obtained by news.com.au. "There's been no democracy in the party for the last few years. It's just mad. It's just insane."
Kitching a member of the Labor Right faction, in fact, she played a pivotal role in Australia's implementation of the Magnitsky Act, which gives the government the power to sanction overseas human rights violators.
However, her strong stance on human rights and foreign interference from China had caused consternation among some ALP powerbrokers Setches said.
A point he noted was demonstrated by the Australian Labor Party's refusal to fund air tickets for Kitching to receive the prestigious 2021 Sergei Magnitsky Human Rights Award in London, which she ended up paying for herself.
Further, she was not included in the ALP shadow cabinet's email list—despite being the Shadow Assistant Minister for Government Accountability—which contained the party's position on the media topics of the day. Fellow cabinet members later intervened to ensure she was on the list.
Setches also claimed the senator was removed from committees and denied any questions during Senate hearings for the past year.
An additional difficulty for the senator was her membership of "The Wolverines"—which irked certain ALP powerbrokers—an influence group comprised of mainly conservative Australian MPs critical of the CCP.
The issue came to a head when former intelligence boss Allan Gyngell, former head of the Office of Nat­ional Assessments, was invited to an ALP caucus where he said The Wolverines was "immature, juvenile, and destructive," according to The Australian. Further, Labor powerbroker Dennis Richardson, a former head of the Australian Security and Intelligence Organisation (ASIO), said the group added "no value" to the Australia-China debate.
Kitching had also been at odds with Left faction members over other issues such as climate change.
The Labor Party in an email to The Epoch Times has refused to comment on the allegations by Setches.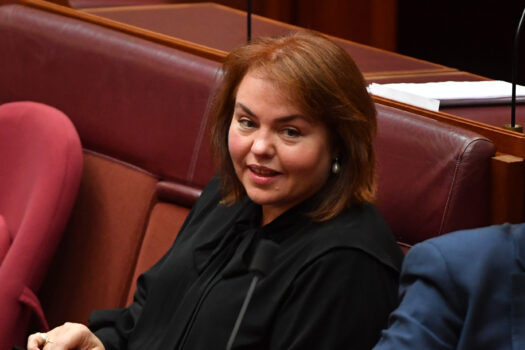 Both major political parties in Australia are contending with ongoing struggles between internal factions—divided along ideological lines—vying for influence over their party's direction and policy platform.
In recent months, the centre-right Liberal Party's factional struggles have spilled over with party leaders reluctant to endorse conservative candidate Lincoln Parker to run for the seat of Warringah—known for being the electorate of former Prime Minister Tony Abbott—concerned he would struggle against progressive, female candidate Zali Steggall.
Meanwhile, tributes for Kitching poured in from across the political spectrum and human rights advocates.
Bill Browder, behind the worldwide Magnitsky movement, said Kitching was a "brave justice warrior" and was not intimidated by the "evil regimes she advocated against."
"We will carry on in her memory and I hope others will too," he said in a statement in a post on Twitter.
Kitching passed away from a suspected heart attack on March 10, aged 52.
She had been driving before she was forced to pull over by the side of the road during the medical episode during which she was able to call her husband Andrew Landeryou.
Landeryou and emergency services were unable to treat Kitching who died at the scene of the incident.