LOS ANGELES—A group of teachers and parents gathered in protest outside the Los Angeles Unified School District (LAUSD) headquarters in Los Angeles on May 16 after some online class teachers who are unvaccinated learned that they could soon lose their jobs if they don't get fully vaccinated against COVID-19 by June 10.
Dozens of people held signs that read "Stop Discrimination," "Medical Freedom," and "LAUSD Stop Firing Teachers," at the protest organized by Los Angeles Educators and Parents United—a group of "diverse LAUSD Educators & Parents unifying for freedom of choice," according to its Instagram page.
Since the start of its employee vaccine mandate in November, the district moved more than 600 unvaccinated teachers from brick-and-mortar classrooms to City of Angels, the district's online school, according to the organization.
The protest was triggered by an email sent by the district to an unknown number of unvaccinated online teachers last week.
The email informed the recipients that they would not be able to teach remotely next school year due to low enrollment in the district's online academies.

Those teachers have three options, according to the email: They must either get vaccinated and return to campus, take a leave of absence, or resign—or retire—before the end of June.
Teachers who choose to stay must receive the first vaccine dose by May 20 and the second dose by June 10. Those who are temporarily or permanently leaving their positions should notify the district by May 20. Failure to do any of these could result in "potentially being separated" from the district.
An LAUSD spokesperson declined to release information about how many teachers received this email, or about how the district decided which teachers to send the email to.
However, the spokesperson said that the number of available online teaching assignments decreased as more students opted to return to campus in the fall.
"Reasonable accommodation approval for placement into the virtual academy has always been contingent upon availability and not a guaranteed assignment," the spokesperson told The Epoch Times in an email.

Francis Moreno, an LAUSD teacher and co-founder of Los Angeles Educators and Parents United, told The Epoch Times she felt "angry and abandoned" when she received the email.
"We teachers have dedicated decades of our lives to the district, and now we feel like the ignored stepchild," she said.
Moreno said the email came just weeks after her religious vaccine exemption was approved. Most of the remote teachers have already obtained either religious or medical exemptions from the district, she said.
"The district is discriminating against teachers based on our religious beliefs, and it's not right," Moreno said. "We've gone to our union for support, but don't feel like they're advocating for us either. We have no one on our side."
Moreno said she recently ran a poll among members of her group. Of the 164 participants, 90 percent have religious exemptions approved by the district, and 67 percent received the email.
Also, 88 percent of all participants are members of the local teachers' union, United Teachers Los Angeles (UTLA), she said.

The Los Angeles Educators and Parents United have spent the past few months seeking to meet both LAUSD Superintendent Alberto Carvalho and the vice president of UTLA—only to be brushed off by both parties.
"UTLA claims to be a democratic union, but it worries more about social justice issues than about being a labor union and representing its teachers," she said.
Last month, Moreno and other educators and parents also organized a protest to ask the district to bring unvaccinated teachers back to in-person instruction after the superintendent announced a plan to fill 400 vacant teaching positions with administrators and other district staff.
Carvalho announced on April 27 that 98 percent of teaching vacancies were temporarily filled with credentialed non-teaching staff who formerly held teaching positions, and that those staff members would return to their regular positions after the current school year ends. It is currently unclear how the district plan to fill the vacancies permanently next school year.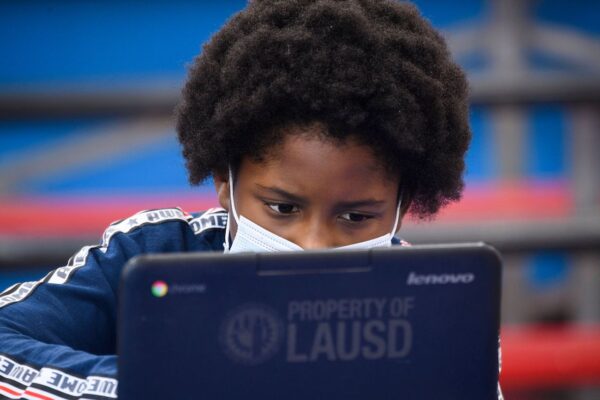 Another educator advocacy group, California Educators for Medical Freedom, is suing the district over its staff vaccine mandate. The case will be heard in March 2023.
UTLA did not respond to requests for comment by press deadline.