A neighborhood anti-crime group in the Melrose Avenue area of Los Angeles will install license plate readers to combat a rising crime wave.
The organization, which is called Melrose Action, had raised about $30,000 by Dec. 8 through donations to purchase up to 15 readers that will capture license plates on vehicles traveling in the Melrose Avenue area.
"It's really out there to protect the people who are coming here to enjoy a meal, or shop or hang out, and feel safe and not be assaulted by people with guns," Peter Nichols, the group's co-founder, told CBC7 News.
In the past two years, the trendy shopping area has seen an uptick of violent crimes, including homicides, violent armed robberies, aggravated assaults, high-dollar jewelry street robberies, "follow-home" robberies, and "smash-and-grab" retail thefts.
"As residents and merchants of the Melrose area of Los Angeles, we are very alarmed by the recent surge in violent crime in our neighborhood," the group wrote in a letter to residents and business owners.
In the Hollywood area, where Melrose Avenue is located, the community has seen nine homicides this year, which is a 50 percent increase compared to 2020 and a 125 percent increase from 2019, when four people were killed. Robberies have jumped 40 percent since last year, according to the latest Los Angeles Police Department (LAPD) crime statistics.
The same district has a 27 percent jump in violent crimes this year compared to 2020. Property crimes have increased 20 percent, and 34 people were shot, a 6 percent increase from last year.
In November, seven people in the Hollywood area were victims of shootings, compared to three in October, according to the LAPD.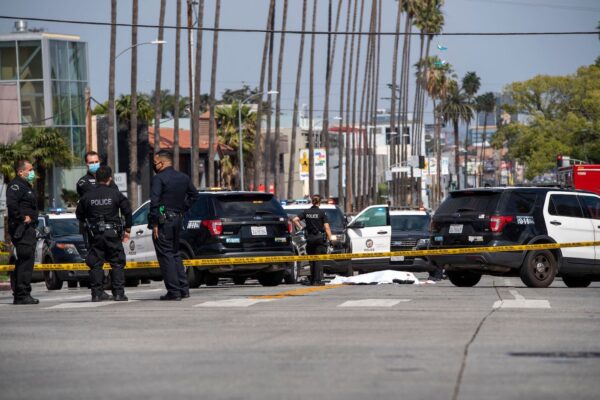 Melrose Action members met with city officials and law enforcement to discuss the crime problem, voice their anger, and try to find a solution, according to the group.
"These devices are expensive, and while we all wish the city of Los Angeles would pay for them, we know that isn't going to happen anytime soon. So it is up to us, both residents and business owners, to come together and take back our streets," the group said.
Information from the readers will be accessible to the LAPD, where it can be accessed instantly and then deleted after 30 days.
The group won't have access to the data, according to Melrose Action.
Each solar-powered camera costs about $2,800 per year to install, maintain, and store the information collected, Melrose Action reported.
The initiative was launched in August. LA City Councilman Paul Koretz, who represents the community, and business owner Moti Gamburd of Raya's Residential Care Communities each donated $10,000 for the cameras. Other donations were made to the group via Go Fund Me.
The readers are expected to be installed starting Dec. 12.
The cameras are becoming increasingly popular with homeowners' associations across the country to reduce crime.
One neighborhood installed similar cameras last year and its police department reported a drastic increase in the recovery of stolen vehicles.
"Before we started using the technology, our organization would recover one to three stolen vehicles a year," Police Chief Ray Schultz told a local news station in November. "I am already at 62 for this year, and I still have six weeks left."
The images are stored in a database that law enforcement can access to check for matches on local and federal lists for such things as stolen cars, unpaid parking tickets, and missing children, according to a 2020 report issued by the Brennan Center for Justice, a nonpartisan law and policy organization based in Washington, D.C., and New York.
The U.S. Department of Justice reported that 93 percent of police departments in cities with populations of 1 million or more—including Los Angeles—use the technology, according to the justice center's report.
The LAPD had collected 320 million license plate scans by 2020. According to a 2019 state audit, 13,000 LAPD employees had access to the database and were able to search images that were up to six months old.