LA Mayor Announces Plan for $13.25 Minimum Wage
September 1, 2014 6:30 pm Last Updated: September 1, 2014 6:30 pm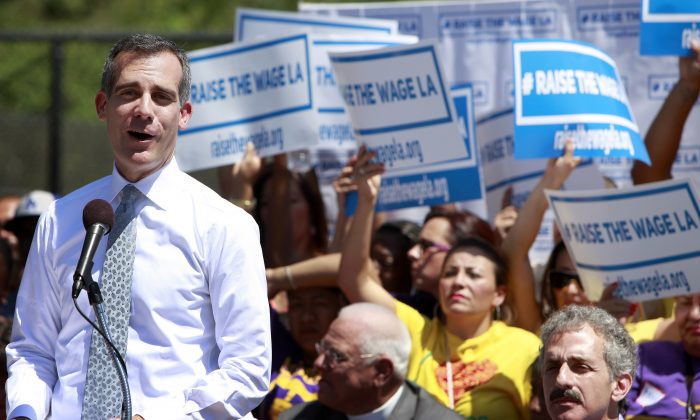 LOS ANGELES—Three-quarters of full-time workers in Los Angeles earn less than similar workers did 30 years ago, according to a report by the LA County Federation of Labor. Labor advocates say the city is overdue for a minimum wage increase above the state level ($9), and the mayor agrees. 
On Labor Day, LA Mayor Eric Garcetti announced a plan to raise the city's minimum wage to $13.25 an hour by the year 2017. The new minimum wage would then continue to rise at a rate tied to Consumer Price Index, a number used to measure inflation.
Mayor Garcetti said it is a crime to pay workers a "starvation" pay rate, even for so-called unskilled labor.
"All labor has worth," he said.
Labor Groups Support
Garcetti approached business and labor groups about the plan before it was announced to the public.
"We're glad the mayor is using his position to, one, acknowledge that there are too many people working too hard for too little… and second, we're glad that he is moving to take some action around increasing the minimum wage,"
said Maria Elena Durazo, Secretary-Treasurer of the Los Angeles County Federation of Labor. 
Still, Durazo is hoping to work with Garcetti to eventually increase the minimum wage to $15 an hour, an amount the labor union coalition believes to be closer to a livable wage. 

A report released last year that was commissioned by the group projected that if minimum-wage workers in LA had more money to spend, they would most likely spend all of it. That money would in turn go back into the economy, increase tax revenue, and generate more jobs, the report said.
"That [$15 an hour minimum wage] would make such a big difference in someone planning and being able to say, 'I'll be able to look forward to my own apartment for my kids,'" Durazo said, referring to multiple families who live together to save money. "'I might even be able to go have fun once in a while. Maybe I don't have to have two jobs. Maybe I could spend more time with my kids.'" 
Some business groups were not so keen on the mayor's idea however, saying many businesses would most likely have to increase prices or cut jobs as a result of a minimum wage increase.
Stuart Waldman, President of the Valley Industry and Commerce Association (VICA), said minimum wage should not even be based on a livable wage.
"It's not meant for people to spend their entire lives on minimum wage. People are supposed to start at minimum wage and work their way up," he said.
Different parts of the US have different costs of living, and advocates of an LA city minimum wage increase say many full-time workers in Los Angeles are forced to use public assistance to make ends meet. 
The Plan
The mayor said the goal is to raise the minimum wage to $10.25 from $9.00 as soon as possible. It would then be raised in increments of $1.50 over the next three years. 
The mayor's plan would have to go through City Council to become a law and must be introduced by a City Council member. During the Labor Day rally City Council President Herb Wesson spoke in support of the mayor's plan.