For the past 25 years, Susan Papiri of La Habra Heights, Los Angeles County, has dedicated herself to caring for seniors. Her passion for this calling started with regular chats she had as a child with an elderly, bedridden man in her neighborhood.
For the past 10 years, she has orchestrated the Senior Care Hero Awards, which she describes as a sort of Academy Awards for under-appreciated workers in the local senior care industry.
"I just marvel at the ability of people to reach beyond themselves," she told The Epoch Times. "They just are inspirational to me."
Papiri, 61, is now being recognized for her own ability to reach beyond herself and inspire others.
She's 2021's first recipient of the quarterly Oliver Halsell Care Award given to devoted and compassionate caregivers.
Usually the one giving out rewards, Papiri didn't expect one herself. When she was notified, she felt "flabbergasted."
"I'm like, 'Are you sure you sent this to the right person?'" she recalled with a laugh.
Greg Morones, general manager of the Fairhaven Memorial Park & Mortuary in Santa Ana, which gives out the award, told The Epoch Times: "Her desire and her will comes from within. We were able to recognize that, and it shows in the path of her career."
Papiri is currently a community liaison for the Council on Aging, a nonprofit that helps seniors and their families navigate the complex health care system and find the resources they need.
Even as an industry insider, she herself got lost in the complexities while caring for her father years ago and, when given the opportunity, decided to help others avoid that.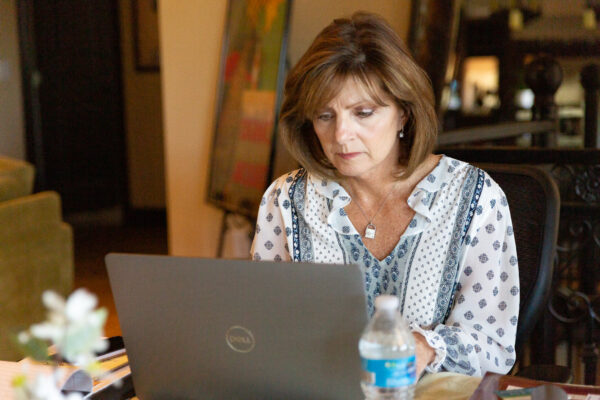 Neighborhood Grandma
But it was Mrs. Kressle, an elderly lady who lived down the street from her when she was a child, who first planted the seed that has come to fruition in her life's endeavors.
Papiri's family had moved from Pennsylvania to Glendale, California, and she missed her grandparents.
Luckily, she had Kressle, known as the "neighborhood grandma." Papiri said, "For me, she was a replacement grandparent."
She was a loving woman with a no-nonsense demeanor, Papiri recalled. Kressle taught her about many things—gardening, the beauty of nature, how to best clean your windows (newspaper and a vinegar-water mix were Kressle's trick, and Papiri uses it to this day).
But one of the lessons with the biggest impact was that of being there for others.
Kressle's husband was bedridden, and she encouraged Papiri to speak with him. Those moments are etched into Papiri's memory.
Mrs. Kressle "was really teaching us about valuing people," Papiri said. "No matter how they looked or what situation they were in, they were still people—all of these very subtle lessons that you learned, without realizing you were learning.
"I think it just made me aware of the continuity of life. … I was introduced to somebody who would be termed as an invalid, [but] it wasn't a scary thing. He was still a person."
Papiri later passed the lesson along to her own children. She was working for a long-term senior care company in Corona and she would sometimes bring her daughters in to help with activities for residents in the company's centers.
"I did this so that they would never view seniors through an affliction, but see them as people with full lives and wonderful stories," she said. "So they would never be afraid of someone who looked different due to stroke."
Over time, Papiri advanced from admissions coordinator to director of business development for 11 facilities in Southern California. Along the way, she accumulated a wealth of knowledge about the needs of seniors and family members under her care.
A Network of Help
"You're dealing with people at a very crisis level," she said. "People will come in and just by me being able to explain things—what's being covered and what's going to happen, that type of thing—I know I made a difference. I helped somebody that day."
She networked with other industry professionals in an effort to facilitate a "continuum of care," to connect families with the various resources they need. She wanted to make it easier for families to get an answer to their questions, whatever they were, all in one place.
Through her networking, she came to see more and more the bigger picture of what people in her industry were doing.
She was especially touched by those who went above and beyond their job description.
"I feel like caregivers in skilled nursing centers have the hardest job in this business and get paid the least," she said. She wanted to see "some kind of award that we could recognize them and what they do."
So she teamed up with others in her network, and "we all kind of plotted through that and came up with the Senior Care Hero Awards."

Senior Care Heroes
The inaugural gala in 2011 had about 200 attendees and raised a little over $20,000, donated to Meals on Wheels (then called SeniorServ). By 2019, it had grown to 650 attendees and raised $300,000, continuing its collaboration with Meals on Wheels.
"People would … say, 'I have never been to anything like this,' which also made us pretty proud," Papiri said. The event "brought home to them what these people did and how important it was. [It's] a heart-changing evening."
Papiri shared the story of the 2015 Outstanding Nurse award recipient.
She was an emergency room nurse who learned that an elderly woman wouldn't make it through the night and didn't have any family to be with her. Even though the nurse had just completed a 12-hour shift, she went to the woman's room and held her hand until she passed away the following morning.
"It's that kind of person that we were honoring," Papiri said. "It was important that people understood that they were being seen, that what they did mattered."
Though they canceled the gala in 2020 because, Papiri said, "it would have been cheating the people" to hold it virtually, she remains hopeful that the event will resume in October this year.
Advice
Papiri encourages the elderly and young to engage with each other, the way she and Mrs. Kressle did.
"Talk to your grandson, talk to a neighbor, talk to anybody who will listen and tell them about your experiences in life," she says to seniors.
"And if you are a young person, listen to them. Ask questions. Engage. … Don't cheat yourself out of learning something that you're going to need. … It will expand your own horizons of understanding the human experience. It will build your own character beyond what you really even know."
She encourages the elderly to get help through the Council on Aging's Senior Protection Program. It helps prevent seniors from being scammed and is offered in 1,600 facilities throughout Orange County, Inland Empire, and Riverside County.
"Seniors are the number one target of scams," Papiri said. She said the information provided through the program is particularly vital in Orange County.
"In Orange County, the aging population is growing faster than the national average because nobody wants to leave here," she said. "It's too pretty!" Though she lives in LA County, she works often with seniors in Orange County.
And, while she knows all too well that "aging ain't easy," she said staying engaged and having a purpose "keeps them younger."
"If you're a senior and you're walled up in your home, please reach out," she said.