Carlie Trent was found safe on May 12; one week after an AMBER Alert was issued following her disappearance.
Her uncle, 57-year-old Gary Simpson, kidnapped Trent from Hawkins Elementary school on May 4.
After being rescued on Thursday afternoon, 9-year-old Trent was taken to Johnson City Medical Center, where she has remained since.
Two Hawkins County men, Donnie Lawson and Stewart Franklin, spotted Carlie and Simpson while checking their property in Hawkins County and detained Simpson while contacting authorities, according to the Tennessee Bureau of Investigation (TBI).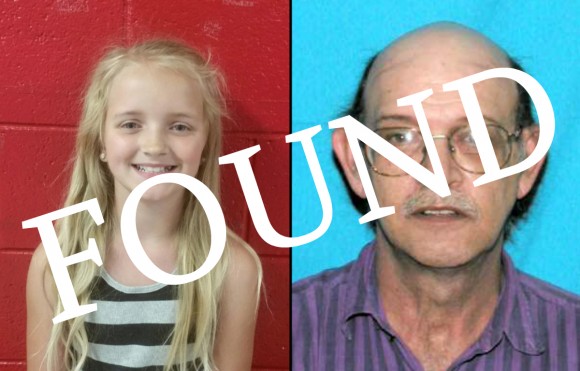 Lawson and Franklin were scouring a rugged area on the property when they came upon the missing pair. Franklin held a gun on Simpson while Lawson called 911. The location was so remote that it was only accessible by foot or 4-wheelers.
"These are two heroes who went on their property just to see if they were there," said Mark Gwyn, the TBI director, reported CNN. "The public is who rescued Carlie and without their assistance I wouldn't be standing here tonight."
Gwen said Carlie appeared to be okay and in good spirits. He said although he can't put a price on Carlie's life, the men who discovered her deserve the more than $40,000 reward offered.
At the time of the kidnapping, Simpson had no custodial rights to Carlie and had been placed on the TBI's Most Wanted List. He has been charged with Especially Aggravated Kidnapping, but may face more charges based on Carlie's medical assessment.
Simpson was booked into the Hawkins County Jail, where he is currently being held on a $1,000,000 bond. 
Carlie's search and rescue, which lasted eight days, was a multi-agency effort, including: Rogersville Police Department, Hawkins County Sheriff's Office, the United States Marshal's Office, the Federal Bureau of Investigation, Tennessee Wildlife Resource Agency, and the Tennessee Highway Patrol.