Kenya Update on Nairobi Mall Attack Raises Questions About Missing Persons
September 29, 2013 10:50 am Last Updated: July 18, 2015 5:18 pm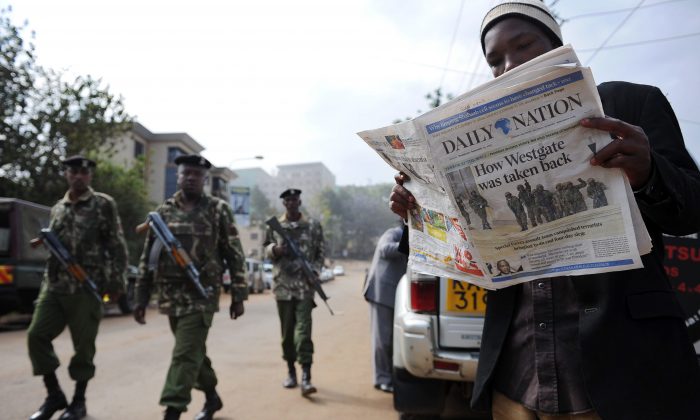 Kenyan Interior Minister  Joseph Ole Lenku updated the press and the public Sunday on the situation following the terror attack on Nairobi's Westgate mall last week: five attackers were killed; 9 are in custody, including one arrested today; 156 witnesses have given testimony; and—the most perplexing number—zero people have been reported missing to the police.
"There are no formal reports of missing persons with the police," Lenku said.
"Curious," tweeted freelance journalist in East Africa, Hannah McNeish. She questioned whether it was an indication of the people's lacking faith in local police. Lenku appealed to humanitarian organizations with missing persons lists to communicate with police. McNeish also wondered when the government would release details about the remaining suspects so citizens could help track them down.
Lenku criticized the United States and UK for travel advisories they issued to their citizens: "While we understand that the US and the UK need to protect their citizens abroad, we feel that travel advisories are an excessive measure."
Only three businesses reported being looted, Lenku said. He also confirmed the number of attackers was 10 to 15, and said "We don't discuss intelligence matters in public."