Kelley Paul, the wife of Sen. Rand Paul (R-Ky.), said she's "exhausted and angry" that mobs harassing the couple last year were not charged, but parents at school board meetings are being targeted as domestic terrorists.
"A mob held us hostage for ten minutes, spitting on and threatening to kill us. No charges! Fake anthrax and death threats sent to our home. No charges! Now just learned the person who called Rand's Senate office threatening to shoot us will not be charged," Kelley Paul wrote on Twitter Tuesday. "I'm exhausted and angry."
Last August, after attending a White House event when former President Donald Trump officially accepted the Republican presidential nomination, the couple and other attendees were accosted by a group of people, some of them were holding Black Lives Matter signs. Video shows that protesters shouted toward the couple, and one protester abruptly pushed a police officer and his bike backward, sending the officer into Paul's shoulder.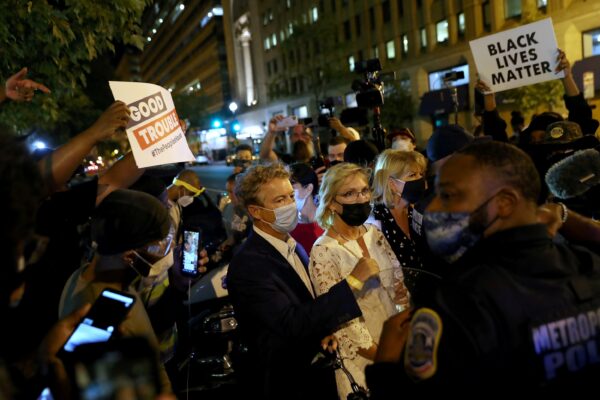 Kelley Paul also noted that in May, a woman called Paul's office threatening to "shoot you all" and she wasn't charged either.
"Yet if you dare express indignation at a school board meeting about CRT [critical race theory] or forced masks, the Biden DOJ and FBI say you're a criminal," Kelley Paul added.
On Monday, Attorney General Merrick Garland announced that he directed the FBI and U.S. attorneys to target any threats of violence, intimidation, and harassment made by parents toward school board members, teachers, and others.
Garland's move drew instant backlash from parent groups and Republicans. His announcement was criticized as a double standard targeting conservative parents, who have ramped up pressure on school boards over the teaching of critical race theory and the imposition of mask or vaccine mandates.
"When Kelley learned today that a person who threatened to shoot us would not be prosecuted, she felt that it was another example of how violence is excused for the left and a mom who raises her voice at a school board meeting is to be treated as a domestic terrorist by the Biden administration," Paul said in a statement to Fox News.
The U.S. Attorney's Office for District of Columbia didn't immediately respond to a request from The Epoch Times for comment.
A record from the prosecutor's office shows a Florida man, Brennen Sermon, was charged for punching a police officer last year when the officer was protecting the Pauls and others walking from the Whiter House to a hotel. But he was released on his personal recognizance, the record shows.
"The punk who assaulted the policeman defending my wife and I in DC went free but the Biden Admin. labels concerned parents as 'domestic terrorists?'" Paul wrote on Twitter Wednesday.
Deputy Attorney General Lisa Monaco defended the new directive during a Senate Judiciary Committee hearing Tuesday.
"I want to be very clear in the memorandum that's publicly available, the Attorney General issued, talks about the importance of bringing federal, state, local law enforcement together to make sure that there is awareness of how to report threats that may occur, and to ensure that there's an open line of communication to address threats, to address violence, and to address law enforcement issues in that context, which is the job of the Justice Department, nothing more," Monaco said.