Kaemi Weakens into Tropical Storm over South China
July 2, 2006 12:00 am Last Updated: July 2, 2006 12:00 am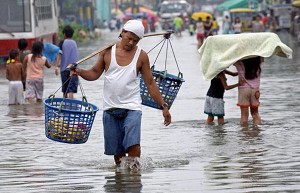 BEIJING – Typhoon Kaemi weakened into a tropical storm on Wednesday, after lashing south China with heavy rains and strong winds and causing the evacuation of hundreds of thousands of people still reeling from Tropical Storm Bilis.
More than 600,000 residents in the southeastern province of Fujian were evacuated as Kaemi made landfall at typhoon strength on Tuesday, after injuring six people, triggering floods and cutting off power in parts of Taiwan.
China's Ministry of Land and Resources sent an emergency notice to local authorities warning of possible landslides and urging the relocation of those living near rocky mountain slopes and in valleys.
"All precautionary measures should be taken to keep losses as low as possible," the official Xinhua news agency quoted the notice as saying.
In Fujian and the neighbouring province of Guangdong, fishing boats were grounded as fishermen sought shelter in harbours.
The storm was expected to move northwest through the provinces of Zhejiang and Jiangxi, China's Meteorological Office said.
South China is still grappling with the aftermath of Bilis, which claimed more than 600 lives and has left another 200 missing since it struck on July 14.
Tropical storms and typhoons frequently strike Taiwan, Japan, the Philippines and southern China during a season that lasts from early summer to late autumn.