A police K-9 that sniffed a powdery substance collapsed and later died.
The dog, Jake, sniffed the substance during a prison contraband sweep last week in Alabama, reported the Montgomery Advertiser on July 22.
The substance hasn't yet been identified, but a hazardous waste materials team later said it was believed to be synthetic marijuana, the report noted.
State prison officials say a K9 officer suffered a medical emergency during a contraband search of a prison late Thursday in Elmore County.​ https://t.co/DMrIzLTHhr

— WHNT (@whnt) July 21, 2019
After Jake collapsed, a nursing team at Staton Correctional Facility in Elmore County attempted to perform CPR before the dog was transported to the Auburn University Veterinary Clinic, it was reported.
The dog later developed pneumonia and died on July 19.
Alabama Gov. Kay Ivey on July 22 officially commended Jake in a statement.
Jake the narcotics dog went into a prison to sniff for drugs. What he found killed him. https://t.co/CrNwF9HaJv

— The Washington Post (@washingtonpost) July 23, 2019
"I was saddened to hear that one of the Corrections K9s, Jake, lost his life over the weekend. This K9 died in service to public safety and in service to the state," Ivey said, reported the Advertiser. "Jake is an example of the goodness, the loyalty and service that our four-legged friends provide. We certainly lost a loyal companion."
Jake, a Belgian Malinois had been a member of the Alabama Department of Corrections's K-9 Bureau since June 2014.
The dog's handler, Sergeant Quinton Jones, issued a statement about the matter.
"After alerting on the substance, Jake lost his balance and became unresponsive," said Jones, WHNT reported.
Corrections Commissioner Jeff Dunn noted that Jake likely saved the lives of others at the prison after finding the harmful substance.
"Jake's heroism and ultimate sacrifice will never be forgotten," Dunn wrote in a statement, reported the Washington Post. "I extend our deepest condolences for the loss of this noble K9 who honorably served the State of Alabama and for ultimately giving his life while protecting the public."
Public Health Danger?
A decade after first appearing in the United States, synthetic marijuana is seen as a growing health danger. Some marijuana smokers turned to it because it is relatively cheap and not detected in routine drug testing. Dozens of people in New Haven, Connecticut, went to the hospital last year after overdosing on a batch of synthetic pot.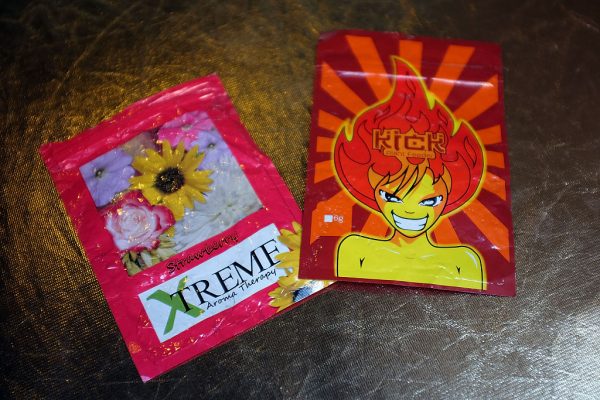 While states have moved to legalize traditional marijuana, synthetic marijuana has become a public health threat. Synthetic pot is a mind-altering drug made by taking plant material and spraying it with chemicals that can mimic the high from marijuana. It is sold under names like K2, AK47, Spice, Kush, Kronic, and Scooby Snax.
The chemicals also can also be mixed into a liquid and vaped, and even mixed into tea or food. The substances can produce some similar effects to traditional marijuana including relaxation, elevated mood and altered perception.
Synthetic marijuana can cause vomiting, hallucinations, seizures, rapid heartbeat and kidney damage severe enough to put users on dialysis. It also can be addictive and has been tied to violent behavior and suicidal thoughts. Health officials track reports of illnesses related to synthetic marijuana through hospital emergency department visits or poison center calls. Poison centers report thousands of cases each year including nearly 8,000 in 2015. This year, as of last month, poison control centers handled about 1,300 synthetic marijuana calls.
The Associated Press contributed to this report.