The Office of the Director of National Intelligence concluded in a classified report that foreign meddling did not have a material impact on the election and political infrastructure during the 2018 midterm election, according to a statement from the Justice Department.
President Donald Trump ordered intelligence and law enforcement authorities last year to regularly investigate foreign interference efforts in U.S. elections. Acting Attorney General Matthew Whitaker and Secretary of Homeland Security Kirstjen Nielsen submitted the joint report to Trump on Feb. 4.
"The Departments have concluded there is no evidence to date that any identified activities of a foreign government or foreign agent had a material impact on the integrity or security of election infrastructure or political/campaign infrastructure used in the 2018 midterm elections for the United States Congress," the Justice Department said in a statement.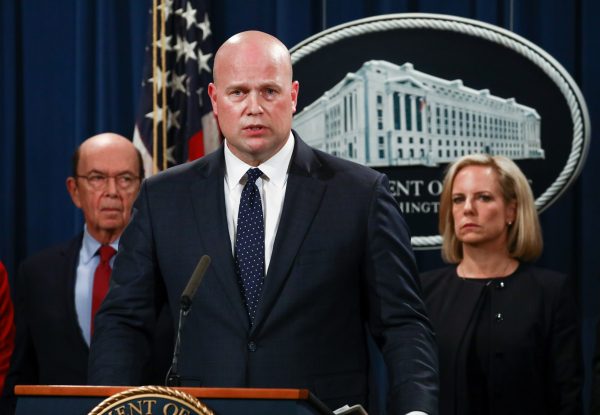 While concluding that interference had no impact, the Justice Department did not say that no attempts at meddling occurred, suggesting that the classified portion of the report outlines such activity. Authorities said the report's "findings will help drive future efforts to protect election … infrastructure from foreign interference."
Congress approved $380 million last year to help safeguard voting systems. The departments of justice and homeland security worked with federal, state, local, and private partners during the 2018 election cycle to protect election infrastructure against the risk of foreign interference. Authorities are already working to secure the 2020 election, according to the statement.
Ahead of the November 2018 election, U.S. intelligence and law enforcement officials warned that foreign actors were continuing their manipulation efforts. Prosecutors charged a Russian national with participating in a Kremlin-backed plan to interfere in the election.
Some state and local governments reported attempts to access their networks ahead of the November 2018 election, but U.S. officials said they were able to prevent or limit access. On the night of the Nov. 6 election, Nielsen said there were no signs that voting systems had been breached.
Intelligence chiefs have previously identified Russia, China, North Korea, and Iran as the main culprits in election meddling. Washington previously accused Moscow of meddling in the 2016 presidential election. Moscow denies the accusation.
Special counsel Robert Mueller has indicted a number of Russian nationals and entities for orchestrating a social media disinformation campaign. Mueller has not accused any U.S. citizen of knowingly colluding with Russia.
Reuters contributed to this report.