Wikileaks founder Julian Assange has been granted permission to marry his fiancée, Stella Moris, in the high-security British jail where he's been held since 2019.
Moris, a South African-born lawyer, took to Twitter to share the news on Friday alongside a photo of her in Assange, who is currently in Belmarsh Prison in London.
"Good news: UK government has backed down 24h before the deadline," Moris wrote. "Julian and I now have permission to marry in Belmarsh prison. I am relieved but still angry that legal action was necessary to put a stop to the illegal interference with our basic right to marry."
Prior to Friday's announcement, Moris had claimed that the governor of the Belmarsh prison and Justice Secretary Dominic Raab were preventing the couple from marrying and threatened to take legal action against them.
"Julian and I are trying to get married, but what should be a straightforward process and a sacred right is being illegally interfered with by sinister elements of the state. Blocking us from exercising our basic right to a family life is harassment. It's illegal, and it's wrong," she wrote on Twitter earlier this month.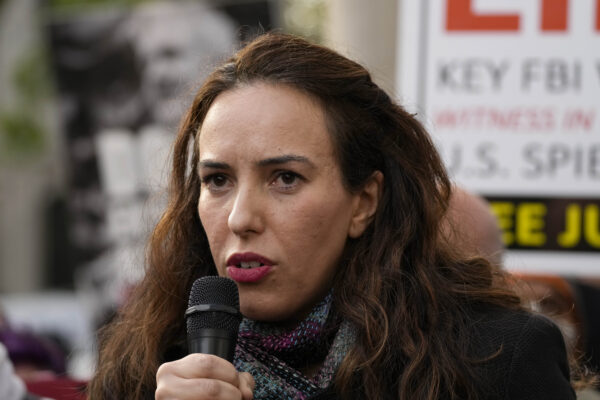 A Prison Service spokesperson told The Guardian, "Mr Assange's application was received, considered and processed in the usual way by the prison governor, as for any other prisoner."
Prisoners are entitled to apply to be married in prison under the Marriages Act 1983. Inmates must submit an application to the Governor of the prison and, if their application is granted, the nuptials must take place within the prison, with the costs relating to the ceremony being paid for by the prisoner.
Assange and Moris met in 2011 when she joined his legal team and their relationship turned romantic in 2015, she said in a video posted to Wikileaks' YouTube account.
They have two sons together, who she said were conceived while he was living inside London's Ecuadorean embassy.
U.S. prosecutors have indicted Assange on 18 criminal charges of breaking an espionage law and conspiring to hack government computers.
WikiLeaks published a U.S. military video in 2010 showing a 2007 attack by Apache helicopters in Baghdad that killed a dozen people, including two Reuters news staff. It then released thousands of secret classified files and diplomatic cables, which included critical appraisals of world leaders, from Russian President Vladimir Putin to members of the Saudi royal family.
Assange sought refuge inside Ecuador's London embassy for seven years from 2012 until he was arrested in April 2019 for skipping bail during a separate legal battle.
He is now in London's high-security Belmarsh Prison but the United States is currently seeking his extradition from the UK. If it succeeds, he could face up to 175 years in jail. Assange has argued he won't get a fair trial in the United States.