A federal judge is demanding answers from lawyers representing a defendant after the man proclaimed his innocence one day after admitting he entered the U.S. Capitol on Jan. 6, 2021, in violation of federal law.
U.S. District Court Judge Amit Mehta on Feb. 3 gave the defense and prosecutors one week to explain why he shouldn't act following a published interview of Thomas Adams Jr., the defendant.
Adams told The State Journal-Register that he wouldn't change anything he did on Jan. 6.
"I didn't do anything. I still to this day, even though I had to admit guilt, don't feel like I did what the charge is," Adams said.
The comments on Feb. 1 came one day after attorneys for Adams reached an agreement on facts in the case with prosecutors. In the agreement, the parties agreed that the government would show that Adams entered the U.S. Capitol through a breached door without authorization and made his way to the Senate chamber before being escorted out of the building by law enforcement officers.
The parties presented the agreement to Mehta, an Obama appointee. Mehta decided, based on the facts presented, that Adams was guilty of obstruction of an official proceeding and of entering or remaining in a restricted building or grounds.
The type of proceeding is called a stipulated trial. It's a version of a bench trial, which features a judge deciding on guilt or innocence rather than a jury.
Adams said in the new interview that he did go into the building but that he left when he was told to leave. He said he "followed the crowd" toward the Capitol, passed a fence that had already been knocked down, and entered a doorway that was open.
Adams told The State Journal-Register he agreed to a stipulated trial because his lawyer, a public defender, "told him she couldn't guarantee he wouldn't go to jail," the newspaper reported.
In his brief order, Mehta said the parties must show "why the court should not vacate Defendant's convictions of guilt in light of his post-stipulated trial statements" to the newspaper.
The parties have until Feb. 10 to respond.
Adams's lawyers didn't respond to a request for comment; prosecutors declined to comment.
Adams currently faces up to 21 years in prison.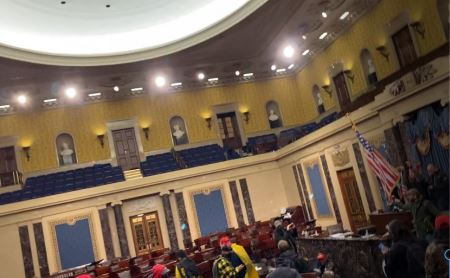 'Really Fun Time'
Adams told Insider after exiting the Capitol that he had "a really fun time."
However, he said he didn't appreciate how some people engaged in destruction.
"I think everything was great until it went from peaceful to everyone acting like a bunch of 12-year-olds destroying things," Adams said.
According to court documents, Adams went up the Upper West Terrace stairs at approximately 2:26 p.m. that day and entered the Capitol about 22 minutes later. He told FBI agents that people breached the door with "window washing equipment," and he acknowledged that he walked over broken glass to get into the building.
Surveillance footage showed Adams, once inside, walking past a line of Capitol Police officers who prosecutors said were "attempting to stop the rioters."
Adams told Insider that the officers "weren't really doing much" and were "waiting to see" if the rioters would try to push past them.
Adams then entered the Senate chamber despite knowing he didn't have authorization. He took pictures while on the chamber floor.
He was escorted out of the Capitol at 3:11 p.m. According to authorities, Adams told FBI agents he was "forced out."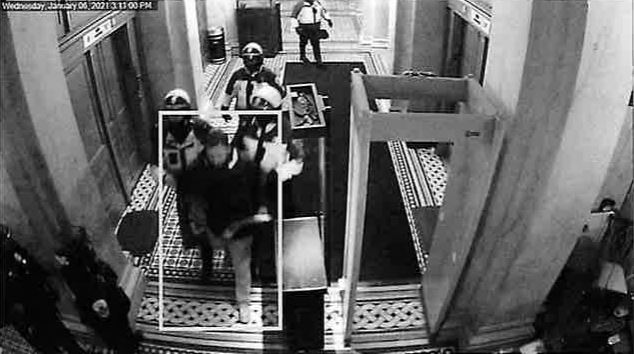 No 'Specific Plan'
Adams told agents that he and a friend traveled to Washington with clothes and tents with no "specific plan."
"The only preparation we were concerned about was potentially being outside for a while. Since we were planning to occupy, we didn't know if they were going to be out there for one day, five days, or a week," Adams said.
He was part of a crowd that disrupted the certification of electoral votes from the 2020 election.
Congress had convened a joint session for the certification, which was completed in the early hours of the following morning once the Capitol was cleared.
Adams told agents that once he saw people going into the Capitol, he thought to himself, "What are they going to do if a half a million people are here and standing inside of a building and want to be heard?"