A federal judge on Tuesday postponed a scheduled hearing in a Georgia elections case involving high-profile attorney Sidney Powell.
U.S. District Judge Timothy Batten Sr., a George W. Bush appointee, had scheduled a hearing for Dec. 4. But on Dec. 1, he said he was staying his order for a hearing, citing an appeal plaintiffs made to a higher court.
"Plaintiffs' notice of appeal states that it divests this Court of jurisdiction. If the circuit court disagrees with Plaintiffs, it will dismiss their appeal, whereupon this Court will probably need to reschedule the hearing presently set for Friday, Dec. 4 (since the parties' briefs, due tomorrow and Thursday, probably will have not been filed)," Batten wrote.
"Any delay in conducting the hearing on the claims in Plaintiffs' complaint would be attributable to Plaintiffs—not this Court—since Plaintiffs are the ones who filed the notice of appeal."
A lawyer for the plaintiffs didn't respond to a request for comment.
The case concerns the Nov. 3 election and subsequent recount in Georgia. Plaintiffs are seeking to have outside experts perform forensic inspections of Dominion Voting Systems machines, an effort opposed by defendants, including Republican Georgia Secretary of State Brad Raffensperger.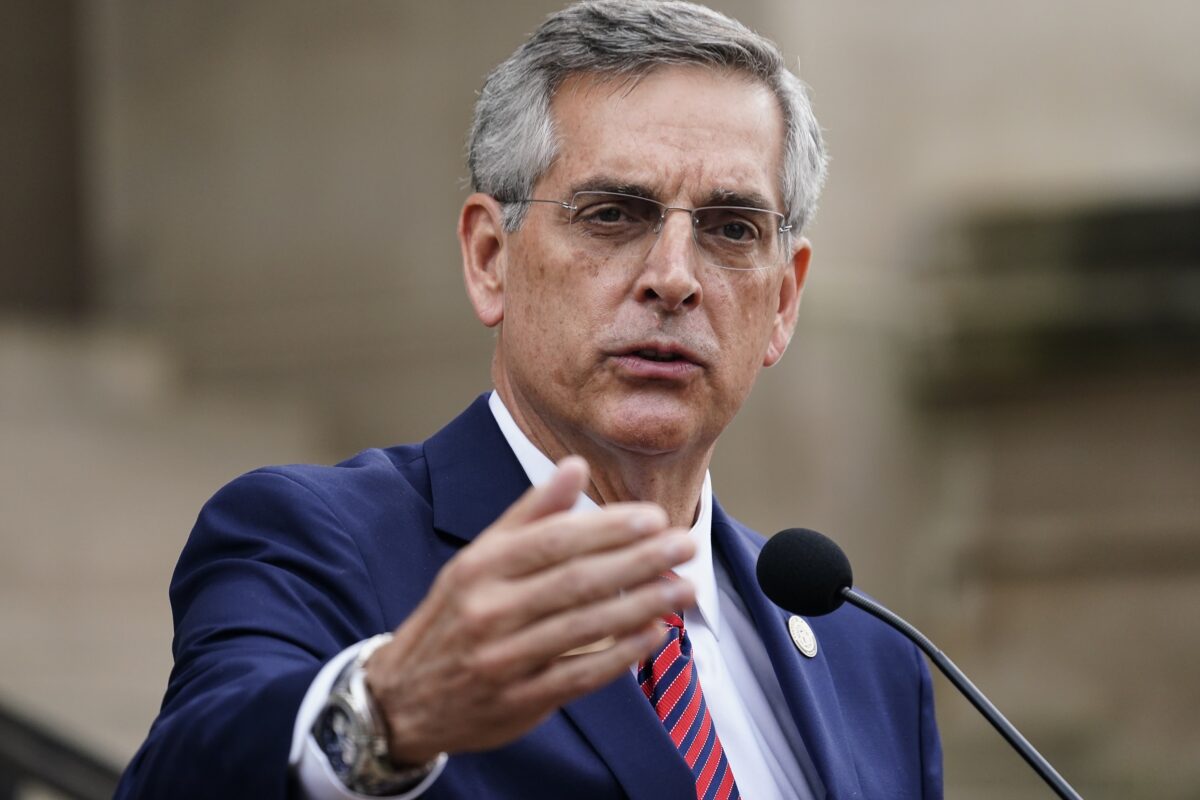 Plaintiffs argue there was a fraudulent scheme to manipulate the vote count to make sure Democratic presidential nominee Joe Biden won Georgia. The suit cited expert analysis, including one who said he examined the results in Fulton County and found statistical anomalies.
Batten last week ordered three counties not to reset or wipe voting machines while the case is decided, but plaintiffs filed an emergency appeal earlier Tuesday to the United States Court of Appeals for the Eleventh Circuit, noting they requested such an action statewide.
"This Notice of Appeal as of right should divest the district court of jurisdiction. If not, Plaintiffs would request a stay of the hearing currently scheduled in the district court for Dec. 4, 2020, until this Court has ruled on the questions raised by the appeal, including whether Plaintiffs must add to the suit each of the 600-plus county election officials in addition to the secretary of state for Georgia, who by law is responsible for Georgia elections and spent $107 million taxpayer dollars to purchase Dominion voting systems for the entire state," lawyers for the plaintiffs, including Powell, wrote.
Plaintiffs also entered another exhibit, a declaration from Ronald Watkins, a U.S. citizen currently living in Japan who described himself as a network and information security expert. Watkins said Dominion scanners may be tweaked to mark "a non-trivial amount of ballots" as problem ballots.
"A biased poll worker without sufficient honest oversight could abuse the adjudication system to fraudulently switch votes for a specific candidate," he wrote.
The case is Pearson v. Kemp (1:20-cv-04809). It was filed in the U.S. District Court for the Northern District of Georgia.