Singer-songwriter Joy Villa arrived at the 62nd Grammy Awards in Los Angeles on Jan. 26 wearing a gown in support of President Trump's 2020 reelection campaign.
The 28-year-old award-winning recording artist and political activist attended the red carpet event in a red, white, and blue latex fitted dress adorned with the words "Trump 2020" in white crystal lettering running down the front.
On the back of her eye-catching garment were the words "Impeached and Reelected," in reference to the president's impeachment trial.
Villa's gown was reportedly custom-made by Desi Allinger-Nelson of Desi Designs, who told The Hollywood Reporter that the coat detail of the outfit was inspired by the first lady Melania Trump.
Following Sunday's appearance at the Grammy Awards, Villa explained the thought process behind her choice of outfit.
"As an artist I use my voice for what my heart holds dear: American exceptionalism lifting up integrity, free speech, family values, and our beautiful freedom of religion," she wrote on Instagram.
"Thank God for @realdonaldtrump! The first president in USA history to be impeached and reelected by us, the American people!"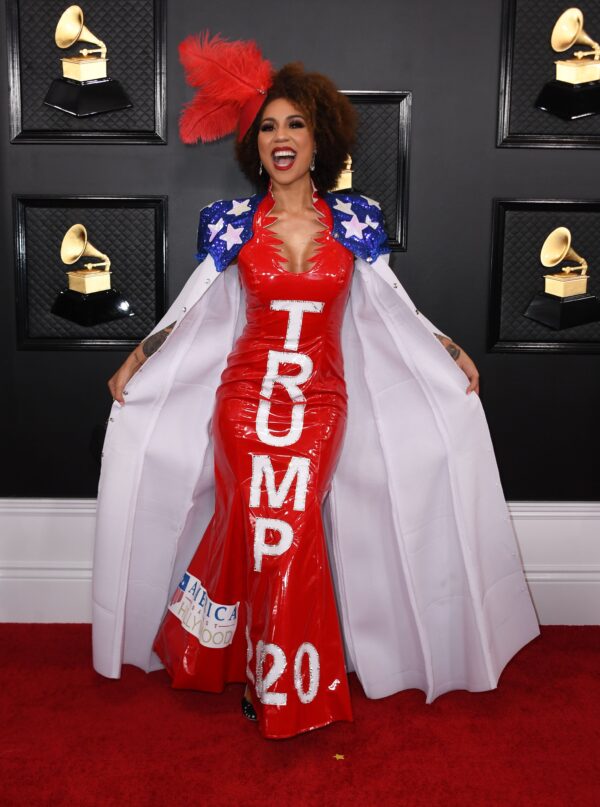 Villa said her look was in partnership with America Against Hollywood, an organization funding conservative artists and performers to support the reelection of President Trump in 2020.
This is not the first time Villa has made a political statement with her choice of clothing on the red carpet and is her third show of support for Trump through her attire.
At the Grammys in 2017, Villa worse a blue dress which looked like a campaign poster and was emblazoned with the president's famous slogan "Make America Great Again."
At the 2019 Grammy Awards, she arrived in a barbed wire-style dress that said "Build the Wall" on the back, while carrying a bright red purse embossed with the MAGA slogan.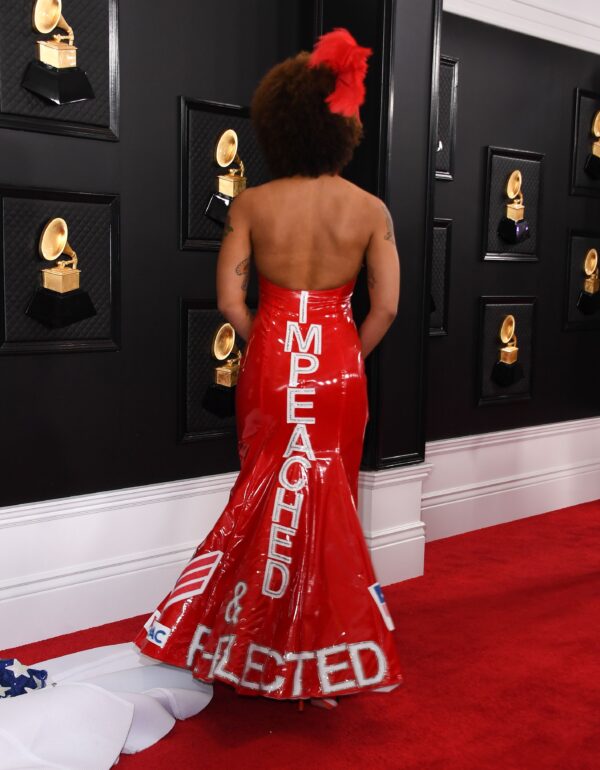 The singer has also made other political statements with her clothing, including at the 2018 Grammy Awards when she wore a provocative pro-life ensemble featuring a graphic hand-painted image of a fetus and a handbag inscribed with the words "Choose Life."
Last year in December, Villa called for the whistleblower in Trump's impeachment case to be revealed in an interview with RT.
"Why isn't this whistleblower showing his identity? This is not fair, if you are accusing someone of these crimes, you should show your identity," she said.
"President Trump has the absolute right to face his accuser, so this whole thing is ridiculous. It just feels like a farce."
The Democratic House managers, led by Reps. Adam Schiff (D-Calif.) and Jerrold Nadler (D-N.Y.), spent around 20 hours making arguments over three days last week, saying Trump abused his power when he withheld nearly $400 million in military aid to Ukraine.
Trump has repeatedly said he did nothing wrong in his July 2019 phone call with Ukrainian President Volodymyr Zelensky.
The White House has also defended the hold Trump placed on military aid approved by Congress for Ukraine. Trump has said he ordered the hold because of concerns of corruption in the country.
Trump last week suggested it would be hard to envision him being impeached for what he did.
No president in U.S. history has been successfully removed from office, as the Senate requires a 67-vote supermajority to convict.