Joe Montana's Son, Cris Carter's Son NFL Prospects
April 9, 2013 10:58 am Last Updated: April 9, 2013 6:19 pm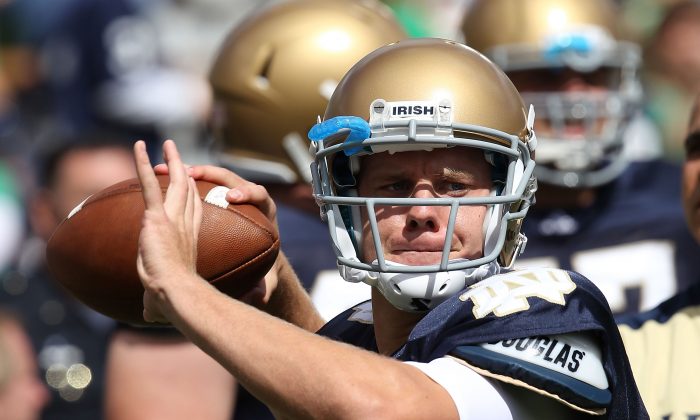 Joe Montana's son: Nate Montana finished strong at Division II West Virginia Wesleyan, but analysts doubt he can go pro like his father. 
NFL prospects participated in a pre-draft workout at Dallas Cowboys Stadium on Sunday and Monday. Among the 213 prospects were the sons of two NFL Hall of Fame greats—Joe Montana's son, Nate, and Cris Carter's son, Duron, hope to follow in the footsteps of their fathers.
The event showcased players that have potential, but were not invited to February's NFL Scouting Combine in Indianapolis, according to Fox Sports.
NFL.com analyst Bucky Brooks doubts the 23-year-old Montana will make it pro.
"He's a great kid, his measurables are fine, but in terms of playing at the next level, his performance here was not very good," Brooks told NESN.
She said he has "difficulty making pro throws."
Montana, 6-foot-4 and 215 pounds, was a Notre Dame quarterback like his father. He later played for the Division II West Virginia Wesleyan Bobcats, leading the West Virginia Intercollegiate Athletic Conference with 19 touchdowns and 2,480 passing yards.
Carter played for Ohio State, as his father had. Academic obstacles have stood in Carter's way.
As a freshman at Ohio State in 2009, he caught 13 receptions for 176 yards with a touchdown against Indiana, according to the Bleacherreport. He left Ohio for academic reasons and transferred to Coffeyville Community College.
With 44 catches for 690 yards and 10 touchdowns, reports Fox Sports, Carter then left for the University of Alabama.
He did not play at Alabama nor at his last stop—Florida Atlantic University—because of academic eligibility issues.