10 Hong Kong dissidents are expected to be sentenced on April 16, including media mogul Jimmy Lai, for taking part in unauthorized assemblies in 2019 during the height of the anti-Beijing, pro-democracy movement.
Lai and six other dissidents attended a mitigation hearing at the West Kowloon court building in the morning, over their roles at a protest on Aug. 18, 2019. The seven dissidents were found guilty in March of unauthorized assembly charges after they were arrested in April last year.
On Aug. 18, 2019, a rally at Victoria Park, which was was organized by the local pro-democracy group Civil Human Rights Front, drew more than 1.7 million Hongkongers, in protest against an extradition bill that would allow the Chinese Communist Party to send people charged with a crime in Hong Kong to China for trial. The police approved of the rally but did not approve an ensuing march.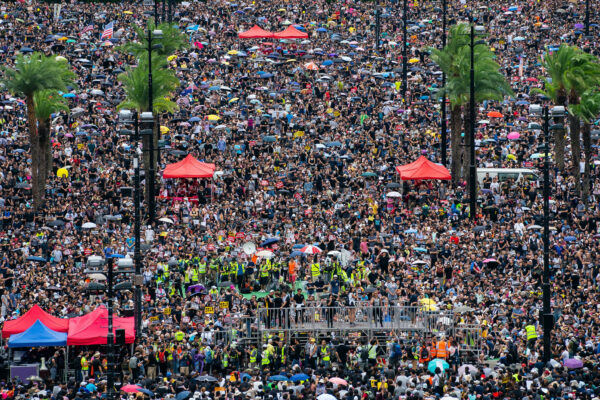 Aside from Lai, the six other defendants are Lee Cheuk-yan, 64; Margaret Ng, 73; Leung Kwok-hung, 65; Cyd Ho, 66; Albert Ho, 69; and Martin Lee, 82. Lee is a barrister who has been dubbed the "father of democracy" in Hong Kong.
The seven pleaded not guilty in February, while two other dissidents, Leung Yiu-chung, 67, and Au Nok-hin, 33, pleaded guilty.
The court is expected to hand out sentences against all nine dissidents later on Friday, while a separate court hearing on Friday afternoon is expected to hand out additional sentences.
The afternoon case involved three dissidents, Lai, Lee Cheuk-yan, and Yeung Sum, over their roles in a protest on Aug. 31, 2019.
On Friday morning, about 100 people lined up outside of the West Kowloon court building to hear the case and voiced support for the seven dissidents. One woman dressed in black with a black hat held up a placard with the words "Free all political prisoners."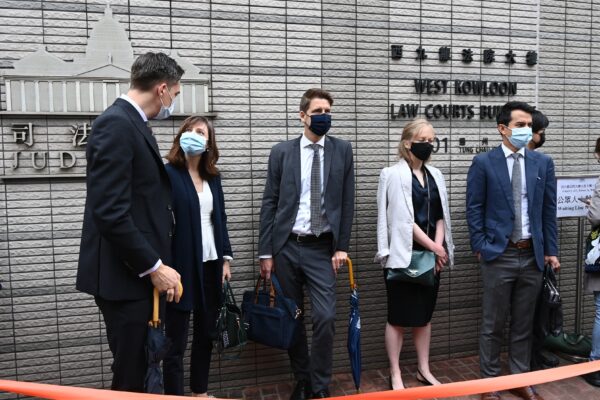 Also attending the hearing were consular representatives from multiple countries, including Australia, Canada, France, and Sweden, as well as Charles Whiteley, deputy head of the European Union Office to Hong Kong and Macau. He said that the court case was a "legitimate interest to the international community."
"We will be following the outcome today and reflecting on the outcome," Whiteley said.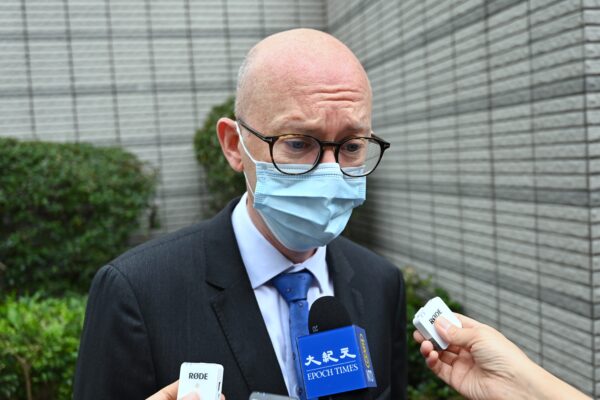 Emily Lau Wai-hing, former chairman of the local Democratic Party, also attended the hearing. She said that she was glad to see the presence of the consular corps in Hong Kong to come to the hearing.
"We want the international community to know what's going on. Hong Kong is still an international city, and we hope our core values would not be destroyed completely," Lau said. "I just hope that they will get a free and fair and objective trial and verdict."
She added: "Maybe some of us will end up behind bars, but we have to continue to fight."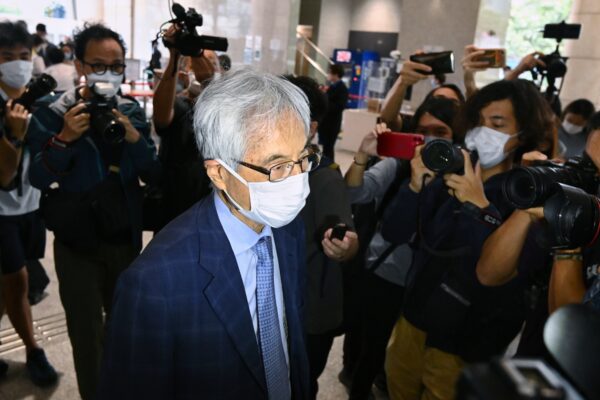 "We will not give up," Martin Lee told reporters when he arrived at the court. He added, "We will have hope if we continue our efforts."
"The government can lock us up behind bars but they cannot lock up our mind, not our conscience. We are not the first [group] of prisoners of conscience, and we will not be the last," Ng told reporters outside of the courthouse.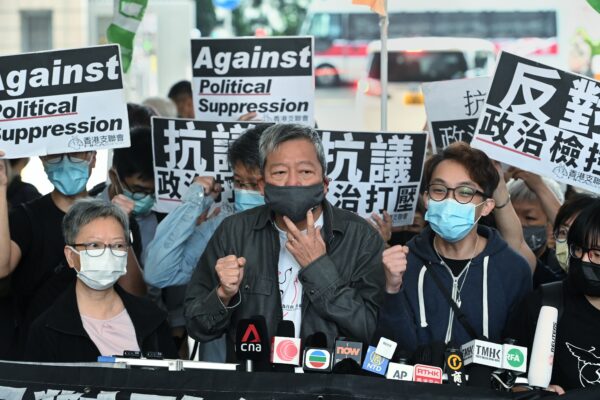 Local district councilor Cary Lo said that the Hong Kong government has taken away people's freedom of speech, including their ability to comment on politics, and there wasn't any venue for people to express their views about Beijing's power grab in Hong Kong.
Lo was asked if he planned to leave Hong Kong, like many Hongkongers who have fled the city out of fear of being prosecuted for taking part in recent protests.
"This is our home, our family. We don't leave here because we stand up here and want to commit more to serve and save Hong Kong," Lo said.
Before entering the courthouse, Leung Kwok-hung shouted: "Peaceful assembly is not a crime."
Hong Kong bureau of The Epoch Times contributed to the article.