Shamima Begum, the London teenager who ran away to join ISIS at the age of 15, has just given birth in a Syrian refugee camp and has renewed her pleas to be allowed back into the UK with her newborn son.
Begum, who spoke to Sky News reporter John Sparks, said "a lot of people should have sympathy" toward her, as she urged her family to "keep trying to get me back [to the UK]."
In response to earlier suggestions, she might pose a security threat and her return should be blocked—Begum said she was "just a housewife" and that British authorities had no evidence of her "doing anything dangerous."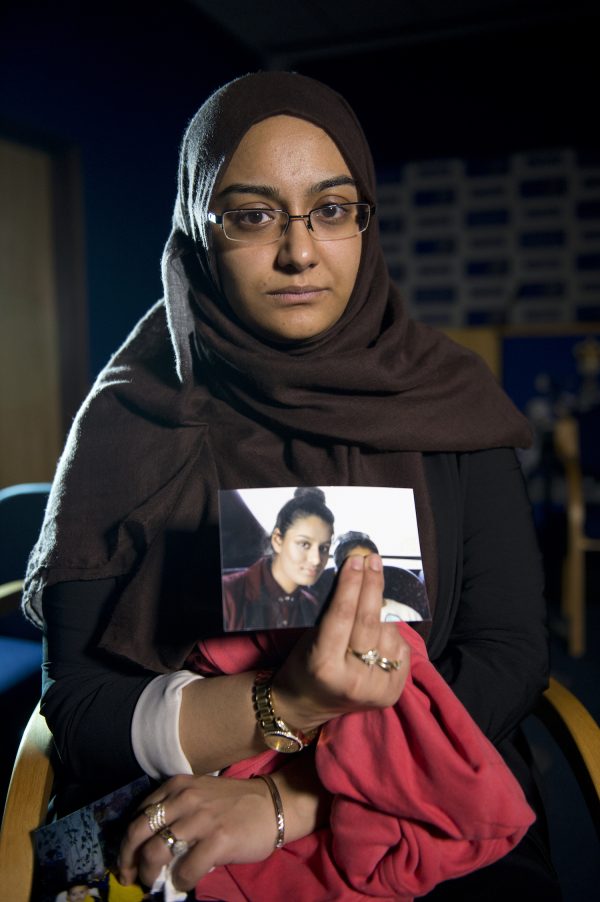 'Potentially Very Dangerous'
Alex Younger, the head of British intelligence service MI6, warned that would-be returnees, such as Begum, were "potentially very dangerous," because having been in "that sort of position" people like her were likely to have acquired certain "skills or connections."
Home Secretary Sajid Javid said he "will not hesitate" to block the return of Begum—or other ISIS supporters—adding that those who do manage to make their way back to Britain should be prepared to be "investigated and potentially prosecuted."
"We must remember that those who left Britain to join Daesh were full of hate for our country," he said, according to Sky News. "My message is clear—if you have supported terrorist organizations abroad I will not hesitate to prevent your return."
"When I went to Syria I was just a housewife for the entire four years. Stayed at home, took care of my kids. I never did anything dangerous. I never made propaganda. I never encouraged people to come to Syria," she added.
"I think a lot of people should have sympathy towards me for everything I have been through."

In an interview with Sky News, Shamima Begum says she hopes for the sake of her child she'll be allowed to return to the UK.

Full interview here: https://t.co/JlQZG73ZiQ pic.twitter.com/FUFUyUMkgW

— Sky News (@SkyNews) February 17, 2019
'No Regrets'
In an earlier interview with the Sunday Times, Begum was unrepentant about running away from home to join up with ISIS, saying "I don't regret coming here."
She added she thought the so-called caliphate was corrupt and nearing collapse.
"I don't have high hopes. They are just getting smaller and smaller," she said. "And there is so much oppression and corruption going on that I don't really think they deserve victory."
Begum described her nearly three years in the jihadi caliphate to The Times in an interview punctuated by shocking statements, like when she talked about seeing "beheaded heads" in bins, but added it "did not faze her."
When asked by Sky News about beheadings, she replied, "Yeah, I know about those things and I was OK with it."
"From what I heard, Islamically that is all allowed so I was OK with it," she said.
"Have you made a mistake?" asks Sky News' @sparkomat.

IS bride Shamima Begum says she doesn't regret leaving the UK to join Islamic State in Syria.

Watch the full interview here: https://t.co/JlQZG73ZiQ pic.twitter.com/gXXUmauFcM

— Sky News (@SkyNews) February 17, 2019
"I'm not the same silly little 15-year-old schoolgirl who ran away from Bethnal Green four years ago," she told The Times interviewer, Andrew Loyd.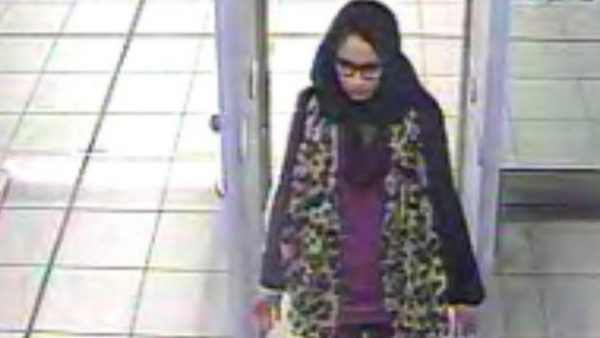 Will Begum Be Allowed Back?
The British government has stepped up efforts to block ISIS affiliates from returning to the UK on grounds that they pose a threat.
In cases of individuals involved in combat operations and who may have committed atrocities, the UK government has used a controversial new power to deprive them of British citizenship. In 2017, the new legal authority was used to strip 104 people of their British citizenship, compared to 14 people in 2016.
The government said stripping citizenship is "particularly important in helping prevent the return to the UK of dual-national British citizens involved in terrorism-related activity in Syria or Iraq."
The power has also been extended to lower-level extremists and criminals, including Rochdale grooming-gang members.
However, the UK government draws a distinction between people who have actually fought under the banner of ISIS and those who joined the terror group as supporters.
British Security Minister Ben Wallace was reported by the BBC as saying that while the government might consider in case of jihadi brides—understood to fall into the latter category—the British government would consider helping them to come home.
He noted, however, that they would face the possibility of prosecution and a jail sentence for supporting a terrorist group.
Wallace said, as cited by The Telegraph, "The message is to all the people out there. If you have been out there against the advice of the foreign office to go and engage in support or activities of terrorism, you should be prepared to be—if you come back—questioned, investigated, and potentially prosecuted for committing terrorist offenses."
Scared Third Child 'Would Die'
Begum said that during her time with ISIS, her two other children died.
She said her decision to leave was in part because she was "frightened that the child I am about to give birth to would die like my other children if I stayed on."
"That's why I really want to get back to Britain because I know it will be taken care of—healthwise, at least," she told the Times.
"I didn't know what I was getting into when I left," she told Sky News, "and I just was hoping that maybe for the sake of me and my child, they let me come back.
"I can't live in this camp forever," she added.
Trio of Runaway ISIS Brides
In a move that made headlines in Britain, the trio of teenaged London schoolgirls left stable family backgrounds in February 2015 to join what has been described as a murderous jihadi cult.
Begum and Abase were both 15, while Sultana was 16, when they flew from Gatwick Airport to Turkey, after telling their parents they were going out for the day.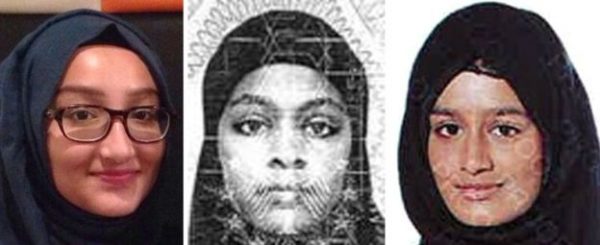 The girls later crossed the border into Syria.
While Sultana was reported to have been killed in an airstrike in 2016, Begum said she did not know what happened to her other friend.