Police have launched an investigation after 107 graves at a Jewish cemetery in France were defaced with Nazi right-facing swastikas in the latest anti-Semitic attack to hit the country, officials said.
The incident took place in Westhoffen in eastern France on Tuesday just hours after similar vandalism took place in the nearby village of Schafhouse-sur-Zorn, close to the border with Germany.
Gravestones were defaced with large right-facing swastikas sprayed in black ink and some were also marked with the number "14," which could be in reference to the 14 character white supremacist hate slogan: "We must secure the existence of our people and a future for white children," which has been adopted by neo-Nazi groups.
Westhoffen cemetery houses about 700 graves, including those of several relations of France's first Jewish prime minister, Léon Blum, and Karl Marx—the founder of Communism who has been accused of anti-semitism despite being descended from a rabbinical family in Germany.
Speaking of the damaged tombstones, French president Emmanuel Macron pledged to fight hate crime, and shared his support for the Jewish community.
"Jews are and make France. Those who attack them, even in their graves, are not worthy of the idea we have of France. Anti-Semitism is a crime and we will fight it, in Westhoffen as everywhere, until our dead can sleep in peace," he wrote on Twitter.
Meanwhile, the grand rabbi of Strasbourg, Harold Abraham Weill, said to the attackers: "You will never wipe away our memory or our identity, neither with your paint or whatever you use. We are here and we will stay here for a long time."
France is home to roughly 500,000 Jews, making it the largest Jewish community in Europe. However, the country had seen a 74 precent increase in anti-Semitic acts n the last year, according to French authorities, with 311 incidents recorded in 2017, compared with 541 in 2018.
French Interior Minister, Christophe Castaner, visited the cemetery in Westhoffen shortly after the attack took place and said it was "an expression of pure hatred," before announcing that police have now launched an investigation into the incident.
"I want to say to those who think they can come here in the middle of the night and tarnish the memory of those who are buried here. Tarnish the memory of our French republic … I want to tell them that we will not leave them alone and our means will be mobilized to follow up and act on this," he told local reporters.
Castaner also announced the creation of an official office to combat against hate, which would be part of France's gendarmerie. The office will be charged with investigating all anti-Semitic, anti-Christian, and anti-Muslim acts, he said.
The Alsace region, which borders with Germany and Switzerland, has seen a number of anti-Semitic incidents in the past year. In February, 96 tombstones were desecrated with right-facing swastikas at a cemetery in the village of Quatzenheim, drawing nationwide outrage.
Despite its thousands-year-long history, having been venerated by ancient Indian buddhists and ancient Western cultures, the symbol has in modern times been interpreted as a hate symbol after its right-facing version rotated to 45 degrees was appropriated by the Nazis or National Socialist German Workers' Party as its logo.
As recently as WW1, swastikas were often printed on the sides of planes and kept by soldiers as symbols of good luck.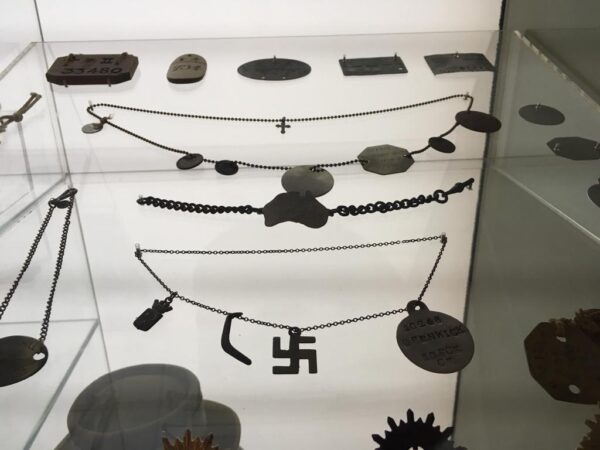 When translated from Sanskrit, swastika (su-asati-ka) translates to: "Let the good prevail."