Commentary
Sun Zi, an ancient Chinese military strategist, says in his "The Art of War." as quoted from Lionel Giles' English translation: "The highest form of generalship is to balk the enemy's plans; the next best is to prevent the junction of the enemy's forces," stressing on the importance of diplomatic efforts.
Japan has very powerful diplomatic relations that are well established to prevent the junction of the enemy's forces, which is one of the two powerful tools Japan has to counteract the Chinese Communist Party (CCP) in the face of its growing assertiveness and aggression in the region.
I would like to share my view of Japan's diplomatic strategies to contain the CCP.
Japan Has Been Consolidating Japan-US Ties
When Trump was President-elect of the United States, Shinzo Abe, former Japanese Prime Minister went to New York to pay a visit, establishing good personal relations and urging Trump to confront the CCP.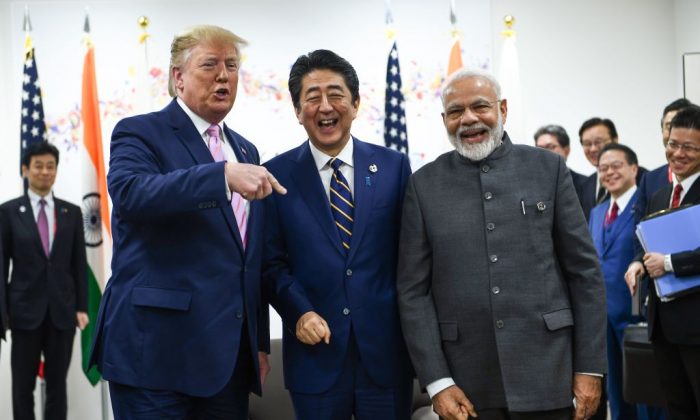 The current Japanese Prime Minister Yoshihide Suga was the first foreign state leader received by President Biden of the United States at the White House.
Japan Has Been Promoting the Quad, Emphasizing Bilateral Military Cooperation
The Quad, short form for Quadrilateral Security Dialogue, refers to the strategic dialogue scheme between the United States, Japan, Australia, and India, initiated by then Japanese Prime Minister Shinzo Abe in 2007.
The countries in the Indo-Pacific region are the first to feel the pressure of the CCP's global expansion.
However, for various reasons, there is still a long way to go before the Quad develops into an Indo-Pacific version of NATO, so one of Japan's major strategies is to focus on developing bilateral cooperation with Australia, the United States, and India under the framework of the Indo-Pacific strategy.
Let's first look at Japan's bilateral relationship with Australia, which has been making progress.
In Nov. 2020, Australian Prime Minister Scott Morrison visited Japan and the two countries announced that they had agreed in principle on the reciprocal access agreement (RAA), which is a landmark defense treaty. If signed, Japan and Australia would form a paramilitary alliance. This would be Japan's first in-depth defense agreement, other than a status of forces agreement with Washington in 1960, covering foreign military presence on its soil for the first time in 60 years. It is also the first defense agreement of this kind between Asia-Pacific countries, described by some media as a "breakthrough defense pact."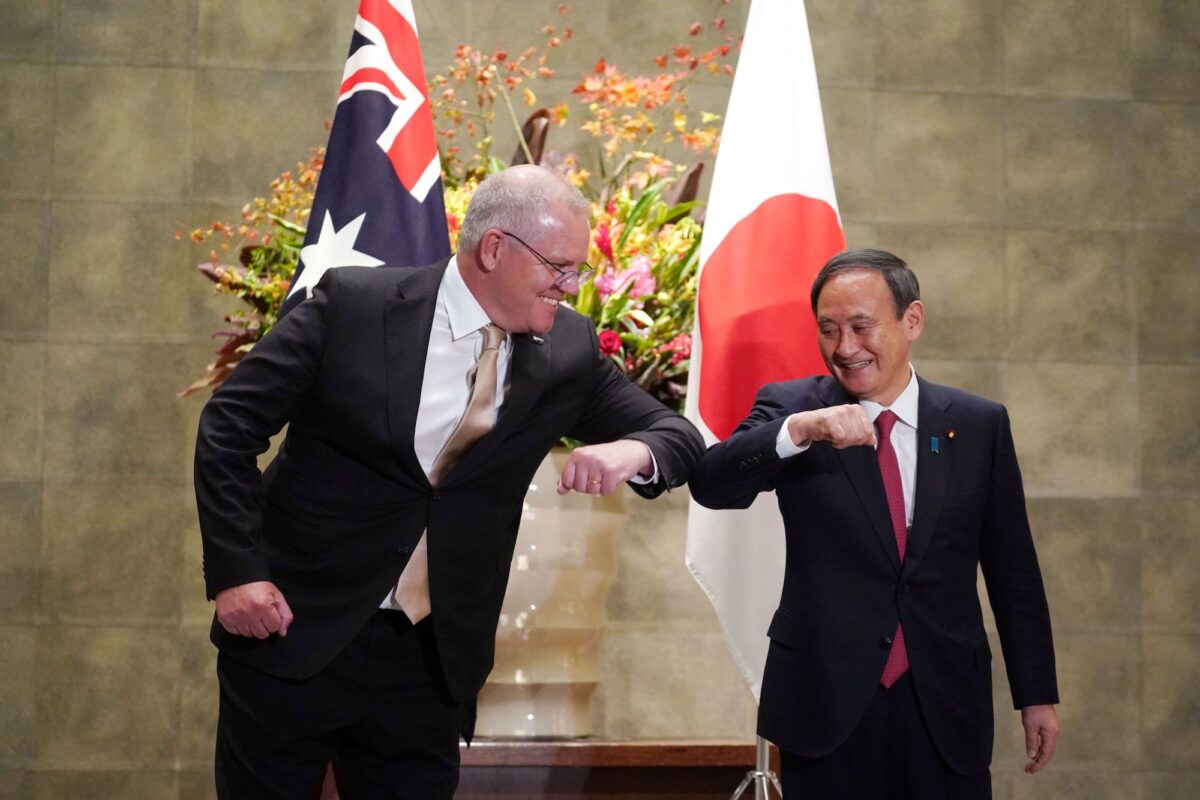 Back in 2007, Japan and Australia established a mechanism for "2+2" talks between foreign ministers and defense ministers following the signing of a military cooperation agreement by both countries in the same year that allowed for joint military exercises, formal military exchanges, and the possibility for the Japan Self-Defense Force to conduct counter-terrorism training on Australian soil.
In 2012, the two countries signed an intelligence security agreement and agreed to share military intelligence.
In 2014, the Japan-Australia relationship was upgraded to a "special strategic partnership" and the two sides signed the Agreement of the Transfer of Defence Equipment and Technology.
Since then, Japan-Australia military cooperation has expanded to include the sharing of military material and munitions after Japan eased restrictions on arms and equipment exports. As a result, Japan-Australia military relations have continued to gain breakthroughs.
Now let's have a look at Japan-India bilateral relationship.
In 2005, Japan's then Prime Minister Junichiro Koizumi visited India during the Japan-India summit, and he signed a joint statement on "strategic orientation of Japan-India global partnership" with India's then Prime Minister Manmohan Singh.
Japan's then Prime Minister Shinzo Abe delivered a speech at the Parliament of India during his visit in 2007, and said that the "Strategic Global Partnership of Japan and India is pivotal" for the "pursuit of freedom and prosperity in the region." In this year, the Japan Self-Defense Force took part in Exercise Malabar for the first time, and then in 2009 and annually since 2014.
In 2008, Japan and India concluded the "Joint Declaration on Security Cooperation between Japan and India" to strengthen military exchanges, making India the third country besides the United States and Australia to have a security agreement with Japan.
Since Narendra Damodardas Modi became Prime Minister of India in 2014, Japan-India relations have warmed rapidly. The following illustrates a timeline of Japan strengthening its relations with India.
In Sept. 2014, the two countries established India-Japan Special Strategic and Global Partnership (India has such relations with only two countries, the other being Russia).
On Nov. 30, 2019, in New Delhi, India-Japan Foreign and Defence Ministerial Dialogue (2+2) was set up.
In Nov. 2020, Japan and India reached an agreement on a military supply-sharing pact to strengthen the implementation of the General Security of Military Information Agreement and the Agreement Concerning the Transfer of Defence Equipment and Technology signed earlier (pdf). According to this agreement, the Indian Navy is allowed access to the Japanese military base in Djibouti and the Japanese Navy is allowed access to Andaman and Nicobar Islands. The cooperation opened up new possibilities for both sides in the development of armaments and weapons.
Japan's Prime Minister Suga Yoshihide is scheduled to visit India and the Philippines from late April, according to a Japanese report.
Japan Has Been Actively Developing Military Relations with NATO Countries
The following are several of the countries Japan has close ties with.
Let's start with the UK.
On Feb 3, Japanese Minister for Foreign Affairs Motegi Toshimitsu and Minister of Defense Kishi Nobuo met online with their British counterparts. The four ministers talked about security and defense cooperation and both parties "shared their serious concerns about the situation in the East China Sea and the South China Sea" and "strongly opposed unilateral attempts to change the status quo by force," obviously targeting the CCP.
The UK side announced its plan to send HMS Queen Elizabeth and her Carrier Strike Group to visit the region including East Asia this year, showing the UK's commitment to the Indo-Pacific region, and both sides held talks on the implementation of joint exercises during this visit.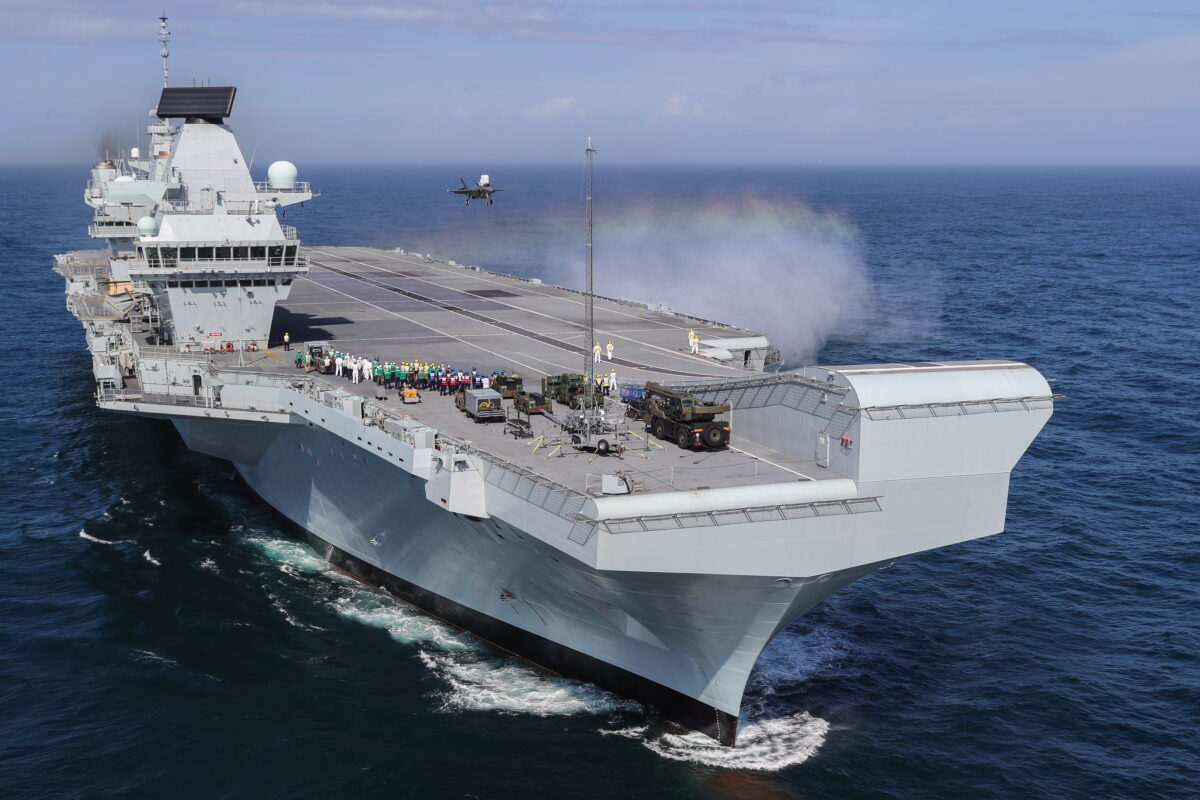 Looking further back, we can see more moves by Japan in an effort to enhance its relationship with the UK.
In July 2013, the two sides signed an agreement "concerning the Transfer of Arms and Military Technologies necessary to implement joint research, development, and production of Defence Equipment and Other Related Items."
2014 saw the start of Japan working with the UK to develop an air-to-air missile, Japan's first defense equipment project with a partner other than the United States.
From mid-October to early November 2016, the British Air Force visited Japan, and this was the first time the Japan Air Self Defense Force (JASDF) hosted a joint exercise with a third country other than the United States at its Misawa Air Base on its home soil.
In 2017, Japan and the UK signed an agreement of reciprocal provision of supplies and services for their military forces.
Another country in Europe that Japan has been working closely together with is France.
In light of international tensions over the CCP's foreign expansion, particularly over its construction and militarization of artificial islands in the South China Sea, France has strengthened its military presence in the Indo-Pacific and issued an Indo-Pacific strategy document, "The Indo-Pacific region: a priority for France," in 2018. Japan, on the other hand, is an important pivot point of France's Indo-Pacific strategy.
As early as 2013, during the visit of then French President Francois Hollande to Japan, the two countries decided to elevate their relationship to an "exceptional partnership" along with a "road map" for Franco-Japanese cooperation from 2013 to 2018, and also established a meeting mechanism for their foreign ministers and defense ministers "in the areas of politics and security," with Japan being the only country in Asia included in such a mechanism.
In 2015, Japan and France concluded an agreement on the transfer of defense equipment and technology.
In 2018 the Japan-France Acquisition and Cross Servicing Agreement (ACSA) was signed "as the foundation for defense cooperation, as is stated on the website of Japan's Ministry of Foreign Affairs, with the two countries to "build up concrete cooperation in the security and defense fields."
The French-led "La Perouse" naval exercise was held in the Bay of Bengal from April 5 to 7 this year with the participation of Japan, the United States, Australia, and India.
According to Kyodo News on April 1, Japan plans to hold a joint military exercise with the United States and France in May at a military base in southwestern Japan.
"We want to demonstrate our presence to the region and send a message about Japan-France cooperation," said Adm. Pierre Vandier, chief of staff of the French navy, "This is a message aimed at China. This is a message about multilateral partnerships and the freedom of passage."
Another important country to be mentioned in this article is Germany.
On April 5, the Yomiuri Shimbun reported that Japan and Germany will hold their first "2+2" dialogue in mid-April, which is expected to discuss issues related to defense and the establishment of "a free and open Indo-Pacific region" and how to deal with an "increasingly assertive China."
Earlier in March, German officials confirmed that a German frigate will sail across the South China Sea in August, the first voyage in 19 years since 2002 for a German warship to sail through this area. The German warship will participate in a joint drill with Japan later this year at the invitation of Japan.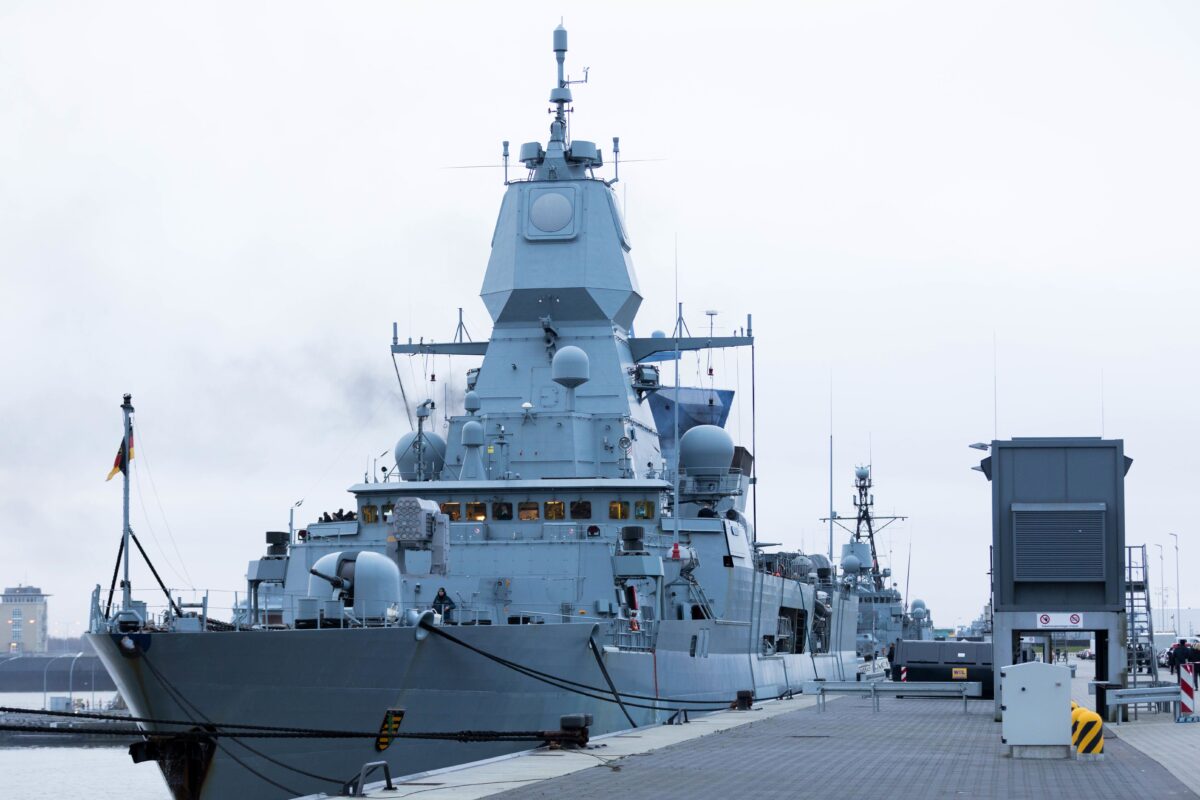 In March, Japan and Germany signed an agreement on the security of information, which facilitates the exchange of information of confidential military and anti-terrorism information, and removes a major obstacle for Japan to export defense equipment to European countries. Japan has entered into similar arrangements with the United States, the UK, Australia, and NATO.
Germany has always been moderate toward the CCP, and German Chancellor Angela Merkel is reportedly known as pro-Chinese Communist regime by her western counterparts. But new changes in the situation are forcing Germany to change its policy toward China.
Last September, the German cabinet released a document (pdf) "Policy guidelines for the Indo-Pacific region Germany—Europe—Asia: shaping the 21st century together," declaring that Germany "will strategically position and step up its engagement vis-à-vis ASEAN," and including strengthening relations with democratic countries such as Japan and Australia. It states that "Germany is prepared to promote the enforcement of rules and norms in the region," including "freedoms of navigation."
In fact, Shinzo Abe was active in developing Japan-Germany military cooperation at the beginning of his second term as prime minister. In July 2017, Japan and Germany signed an agreement on joint development of defense equipment and technology. After Abe's successful revision of Japan's security bills in 2014, he has entered into similar agreements with the United States, Australia, India, the Philippines, the UK, France, and Italy.
Conclusion
Japan's diplomatic efforts targeting the CCP are far more than what has been discussed above.
In fact, Japan's diplomatic efforts have been so effective that it has made the CCP extremely wary. What the CCP does not realize is that it is its own perverse actions that have made Japan's diplomatic efforts so smooth. Of course, Japan's soft stance and flexible diplomacy are also the main reasons for its success.
One of Japan's characteristics is that it is not easy to set its national goals, but once the national goals are set, it will make a solid long-term effort to push forward and make sure to make things happen.
As long as Japan recognizes the nature of the CCP and makes up its mind, dealing with the threat of the CCP is not an impossible task for Japan, though it is daunting.
Wang He has master's degrees in law and history, and has studied the international communist movement. He was a university lecturer and an executive of a large private firm in China. Wang now lives in North America and has published commentaries on China's current affairs and politics since 2017.
Views expressed in this article are the opinions of the author and do not necessarily reflect the views of The Epoch Times.