Japan and South Korea are calling on China to push its wayward ally North Korea harder so it abandons its ballistic missile and nuclear weapons programs, Japan's foreign minister, Taro Kono, told reporters on Dec. 16
"We agreed that it is necessary to ask China to play even more of a role," Kono said meeting with South Korean Foreign Minister Kang Kyung-wha.
North Korea's Nov. 28 intercontinental ballistic missile test proved once and for all that it has a missile big enough to carry a nuclear warhead and powerful enough to climb well beyond the earth's atmosphere, arc through space, and come down anywhere in the United States.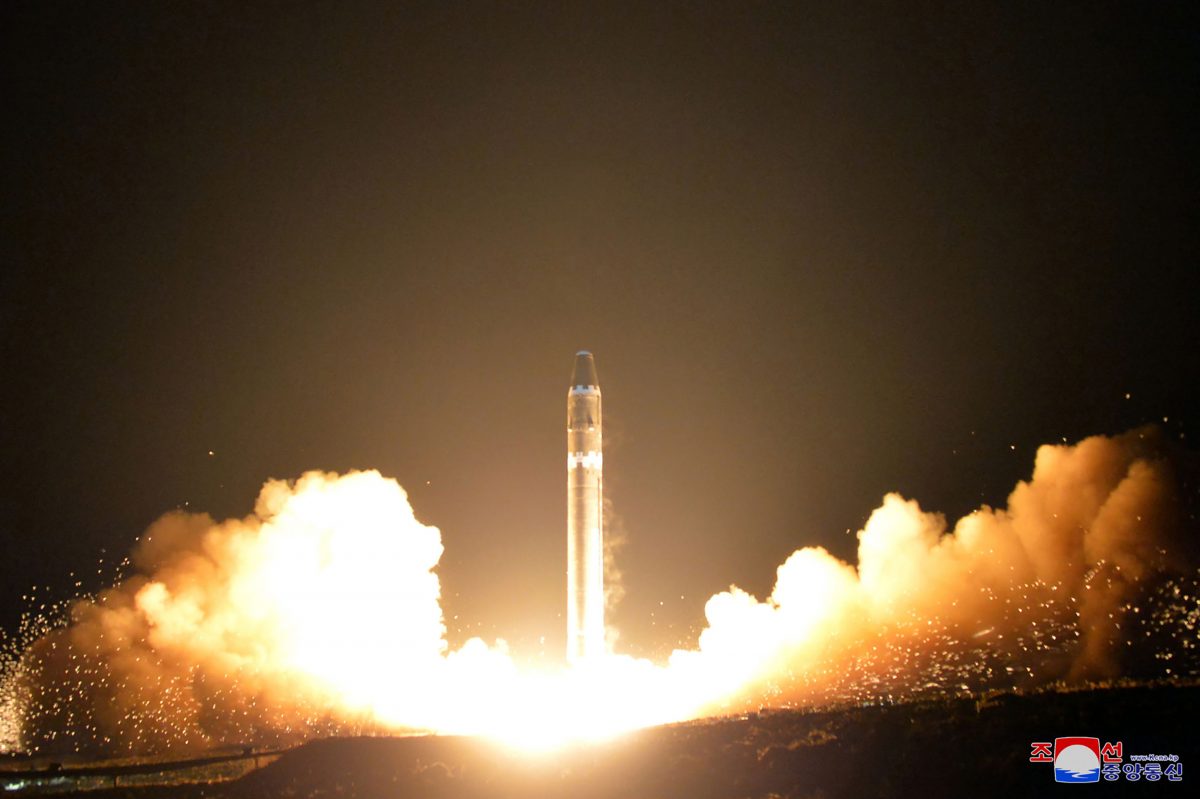 With the test, the prospect of a negotiated peace deal—which seemed possible after the regime went over two months without a test—evaporated.
The White House pledged more sanctions were coming, but two weeks later press secretary Sarah Sanders later said that effort was "complicated."
China and Russia have both said they will not pass additional sanctions against North Korea, a position that has ensured the Kim regime has a reliable supply of oil, often seen as the critical commodity for regime stability.
While Kono acknowledged China was implementing the United Nations Security Council resolutions passed in September, he said Beijing could apply pressure to Pyongyang.
Kang and Kono met for three hours in Tokyo, according to the Straight Times. The two foreign ministers were in accord that China needed to play a larger role, even if it claimed to be adhering to the sanctions passed in September.  

The unified call for China to do more comes as Japan decides to begin using the U.S.-made Aegis Ashore ballistic missile defense system, and National Security Advisor HR McMaster spoke of other options to denuclearize the regime.
Prime Minister Shinzo Abe's cabinet  approved the installation of two land-based Aegis Ashore missile defense systems on Dec. 19, reported the Japan Times. The system is meant to counter short and intermediate range ballistic missiles, but not the intercontinental ballistic missile North Korea tested last last month.
The same day, Abe said it was time to restart a long-stalled parliamentary debate on the revising of Japan's post-war pacifist Constitution, reported the Times.
Article 9 of the constitution can be read to ban Japan from maintaining a standing military but is more widely read to limit Japan's military to a defensive role. Abe wants to loosen the current restrictions on the military.

That same day, U.S. National Security Adviser HR McMaster said during a BBC interview that the chances of war with North Korea hinge on the immediate actions of all involved.
"The chances of war, who knows what they are. They could go up or down, I think, based on what we all decide to do. North Korea is a grave threat to all civilized people across the globe."
When asked if he was committed to a peaceful resolution to the current standup, McMaster said it was preferred but not required.
"We want the resolution to be peaceful, but as the president has said, all options are on the table and we have to be prepared if necessary to compel the denuclearization of North Korea without the cooperation of that regime."