Japan's defense secretary said that his country does not intend to shoot down any future ballistic missile tests by North Korea, as doing so might be perceived as an act of war.
North Korea conducted two ballistic missile tests over Japan in recent months, increasing fears that the regime would be able to intentionally or accidentally hit the country. While the missile tests were not equipped with a nuclear warhead, there is no guarantee North Korea would not mount a warhead on a missile in future tests.
Last month North Korea's foreign minister said that the regime plans to conduct a nuclear test over the Pacific Ocean, in which case the missile would most likely be flown over Japan.
U.S. officials have warned that such a test, even in a remote place in the Pacific, would be disastrous and would cause health effects similar to those seen following the Chernobyl nuclear disaster in the Soviet Union in the 1980s.
Japanese Defense Minister Itsunori Onodera told the Financial Times that he thinks "shooting down a ballistic missile could be construed as a military action."
"Unless you judge it is an attack on your own country, I think it is difficult to shoot down such missiles," he said.
In response to North Korea's most recent ballistic missile test, Japan had moved one of its American made Patriot missile defense systems to the Northern island of Hokkaido.
At the time, a Japanese official told AFP that Japan "would take appropriate measures to protect people's safety" if North Korea would conduct future ballistic missile tests over Japan.
Onodera's statements come just a day after North Korea threatened to bring "nuclear clouds" to Japan.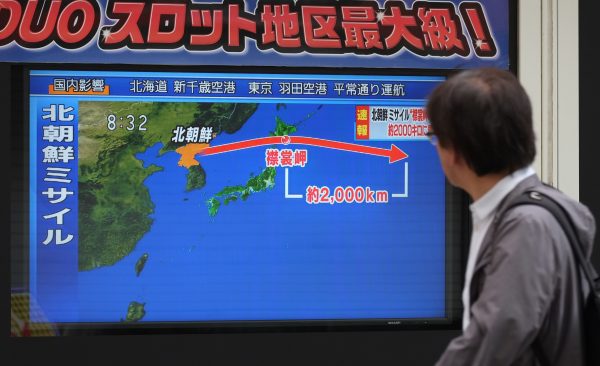 "Japan's such rackets inciting the tension of the Korean peninsula is a suicidal deed that will bring nuclear clouds to the Japanese archipelago," a commentary in North Korea's state media said.
The missile tests are a key part of North Korea's nuclear program, which is now in the late stages of being completed. Early last month the regime conducted a sixth underground nuclear test.
Since coming to power in 2011, Kim Jong-Un has conducted some 85 missile tests, according to the U.S. State Department. The North has repeatedly claimed that it is capable of hitting the U.S. mainland with a nuclear-capable missile.
Speaking before the Senate Armed Services Committee on Sept. 26, Chairman of the Joint Chiefs of Staff Gen. Joseph Dunford Jr said that while there are some technical problems North Korea faces, it should be assumed that it can already hit the United States
"Frankly, I think we should assume today that North Korea has that capability and has the will to use that capability," Dunford said.
Stepping Up Pressure
The Trump administration has significantly increased the pressure on North Korea in recent months. Last month the U.N. Security Council passed a new set of sanctions initiated by the United States in response to the North's latest nuclear test.
The sanctions prohibit all sales of natural gas to the regime, and limit the amount of oil that can be sold to it.
Notably, China has agreed to step up actions against North Korea after the United States put more pressure on the reclusive regime's communist ally in recent months. Last month China's Central Bank instructed other Chinese banks to stop providing funding to the North Korean regime.
China also announced last week that it is closing North Korean businesses operating in the country, giving them a 120-day deadline to cease operations.
The United States also added additional sanctions on North Korea, targeting specific companies and financial institutions trading with and providing financial services to the country.
But while U.S. Secretary of State Rex Tillerson has said that talks should be pursued with North Korea, President Donald Trump himself has been of the opinion that such talks are a waste of time.
…Save your energy Rex, we'll do what has to be done!

— Donald J. Trump (@realDonaldTrump) October 1, 2017
Trump has frequently said 25 years of talks with North Korea have not had any results other than the regime having been able to obtain an advanced nuclear program.
Sanctions were first imposed in 1994 under President Bill Clinton, who agreed to provide aid and two light-water nuclear reactors to the North in exchange for it ceasing its nuclear weapons program. The north later broke this agreement and conducted its first underground nuclear test in 2006.