Japan Earthquake Upgraded to 9.0 by Japan Met Office
March 13, 2011 10:39 am Last Updated: October 1, 2015 5:22 pm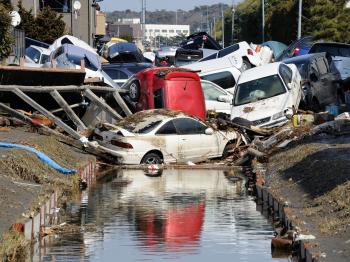 TOKYO—The magnitude of the Great Earthquake of Eastern Japan, as it's now called in Japan, has been upgraded to 9.0 on the Richter scale, by Japan's Meteorological Agency. So far, the United States Geological Survey has not changed its measurement of 8.9.
The 9.0 rating makes it the fourth largest in the world earthquake observation history. The massive earthquake on March 11 now ranks fourth largest on record, after a 9.5-magnitude quake in Chili in 1960, a 9.2-magnitude one in Alaska in 1964, and the 9.1 quake off Sumatra, Indonesia that triggered the tsunami in Southeast Asia on Boxing Day 2004.
The enormous extent of the damage is still unfolding. The chief of police in Miyagi Prefecture which has been hardest hit, told reporters on Sunday that he expects the death toll to reach over 10,000.
According to the National Police Agency, the quake caused tsunamis in 12 prefectures and over 240,000 people have been evacuated. All areas have now been downgraded from a "tsunami warning" to "tsunami alert" or lower, but officials warn everyone to remain vigilant of any changes because of the high possibility of major aftershocks.
Japan's Metrological Office told reporters that over the next 3 days there is a 70 percent chance of aftershocks registering as high as 7 on the Richter scale—a major earthquake in its own right.