Australia and Japan announced Wednesday they will be imposing sanctions on Russia over its recent actions in Ukraine, joining a growing team of countries doing so.
Russian President Vladimir Putin on Monday announced that Russia now regards two areas in Ukraine's Donbas regions—Luhansk and Donetsk—as independent, and subsequently signed a decree authorizing Russian troops to be sent into the area for "peacekeeping operations." Russia's parliament on Tuesday approved treaties with Donetsk and Luhansk that effectively create a "legal basis" to have Russian troops in the areas.
Japanese Prime Minister Fumio Kishida said Wednesday that Japan's sanctions will include prohibiting the issuance of Russian bonds in Japan and freezing assets of certain Russian nationals.
Kishida said that Russia acted to violate Ukraine's sovereignty and asked Moscow to engage in diplomatic talks. Kishida added that Japan was prepared to take further actions if the situation further deteriorates.
Japan relies on Russia for some of its energy needs, with Russia providing more than 12 percent of Japan's thermal coal in 2021 and almost a tenth of its liquefied natural gas. Kishida said he did not foresee any significant impact on energy supplies in the short term and would take all measures into account to limit such impacts on households and companies should oil prices continue to rise.
Shortly after Japan announced sanctions, Australian Prime Minister Scott Morrison said Russia will face a range of targeted sanctions. He made the sanctions announcement after having convened an emergency national security committee meeting.
Eight members of the Russia's Security Council will be hit with sanctions and travel bans, Morrison said. Australia will also expand sanctions already in place for past Russian aggressions. The sanctions are also targeting Russian banks.
"The invasion of Ukraine has effectively already begun," the Australian prime minister told reporters in Sydney. "Australians always stand up to bullies and we will be standing up to Russia."
Morrison and Minister for Foreign Affairs Marise Payne released a detailed joint statement specifying the entities Australia is targeting in its first round of sanctions. Russian banks that Australians will be barred from doing business with include: Rossiya Bank, Promsvyazbank, IS Bank, Genbank and the Black Sea Bank for Development and Reconstruction.
Morrison's comments were similar to that of U.S. President Joe Biden, who on Tuesday said that Putin's actions mark the start of Russia's invasion of Ukraine.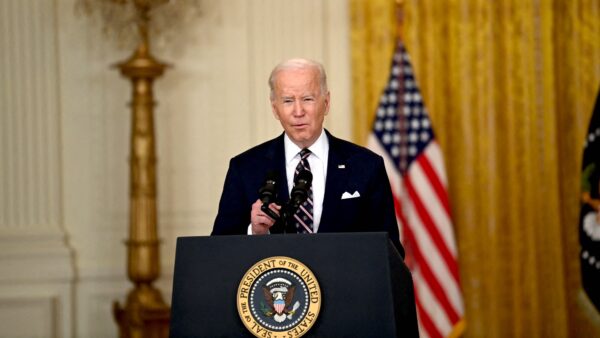 Australia has pledged cyber support to Ukraine but has ruled out direct military assistance. The country has said it could also provide "technical military support" but Morrison has declined to explain what that entails.
Actions from Australia and Japan follow sanctions announced by other world leaders on Tuesday, who expressed hopes of averting a war in Europe.
Germany halted certification of the new $11 billion Nord Stream 2 gas pipeline from Russia.
Meanwhile, Biden announced full blocking sanctions on two Russian financial institutions, as well as on five Russian elites and their family members, and also sanctions on Russian sovereign debt. He promised more sanctions would be coming if Russia proceeds further.
In a similar fashion to the United States, British Prime Minister Boris Johnson on Tuesday said the U.K. has imposed sanctions on five Russian banks and three wealthy individuals.
The European Union announced that all 27 of its member countries have unanimously agreed on an initial list of sanctions targeting Russian legislators and authorities. The sanctions would also limit Russia's access to EU capital and financial markets.
"This package of sanctions … will hurt Russia and it will hurt a lot," EU foreign policy chief Josep Borrell said.
Canada also imposed new sanctions and will be deploying more troops to eastern Europe.
Prime Minister Justin Trudeau announced on Tuesday that his government will hit Russian politicians, business leaders, as well as a number of companies including banks, with economic sanctions. Canada is also imposing sanctions on Russian sovereign debt, and banned all Canadians from any financial dealings with Donetsk and Luhansk.
He added that up to 460 more Canadian troops are being deployed to Latvia and the surrounding region to bolster NATO forces, alongside an additional naval frigate and Aurora surveillance aircraft.
Reuters contributed to this report.