Jana Duggar is the oldest daughter of Jim Bob and Michelle Duggar, the parents made famous by the TLC reality show 19 Kids and Counting.
Jana, 24, has increasingly come into focus as her younger sister Jill, 23, recently got married and the next-youngest sister Jessa, 21, is set to get married on November 1.
Jana is currently single and not engaged or married.
Jana rarely speaks on the TLC show and also, unlike Jill and Jessa, does not have a Twitter, Instagram, or Facebook to update her fans.
But Jana revealed some about her life in the book that the girls, along with younger sister Jinger and an author, wrote not too long ago titled "Growing Up Duggar."
For instance, the girls talked about their views on marriage and sex, explaining that they do have "a natural physical desire toward men"' but that they wait to express it within "a godly marriage."
"But during our single years, this physical attraction, if not carefully controlled, can also be one of the biggest sources of temptation and struggles. One way our parents have helped us understand the principles designed to keep us pure is by giving all of us older girls purity rings. The rings were special gifts we received when the four of us were in our early teenage years (because our family didn't become aware of this relatively new practice until then)," they said.
"Mama selected some very special rings from her jewelry box for each of us to choose from. Jana's ring has one red sapphire surrounded by tiny diamonds. Jill's is a beautiful pearl. Jinger's ring has a heart design set with a small diamond. Jessa's is a beautiful solid yellow gold band."

The book also explained how, because the family forgoes things like watching television or movies often, the kids are able to pick up different skills relatively quickly. "By age fifteen, Jana was able to sew some quite exquisite costumes and clothing for herself and others," it said.
Another thing Jana got into was volunteering at the local fire department, joining Jill in following the lead of Jana's twin John-David.
The trio completed emergency response training and became Certified First Responders.
"Our purpose in joining the department was to gain practical medical skills that would enable us to help the people in our community and in our own family. Since then, we've had hundreds of opportunities to assist in a variety of emergency situations, from car rollovers caused by drunk drivers to people having heart attacks. Sometimes in our small town we even get called out to things like a little old lady's cat stuck in a tree or a kid with his lip stuck in a sippie cup (true story!)," Jana wrote.
"Even though Jill and I have been trained in how to put out fires, we'll probably stick to running the pumps on the fire trucks. Since there are plenty of guys in our volunteer department, we're not the ones going into burning buildings; we leave that to the men. At the same time, we know that a woman's presence—say, in the case of a woman in labor—is much appreciated!"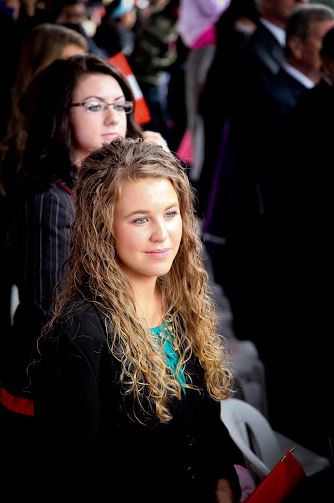 Jana also joined Jill in midwifery, or helping women give birth. And Jana and a number of her sisters volunteer at Journey to the Heart, which is a program run for youth who are in troubled situations. The program is run by the Institute in Basic Life Principles, which was started by controversial minister Bill Gothard, whose teachings on Christianity the Duggars' adhere to.
"Journey leads participants to study eighteen 'heart conditions' described in the Bible, both good conditions (like a pure heart, humble heart, or forgiving heart, for example) and bad conditions (for example, a 'murmuring heart' focused on negativity and complaining). This journey helps participants focus on getting their heart 'right' with the Lord and understanding His heart's desire for them," Jana explained.
"In addition, powerful video messages and testimonies help attendees understand who God is, and they learn how to trust Him more fully. As a Journey leader, I get to see God working in the hearts of these individuals, and there's just no experience like it."
Jana is also known for being the prime babysitter for the rest of the family, especially in the absence of Jill and Jessa, and for managing the family's mail.
Jana recounts several other stories in the book, such as learning about making rash decisions. She recounted how she learned by talking with a friend that you can put highlights in your hair by using peroxide or lemon juice. She didn't tell anyone about it, and a few days later while outside working in the flower beds the sun did its work and when she went inside her hair was orange. She then went to try to fix it by getting hair dye, but ending up picking up a color that was too dark.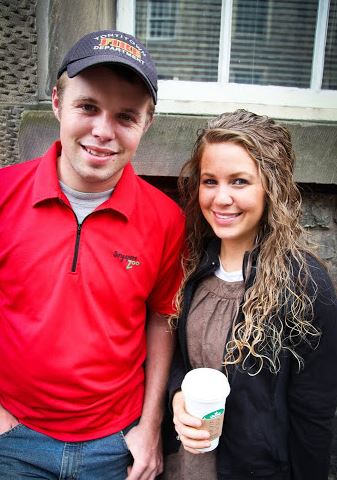 "Since then I've been content with the color God chose for my hair. We're not saying there's anything wrong with dyeing your hair (although we recommend that you know what you're doing before you try it!). We love to experiment with different styles, and some of us may decide someday to add highlights or change our hair color. But most likely, it won't be Jana!" the girls and Jana wrote.
"Like many people—maybe like you—we sometimes feel we need to make a change in our appearance or in some other aspect of our lives, but we're learning that it's wise to ask advice, and we certainly need to pray about it. We like to look our best, but we don't want to get carried away and let a focus on outward beauty cause us to lose sight of what's most important: developing inward character."
Another story recounted how Jana and Jessa were taught a memorable lesson by mother Michelle when Jana was eight and Jessa was six. The family was living in a four-bedroom house, with Jess and Jana sharing a room and a bunk bed. Jim Bob and Michelle put them together so they could work on their relationship, which wasn't that great.
Jessa would sleep on the bottom bunk and kick Jana's bunk every night, and laugh despite Jana's protests and their mother trying to intervene.
The family was reading the Bible one night when they read a story about forgiveness and Jana asked Michelle what she should do. "Jana, if you really want your sister to be nice to you, make it a point to be nice to her, even when she's mean to you," Michelle told Jana, noting that Jessa was "an enemy" and that Jesus said "love your enemies." Michelle told Jana to do something nice for Jessa.
"So even though I didn't want to and definitely didn't feel like doing it, after praying about it I decided to give Jessa something that was very special to me. Jill and I, as the oldest of the girls, had each been given matching pink jewelry boxes, and we both loved those beautiful boxes," said Jana.

"It was hard to think of giving away one of my most treasured possessions—especially to someone I wasn't happy with. But I tucked a few other childish but special-to-me things inside my jewelry box and then wrapped it up along with some candy. A little later, I told Jessa I had something to give her. I told her I loved her and handed her my gift."
Jessa chipped in and recounted how she enjoyed aggravating Jana.
"The heart change for me began that day when she handed me that unexpected gift. I couldn't believe it at first. What kid doesn't like getting a gift? I was thinking I was getting a head start on birthday gifts, but I was pretty sure my birthday wasn't anytime soon. Then Jana told me she loved me and just wanted to give me a gift to show me she loved me. When I tore off the paper and saw her beautiful jewelry box, I was speechless," Jessa said.
"Even though I was only six, I understood what a treasure she was giving me. I knew how much she loved that jewelry box! After that, somehow, it was no longer fun to annoy Jana. That's not to say I instantly stopped all the annoying habits I'd developed in my young life so far, but never again did I view Jana as someone who was fun to harass. From that time on, we began to spend more time playing together and doing things alongside each other, and she continued to show me how much she loved me in different ways.
"Today, we're close friends as well as sisters, but I know this might not be the case if Jana hadn't forgiven me and taken that selfless step, way back in our childhood, to invest in my life and show me that she loved me."
MORE:
Jinger Duggar: What 'Growing Up Duggar' Revealed About Jim Bob and Michelle's Daughter (+Age, Pictures)
Duggars' 19 Kids and Counting: Family Has Indoor Slide, Rock Climbing Wall and Eats Snacks for Dinner, Report Says