Jana Duggar, the oldest daughter of Jim Bob and Michelle Duggar, is getting worn out from the immense responsibility that the parents of the large family have been bestowing on her for years.
Rumors have been flying about Jana, 24, after speculation started that she's ready to "break away" from the famous brood. 
Now a source close to the family says that Jana is getting "worn down" from doing so much for the family.
"It's absolutely ridiculous how much the family makes Jana and the older siblings do. Jim Bob and Michelle have totally transitioned a lot of their parental responsibilities onto her," the source told Radar Online. 
"Ever since she was young, she's had to watch over the house while Jim Bob and Michelle would go out for date night alone."
While Jim Bob, 49, and Michelle, 48, would go out for a date–which they do every Saturday night, at the very least–Jana was left to babysit all of the younger children herself, the source claims. 
"She looks so tired and worn down sometimes. You can't help but feel bad for her, having to take on all that responsibility at a young age," the source said. "It's like she's been a parent ever since she was 13! It's sad."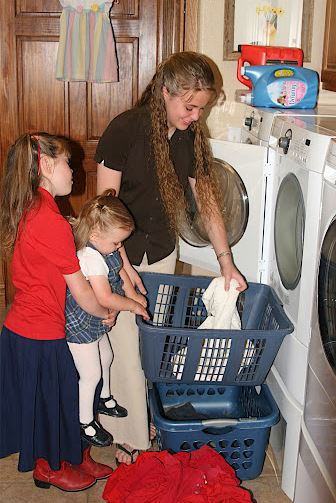 Most of the children in the Duggar family are still relatively young. There are four children under the age of 10 and another six under the age of 16.
Jana has a twin, John-David. They're the oldest children besides Josh, 26, who is married and moved to Washington D.C. several years ago.
Jana's immediate younger sisters, Jill, 23, and Jessa, 21, are either married or set to get married soon, lending credence to the source's claim that Jana has had to do a lot of the heavy lifting.
Michelle has previously acknowledged the role that the older children play in the large family, saying that they help the younger children with schoolwork as well as life in general. 

"Because we do have so many kids, I still have some older ones with strengths in specific areas that pitch in and help. There are a lot of middle kids that are really good at disciplining and mentoring the younger ones," she said in a video about homeschooling. 
The 19 Kids and Counting reality show has increasingly focused on the relationships of Jill and Jessa, leading to speculation about Jana. One blog claimed that Jana could be "at odds with and planning to make a break from the family." Other rumors said that Jana is already in a courtship but the details are being kept on the down-low.
Jana addressed her love life in an episode of 19 Kids and Counting that aired on September 30. She was chosen to be the seamstress for the bridesmaid and flower girl dresses for Jill's wedding, which apparently didn't go over too well.
To make things worse, TLC cameras zoomed in on her while she was crying, when a hairstylist asked if she was seeing anyone special. I'm good with just waiting for now," she replied.
While Josh, Jill, and Jessa frequently give updates on their lives on social media, the rest of the children appear to stay out of the spotlight for the most part, including Facebook, Twitter, and Instagram.

It's unclear if there's a link between a Duggar child getting a love interest and being allowed to share about their lives on social media, but it does appear to be that way.
Jana did speak on the issue of family before, in a blog post that she and Jill created a while back that mainly detailed their work in midwifery.
"Jill and I feel like the training we are receiving, although our paths are both a little bit different, will serve us in the future on the mission field. Each of us would like to use our skills as a way to share the hope of Jesus in foreign countries, but for right now, the country we've been called to serve in is our own," she said.
"We enjoy loving on our moms, babies, and families, and feel privileged to care for them."
MORE:
Jim Bob Duggar Gives Controversial Explanation as to Why Duggar Family Doesn't Use Birth Control
Jinger Duggar: Who is She? Boyfriend or Single? (+Age, Facts, Photos)