Jakiyah McKoy Wins Miss Hispanic Delaware, But Gets Stripped of Crown
September 26, 2013 3:25 pm Last Updated: September 27, 2013 7:05 pm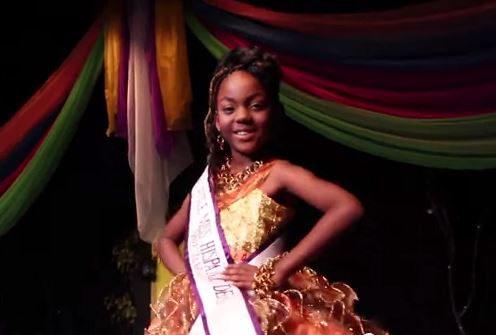 Jakiyah McKoy won Miss Chiquita Delaware (Miss Hispanic Delaware), but was stripped of her crown after organizers said that her parents failed to provide proof of Hispanic heritage.
McKoy won the August 31 contest but it was a controversial win.
"There was uproar when the winner was announced because, according to the public, she was not the best representative of a Latin beauty," reported El Tiempo.
Maria Perez, president of Nuestras Raices Delaware, the sponsoring organization, said that McKoy's parents didn't provide any documentation, and one of the requirements is at least 25 percent Latino heritage.
"Her parents were asked to bring in documentation," she told Latino Rebels. "Of all of the documentation brought in, there was nothing that confirmed Dominican heritage."
"We can't have her be the queen if she doesn't have the proper documentation," she said. "It's not the first time that we've been confronted with the [burden of proof]. It's happened in the past and they've brought in the proof and we were satisfied with it."
McKoy's mother was supposed to bring in a birth certificate but the family brought in a state documentation of guardianship instead. The alleged source of Hispanic heritage in the family is McKoy's grandmother, who is dead. The family requested a formal inquiry by the state of New York into the grandmother's heritage, but nothing came up.
"There is no information on this deceased woman," said Perez.
"Color has nothing to do with it," she said. "We're all Latinos. That's why we're so beautiful because we come in all different colors."
Past winners have included combined heritage such as Puerto Rican and Italian and French and Puerto Rican and French, according to Perez. 
Iris Torres, director of Miss Chiquita Delaware , elaborated in an editorial in El Tiempo.
"The recent issue of El Tiempo Hispano with 2013 Little Miss Hispanic Jakiyah McKoy on the cover has not only brought a negative perception of Nuestras Raíces, but it has put our mission and vision in jeopardy in the eyes of the community," she wrote.
"Nonetheless, we understand that any organization risks being put under scrutiny, but the perception that the community thinks the reason Jakiyah lost her crown is because Nuestras Raíces didn't think she was Latina looking enough is unacceptable and false."
Torres emphasized that McKoy lost her title because her family couldn't provide proof of Hispanic descent.
"The current Little Miss Hispanic, Meriana Ayala, has blonde hair and very fair skin," she said. " She is also required to provide documentation to confirm her Hispanic lineage."
'It has been left open to the grandmother that if she provides documentation to confirm Jakiyah's Hispanic lineage, would be reinstated and we would have our first dual queens," she added.
An online petition asks for the organization to let McKoy keep her crown.
"Jakiyah McKoy won the Little Miss Hispanic Delaware pageant but the sponsoring organization, Nuestras Raices Delaware, has blocked her win after an outcry from people claiming that, because she is Black, she is 'not the best representative of Latin beauty,'" writes Daniel José Older, the petition organizer.
"The title is now pending while the committee'"investigates' Jakiyah's heritage. Meanwhile, none of the other competitors were subject to such an investigation," he said. "This petition is to demand that Jakiyah McKoy keep her rightfully won crown, because her beauty represents us all."
The petition has 1,134 supporters as of September 27 at 6:37 p.m. EDT.
Also, writer Icess Fernandez Rojas has written an open letter to McKoy and "the little black Latinas."
She writes:
"How do you deal with things when things happen. (And we both know what those things are.) Handle them like the princess you are, nena. With grace and strength. Don't take no for an answer but don't get loud and crazy in front of them , that's what they expect.  You must be better than you are and better than what people expect you to be.
"At this point you may think that this color is a burden. Not at all. This is a gift, your super power, your secret weapon. Because you will know what it's like to be different and discriminated against, you will be able to recognize it when it happens to someone else. You'll be able to lift them up as I am doing with you. And then they will pay it back with someone else and so on and so on. This super power means you have the potential to stop this ugliness just by being you. If that is not a gift, I don't know what is.
"Jakiyah, I want to leave you with this. You will have an amazing life. There is more beauty in the world than there is ugliness. Just follow what is true and good in this world and things will work out. It may not be an easy journey but, as you already know, that doesn't make it any less worth the trip."
Follow Zachary Stieber on Twitter.