Jailed Chinese Dissident On Hunger Strike
September 7, 2005 12:00 am Last Updated: September 7, 2005 12:00 am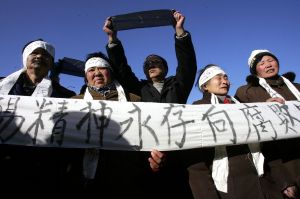 BEIJING – A Chinese dissident jailed for writing essays critical of the Communist Party has been hospitalised after a hunger strike to protest against his imprisonment, a New York-based rights group said on Wednesday.
The People&#039s Intermediate Court in the eastern province of Anhui sentenced Zhang Lin to five years in prison in July on charges of inciting subversion in six articles that he posted on overseas dissident news Web sites. He has appealed.
"Five years imprisonment for expressing his views is appalling," said Ann Cooper, executive director of the Committee to Protect Journalists, a non-profit organisation that works to safeguard press freedom worldwide.
"We urge the court hearing Zhang&#039s appeal to overturn this unjust verdict in accordance with the Chinese constitution, which guarantees freedom of expression," she said in a statement.
Authorities detained Zhang in Anhui in late January on his return from Beijing, where he had travelled to mourn the death of Zhao Ziyang, ousted as party chief after opposing plans to use the army to crush student demonstrations for democracy centred on Beijing&#039s Tiananmen Square in June 1989.