Lori's Roadhouse stirred with the buzz of conversation as a crowd gathered to hear Ohio GOP U.S. Senate candidate J.D. Vance and Donald Trump Jr. speak on April 25 in West Chester, around 20 miles from Vance's childhood home in Middletown.
When the 1970s and 1980s classic rock soundtrack stopped, and the audience grew silent, West Chester Township Trustee Ann Becker stepped on stage and asked a question.
"We have a primary that is a week away. How many of you have voted?"
The crowd remained silent.
Last week, Ohio Secretary of State Frank LaRose announced that 125,118 absentee ballots had been requested as of April 15, down 27 percent compared to 171,954  two weeks before the 2018 primary.
Of those ballots, 44,994 had been returned or cast in person. That represents a 30 percent decrease from 2018 when 63,253 absentee ballots had been requested.
In the race to replace retiring GOP Sen. Rob Portman, Vance is in a crowded GOP primary field that includes former Ohio state treasurer and state representative Josh Mandel, Cleveland investment banker Mike Gibbons, former Ohio Republican Party chair Jane Timken, State Sen. Matt Dolan, central Ohio entrepreneur and activist Mark Pukita, and Columbus businessman Neil Patel.
With voter turnout already low, and a ballot that includes seven candidates, every vote is especially crucial. Propelled by Donald Trump's endorsement, which was announced on April 15, and campaigning with the former president's son, Vance feels confident but said there is more work to be done before the primary.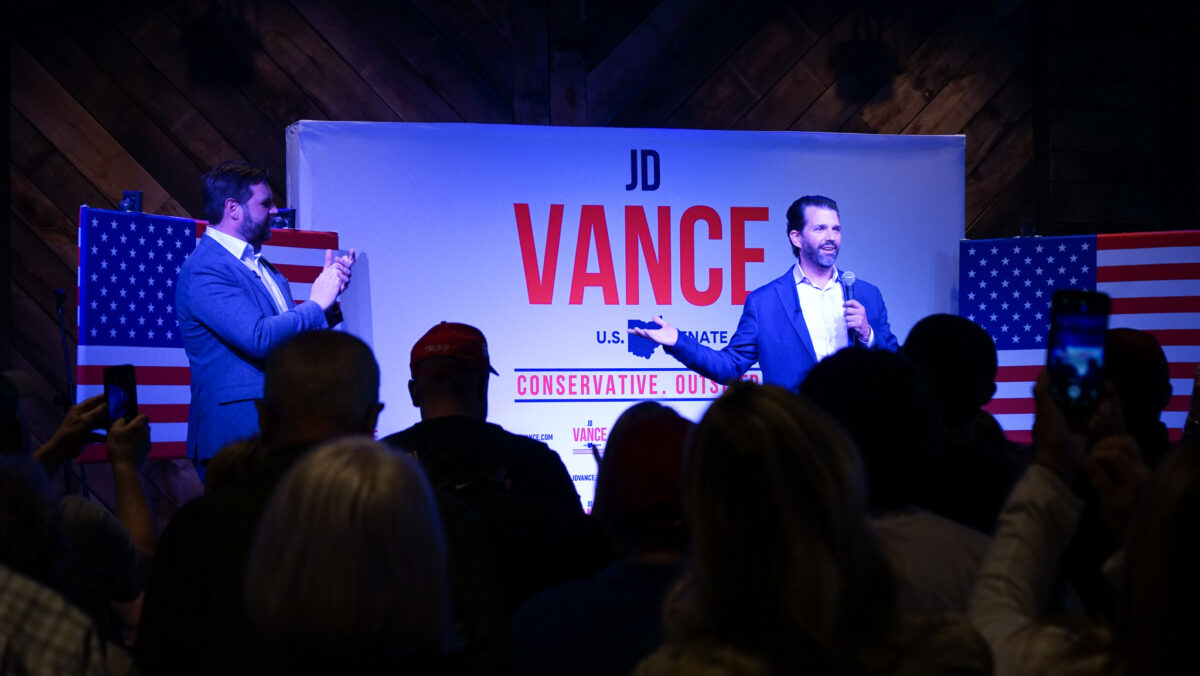 "Remember, the primary is May 3, unless you are not voting for J.D. Vance, then it is May 4," Vance said with a laugh on the Lori's Roadhouse stage. "We need to elect Republicans who know what time it is. I'm the America First candidate.
"If the primary was held today, we would win," Vance added. "But we have a week left, and we need to keep building momentum and carry it through May 3."
Since entering the race, Vance has faced abundant criticism about his disparaging remarks about Trump in 2016. The "Hillbilly Elegy" author and venture capitalist said, "I can't vote for Trump, I think that he is noxious" and he bashed Trump for making "people I care about afraid."
At the event in West Chester, as he has at multiple campaign stops, Vance explained how his opinion about Trump evolved once the candidate became president.
"You know who else didn't like Trump in 2016? Everybody," Trump Jr. said. "J.D. has actually been by far the most consistent and intellectually honest about his positions and everything as it relates to Trump from Day One.
"Don't vote for career politicians or establishment stooges. Vote for the antithesis. J.D. Vance is the only Trump-endorsed candidate in this race," he continued.
Honesty About Former President
"He is a conservative outsider who we can trust to stand up to the radical left and the weak RINOs in the Senate. He's 100 percent committed to our America First agenda and I'm excited to campaign with him."
For months, Mandel was the frontrunner in polls with Gibbons second. Then the pair had a heated on-stage exchange during a debate on March 18.
Gibbons told Mandel, a U.S. Marine Corps veteran who served two tours in Iraq, that he had never worked in the private sector. Mandel took offense to the comment, sprung from his chair, and stood nose-to-nose with Gibbons as the two verbally sparred before the moderator eased tensions.
FreedomWorks, the organization that hosted the debate, conducted a straw poll when the event was finished.
Vance was the winter at 43.1 percent followed by Timken (20.7 percent), Gibbons (16.1 percent), Dolan (12.3 percent), and Mandel (4.6 percent).
That event, and subsequent debates, spurred momentum for the campaign, Vance said. Trump Jr. said that his father was disgusted with the conduct of Gibbons and Mandel at the FreedomWorks forum.
"You can like someone individually and say that's not a performance you want to hang your hat on," Trump Jr. said.
'Pretty Ugly' Confrontation
Trump Jr. recalled a conversation with his father after the confrontation.
"I go, you saw those things, he goes, 'Yeah, that was pretty ugly."
A Trafalgar Poll released on April 15 showed Mandel leading the Republican field with 28 percent, followed by Vance at 22.6 percent. That was revealed hours before Trump announced that he was backing Vance.
The poll also found that 54.9 percent of respondents, who are likely GOP primary voters, are either "more likely" or "much more likely" to vote for a candidate endorsed by Trump.
In a Fox News poll released on April 26, Vance leads with 23 percent of primary voters, a 12 percent increase from March. Mandel is second with 18 percent followed by Gibbons (13 percent), Dolan (11 percent), and Timken (6 percent). Undecided voters account for 25 percent of the response.
Last week, pro-Vance super PAC Protect Ohio Values released a poll of 800 Republican voters showing that Vance sat atop the crowded field with 25 percent, followed by Mandel (18 percent), Gibbons (13 percent), Timken (11 percent), and Dolan (9 percent). Undecided voters were at 23 percent.
Todd Terry and his wife, Lisa Terry, live in Liberty Township not far from Lori's Roadhouse. After listening to Vance and Trump Jr., the couple said they are voting for Vance.
Endorsement Swaying Voters
"I didn't like him at first because he didn't support Donald Trump. I liked Mike Gibbons," Todd Terry said, holding Vance yard signs and stickers. "Donald Trump's endorsement makes a difference. That swayed my opinion, and then what Vance and Trump Jr. said tonight made me feel even more confident about Vance."
Max Minniear, who also lives in Liberty Township, owns a remodeling business and was planning to vote for Mandel—until Trump endorsed Vance.
"I like Donald Trump, so when he said he was supporting J.D. Vance, that led me to give him a chance," Minniear said. "I think J.D. Vance is sincere on how his opinion changed about Trump."
On April 26, Vance announced that former Trump campaign adviser Steve Cortes will join him at campaign stops on April 27 and April 28.
Mandel, who has conducted his campaign through "Faith and Freedom" events at churches across Ohio, is endorsed by Sen. Ted Cruz (R—Texas).
Cruz will join Mandel at multiple events this weekend. Lt. Gen. Michael Flynn, who served as Trump's national security adviser, accompanied Mandel at forums over the past week.
Flynn does not approve of Trump endorsing Vance.
"I think everyone has to make their own decision about who to endorse," Flynn said. "I just think the [former] president made a mistake on that particular front."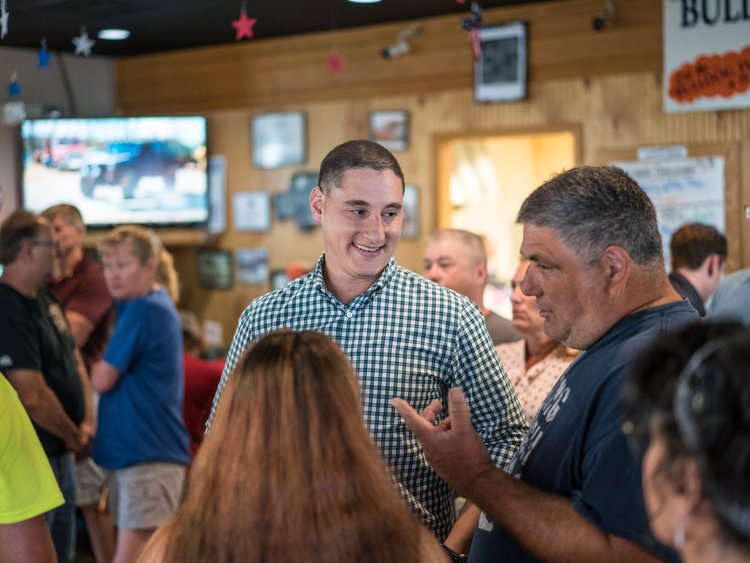 The Club for Growth is supporting Mandel and has released more than $4.2 million in ads, according to Columbus-based political ad firm Medium Buying. Mandel believes that his support from high-profile figures like Flynn and Cruz, and the continued enthusiasm of his Faith and Freedom rallies, will lead him to a primary victory.
"I'm confident we're going to win this primary May 3, and I look forward to working with [former] president Trump to beat the Democrats in November," Mandel said.
Last weekend, Gibbons campaigned with his team outside Trump's Save America Rally at the Delaware County Fairgrounds in central Ohio. He said he remains optimistic, even though he did not get the former president's endorsement.
"A lot of people, rightfully so, look at what he did with the Trump agenda, and what he accomplished. They also recognized that he made a lot of bad decisions when it came to picking people. And I personally think this is one of them," Gibbons said about Trump's decision to back Vance.
Gibbons, who is endorsed by Sen. Rand Paul (R—Kentucky), released an ad titled "Believe It" over the weekend.
The spot targets Mandel and Vance and highlights Gibbons' "strong record in creating American jobs" and also lists "his strong commitment to secure borders, lower taxes, and protecting the unborn," according to a statement from Gibbons' campaign.
"You can't believe them. Josh Mandel is a politician, J.D. Vance a celebrity," Gibbons says in the ad. "They made careers creating nothing but their own image. I made mine creating jobs. I'll fight like hell to save America. Believe it."