Commentary
Missile defense is not only a reality in the Indo-Pacific but also a necessity. Nearly every country in the region is acquiring some kind of capability to blunt the threat from a proliferating number and variety of ballistic, cruise, and even hypersonic missiles.
The next step—and one in which the United States should take the lead—is to get like-minded states to cooperate in building a common shield against a shared missile threat.
The threat is self-apparent. North Korea has moved from short- and medium-range missiles that mostly threatened South Korea and Japan, to developing intercontinental ballistic missiles (ICBM) that could target the U.S. mainland. North Korea's recent testing of a submarine-launched ballistic missile (SLBM) only compounds an already tense situation.
China, however, constitutes the greatest missile threat, not only to the United States and its Asian allies—particularly Japan and Taiwan—but even to farther-away states such as Australia. China has long deployed hundreds, if not thousands, of short- and medium-range missiles near Taiwan. The regime also is expanding its inventories of intermediate-range missiles such as the DF-26, a road-mobile missile that could threaten U.S. forces on Guam, as well as proliferating its number and variety of land-attack cruise missiles such as the CJ-10, and long-range anti-ship missiles such as the YJ-18.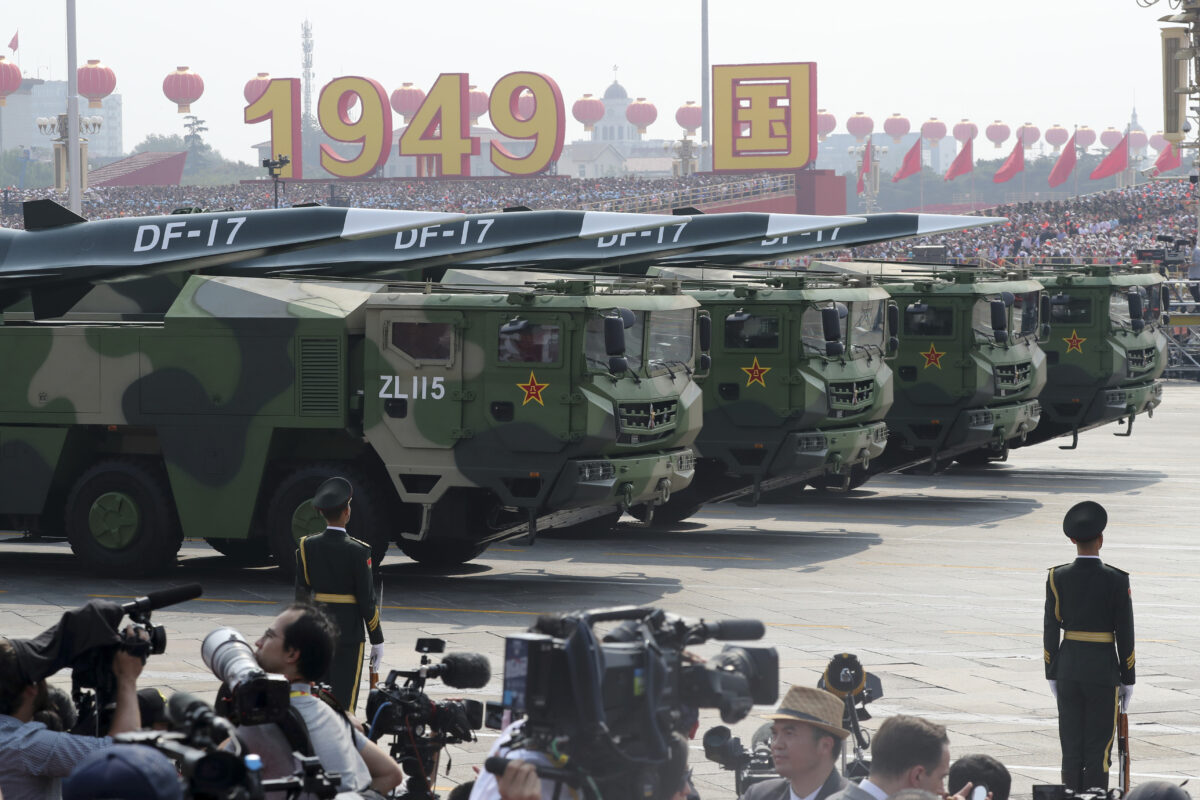 At the same time, China is also working furiously to develop and deploy hypersonic attack missiles. Furthermore, Beijing is believed to be in the process of greatly expanding its inventory of land-based ICBMs, as evidenced by the recent discovery of at least two new, large missile silo fields in northwestern China.
Finally, it is suspected that China is aiding North Korea with the latter's submarine-based missile program. Pyongyang's KN-11 SLBM appears to be a carbon copy of China's first-generation JL-1 SLBM.
As ballistic missile threats have proliferated throughout the Indo-Pacific, so too have missile defenses. Japan is far along in deploying a missile defense architecture, and Tokyo is cooperating with the United States to create a two-tiered missile defense system, comprising the Sea-based Midcourse Defense (SMD) system, centered on the Aegis Combat System and the Standard SM-3 missile, and a land-based component relying on the Patriot PAC-3 missile.
The SMD missile defense system includes improvements to the original Aegis air defense system to engage exo-atmospheric (that is, greater than 62 miles in altitude) missile threats. The SM-3 Block IA missile is an improvement on the SM-2 Block IV missile, with the addition of a third stage for extended range and a new kinetic warhead for terminal homing and intercept. Japan has incorporated the SMD system into eight Aegis-equipped air-defense destroyers, which will provide missile defense coverage of most of the Japanese home islands.
Japan's land-based Patriot PAC-3 system will, in turn, provide "point-defense" protection against missile attacks. Japan's Air Self-Defense Force (ASDF) has deployed PAC-3 units to various locations around Japan, including one near the Ministry of Defense in Tokyo. Altogether, Tokyo has spent more than 1 trillion yen (around $9 billion)—including $1 billion for joint research and development—to fully deploy its SMD/Patriot missile defenses.
Australia and South Korea are also acquiring air-defense destroyers that utilize the Aegis/SM-2 missile combination. While neither country has yet committed to upgrading to the SM-3 SMD capability, it wouldn't be too difficult to do this retroactively. The Aegis combat system is a modular, open architecture, and for their part, the Australians specifically factored in space and weight considerations for the SM-3 missile into the design and construction of their new ships.
The South Koreans have also acquired PAC-2 GEM+ (Guided Enhanced Missile Plus) systems from Germany and agreed to the deployment of U.S.-operated Terminal High Altitude Area Defense (THAAD). In addition, Seoul is building an indigenous multi-tiered missile defense shield, based on domestically developed anti-missile systems.
Taiwan has, for obvious reasons, paid considerable attention to missile defense. It operates several batteries of PAC-2 GEM+ and PAC-3 Patriot missiles. More importantly, Taiwan is creating an indigenous, multi-tiered missile defense system using locally developed surface-to-air missiles that have been upgraded to shoot down incoming missiles, as well as deploying a new anti-missile missile, the Tien Kung III. Taiwan also operates a large phased-array radar site, utilizing the U.S.-supplied AN/FPS-115 Pave Paws early-warning system, capable of detecting and tracking incoming missile attacks.
Increasingly, therefore, the hardware exists for a pan-Asian missile defense; what is then needed is the software of jointness and interoperability.

Consequently, the United States, Japan, Australia, and South Korea—and perhaps even Singapore and India—should consider creating a common infrastructure for detecting and engaging missile threats from China and North Korea.
There has already been some movement along these lines, particularly between Japan and the United States; they cooperate closely when it comes to missile threat-related intelligence-gathering and information-sharing. In addition, the ASDF's Air Defense Command is collocated with U.S. forces at the Yokota Air Base, which greatly aids air and missile defense operations.
The U.S. Navy and Japan's Maritime Self-Defense Force (MSDF) have a long history of cooperation and jointness. In particular, MSDF destroyers are equipped with a Cooperative Engagement Capability (CEC) which permits them to receive targeting information from U.S. Navy Aegis destroyers or U.S. airborne early warning aircraft.
Australian and South Korean Aegis-equipped destroyers could also tap into any joint missile defense network via CEC. These ships could, at a minimum, provide early warning and tracking of ballistic missiles and pass this information along to U.S. and Japanese SMD-equipped vessels. In addition, Australian and South Korean destroyers could also be upgraded with the SM-3 missile to shoot down incoming missiles.
Most important of all, such a pan-Asian missile shield must include Taiwan. Not only is it morally imperative to defend a democratic state such as Taiwan, but its participation in any coordinated missile defense system would plug a major gap between the South and East China seas.
In all, there has never been a better time to consider what only a few years ago would have been infeasible technologically and politically: a joint defense against missile attacks stretching from Japan to Australia. Better a coordinated, more effective missile shield than a disconnected, porous one.
Views expressed in this article are the opinions of the author and do not necessarily reflect the views of The Epoch Times.