Italian authorities on Thursday reported 712 new deaths and 6,153 new cases of the coronavirus in the past 24 hours, suggesting that the country has not been able to "flatten the curve" yet.
The total number of deaths has exceeded 8,000 along with 80,000 cases, ANSA reported.
The Epoch Times refers to the novel coronavirus, which causes the disease COVID-19, as the CCP virus because the Chinese Communist Party's coverup and mismanagement allowed the virus to spread throughout China before it was transmitted worldwide.
Italy's Department for Civil Protection initially reported 661 deaths in the past 24 hours. But that number was revised as more reporting came in later in the day.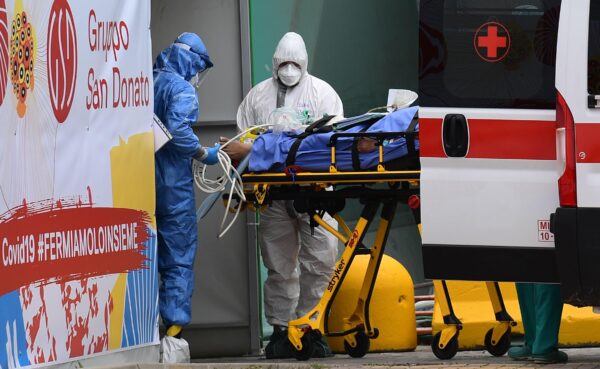 The 6,153 new infections also represent an increase over the previous day's total of about 1,000, according to officials. Meanwhile, more than 10,000 people have recovered from the virus, officials said.
The majority of infections and deaths are in the northern region of Lombardy, where the first cases of community transmission were recorded in February.
It comes after Italian authorities said they are investigating a possible earlier outbreak of the virus late last year.
Adriano Decarli, an epidemiologist and medical statistics professor at the University of Milan, said there had been a "significant" increase in the number of people hospitalized for pneumonia and flu in the areas of Milan and Lodi between October and December last year.
He told Reuters he could not give exact figures but "hundreds" more people than usual had been taken to hospital in the last three months of 2019 in those areas with pneumonia and flu-like symptoms, and some of those had died, Reuters reported.
Publicados los datos actualizados de #COVID2019

Consulta aquí la situación en España https://t.co/skv9oHroYj#EsteVirusLoParamosUnidos pic.twitter.com/3tklazLsJg

— Ministerio de Sanidad (@sanidadgob) March 26, 2020
In Europe, meanwhile, Spain reported more cases than Italy in the past 24 hours, saying that more than 8,000 new infections have been confirmed. So far, more than 56,000 cases have been reported, and the death toll has surged past 4,000, the county's health ministry announced on Thursday.
Switzerland also reported that there were more than 10,000 cases in the country along with 161 deaths, officials also said. And France has reported more than 25,000 cases and 1,300 deaths so far, while Germany said it has 43,000 cases and 239 deaths.
Reuters contributed to this report.