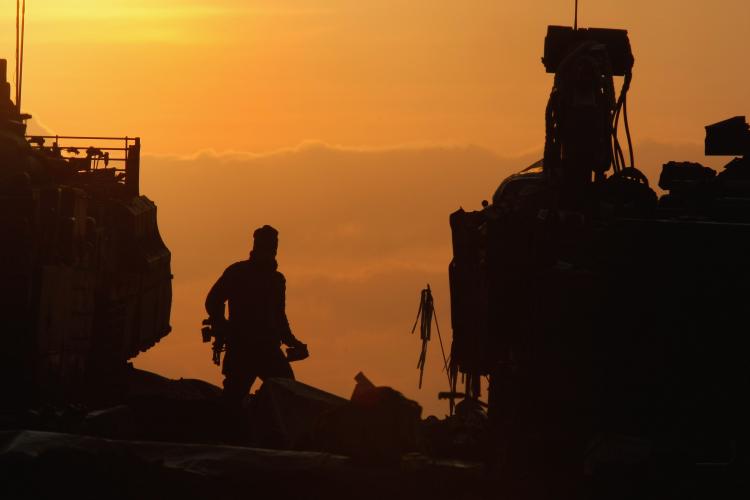 Israel and Hamas leaders agreed to a ceasefire Sunday, ending the conflict that lasted over three weeks since the Israeli air assault began on Dec. 27.
Hamas announced that they would hold their fire for a week to give Israeli forces time to withdraw from the Gaza Strip. They are also demanding the opening of all crossings to allow for humanitarian aid.
Israeli Prime Minister Ehud Olmert said Sunday that if the cease-fire is stable, Israel will withdraw its forces. "We do not wish to remain in Gaza. We intend to withdraw as soon as possible," he said.
The U.N. and European Union (EU) have been pressing for the cease-fire. Various meetings were held on Sunday to try and pin down an agreement between the two countries. Prior to a meeting with Mr. Olmert, European leaders met in Egypt for a conference with Egyptian President Muhammad Hosni Sayed Mubarak and various Arab leaders. French President Nicolas Sarkozy stated that he stands by the cease-fire, yet there is still much work to be done.
"The government of Israel's unanimous decision to cease fire is a decision we support. It is the right decision for a democratic country. However, it is only the first step," he said.
"We must move forward because this region of the world, which you know better than we do, is running out of time," said Mr. Sarkozy. "For too many years we lost time and missed too many opportunities. There were too many leaders who tried but did not succeed, and now we too must try."
Mr. Sarkozy also proposed that a summit be held with the Palestinian Authority after Israel withdraws from Gaza to "talk to them about how a Palestinian state will live in peace with the State of Israel."
According to Czech Republic Prime Minister Mirek Topolanek, "The EU and its member states expressed their readiness to continue providing humanitarian aid to the Palestinian people, and participate in security operations such as monitoring of arms."
The opening of the roads into Gaza has been a long-standing request from Hamas. Previous requests were refused due to concern of the potential smuggling of weapons that may be used against Israel.
An understanding was held that in order to stop Hamas' rocket attacks against Israel, actions must be taken to halt the smuggling of arms into Gaza. In addition to pledging to give humanitarian aid to Gaza, many leaders stated that they will help stop the arms smuggling.
The leaders also called on the United States to help put an end to the smuggling of weapons to Hamas militants. British Prime Minister Gordon Brown expressed his hope that the U.S. will give the same support as Britain.
"Let me say, and I believe that the new American administration and President Obama, they will wish to take the same efforts that we will do everything in our power to support a peace that is lasting and sustainable, that will protect the security of Israel, while making possible the viability of a Palestinian state," said Mr. Brown. "We will do everything to move that forward with you, working with you, over these next few months."
Mr. Olmert said that an agreement was signed between Israel, the U.S., and Egypt to help ensure this, although details still remain vague. "Now we must translate that commitment, together with Egypt and the United States, with whom we signed a memorandum of understanding on this matter, into actions which will prevent the terrorist organization, Hamas, from rearmament," said Mr. Olmert.